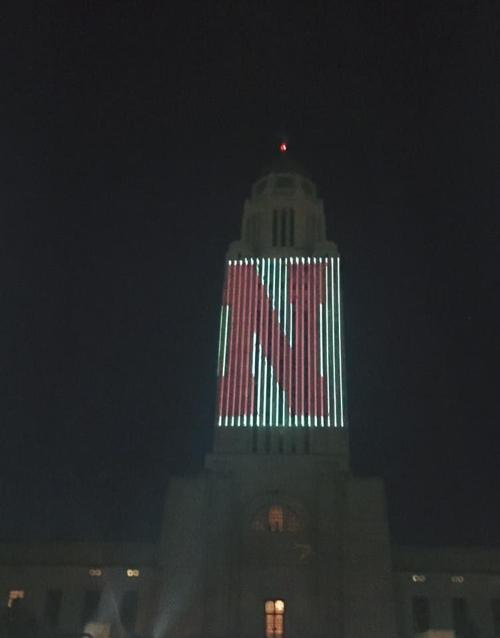 Nebraska's sesquicentennial festivities will include a laser light show projected onto the side of the Capitol this fall.
A pair of laser-light artists from Laser Spectacles of San Marcos, Texas, tested their show Monday night as first lady Susanne Shore and Regan Anson, director of the Nebraska 150 Celebration, looked on.
"Hopefully, this will be knock-out awesome," Shore said.
The show is planned for the night of Sept. 22 on the north side the Capitol, the weekend culminating celebration of Nebraska's 150th year of statehood. 
Two full days of events are planned for that weekend, timed with the Huskers' home football game against the Rutgers Scarlet Knights. Anson said holding the celebration on a home-game weekend will allow more people from across the state to participate.
Organizers hope to have live music, food trucks and a mobile children's museum on Centennial Mall.
Shore said she found Laser Spectacles on a list of award winners from an international laser competition and saw video of their work projected on a building in Frederick, Oklahoma.
"We wanted to do fireworks, but fireworks were outrageously expensive," she said.
The test run Monday night drew the attention of some passers-by along K Street, including state Sen. Jim Smith of Papillion, chairman of the Legislature's Revenue Committee.
Asked what image he would project on the Capitol, he suggested a dollar sign.