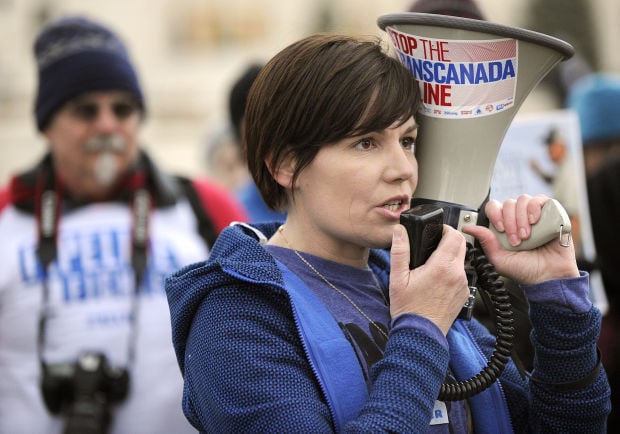 Jane Kleeb, founder of the environmental activist group Bold Nebraska, told supporters Monday she is seriously considering a run for one of two seats on the Nebraska Public Service Commission that will be up for election in 2016.
The five-member commission oversees a variety of issues, including grain warehouses, taxi cabs, manufactured and modular homes, recreational vehicles, natural gas pipelines and telecommunications infrastructure.
Kleeb, who lives in the Hastings area, founded Bold Nebraska in 2010 and gained both national and statewide recognition as a political organizer opposing plans by TransCanada Corp. to build the Keystone XL pipeline. The pipeline would run 1,179 miles from Hardisty, Alberta, to Steele City near the border between Nebraska and Kansas.
TransCanada is awaiting word from President Barack Obama on whether it will get a permit it needs to build across the United States' northern border. Gov. Pete Ricketts said Monday he sent a letter last week to Obama urging him to approve the permit.
You have free articles remaining.
Kleeb said she would run for the Public Service Commission only if Obama has made a decision on the permit by the filing deadline. She previously served on the Hastings school board from 2010 to 2014.
If she files as a candidate for the Public Service Commission it would be in the commission's 4th District, which is represented by Rod Johnson of Sutton, a former state senator who was first elected in 1992. The district covers a large swath of the state's central counties.
Kleeb is a Democrat; Johnson is a Republican. The commission is a partisan position.
Kleeb announced her plans on Monday at the Westside Restaurant in O'Neill during a meeting of Keystone XL opponents who were in town for a pretrial hearing in a lawsuit filed by landowners seeking to stop TransCanada from using eminent domain to force easements for the pipeline.
If lawsuits challenging the constitutionality of the state law that gave TransCanada eminent domain powers in Nebraska are successful, there is a chance the company would have to go through the Public Service Commission to proceed with condemnation, the process it would use to force easements.
In an email, Kleeb said she also hasn't ruled out running for Nebraska's 2nd District House seat against Congressman Brad Ashford. Kleeb said she disagrees with many of the stances Ashford, a Democrat, has taken since being elected last November.