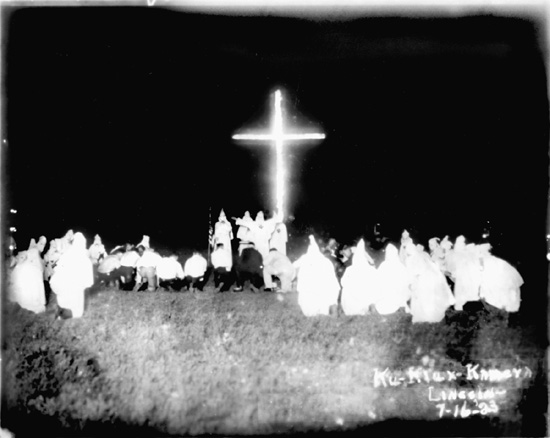 In 1866, after the close of the Civil War, several groups formed as "social clubs (with) absurd ritual and a strange uniform." The most popular was known as the Ku Klux or Ku Klux Klan.
The Klan, established in Pulaski, Tenn., was present in all of the Confederate States and had as it goal preventing African-Americans from voting. Where a lack of civil law existed, the Klan expanded into vigilantism.
Also known as the Invisible Empire or Invisible Circle, the Klan's supreme leader was known as the Grand Wizard whose subordinates were known as Grand Dragons who were followed by Grand Giants and Grand Cyclops.
As they felt their goals had been fulfilled, the central organization disbanded in 1869 and the Ku Klux Act or Force Laws of 1871, aimed at such secret societies, signaled the end of the original era.
In 1915, a second era of the KKK formed in Atlanta, Ga. After the end of World War I, blacks began moving north, drawn by the expansion of employment opportunities. This in turn caused a new anti-black movement, with the KKK moving out of the confines of the old Confederacy and claiming membership of 500,000 to 1 million.
In 1921, the first Nebraska Klavern opened in Omaha with an agenda of expanding the anti-black plank to include Roman Catholics and all immigrants.
That year, the KKK claimed over 1,000 members in Nebraska, 45,000 the following year and 4 million nationally by 1925. A parade in York claimed 2,000 marchers, while local organizations formed in nearly a dozen cities statewide.
In May of 1924, the Hastings Klavern opened offices in the Brandes Building, held a rally at Prospect Park that drew nearly 4,000, and gave $179 to the Baptist Church for its building fund. On July 7, 1925, with "the town's most prominent citizens on its rolls," Hastings hosted a six-block-long parade of over 500 KKK marchers and a rally hosting the Imperial Wizard, which reported a crowd of over 25,000 from across the state.
Lincoln Klavern #11 also started in 1921 and was considered "especially strong." The period 1924 to about 1929 represented Lincoln's greatest KKK activity. Posters circulated advertising their opposition to "crooks, boot-leggers and law violators (emphasizing) petting parties are a menace to National Morality."
About 1923-24 the old Gov. Butler house at 1549 S. Seventh St. was purchased for a local headquarters. In addition to meeting rooms, there was a basement Klanteen serving coffee and sandwiches and four rooms set aside for a full-time resident caretaker. "A large 18 foot electric cross on top of the Klavern (was) illuminated every night and (could) be seen for miles," according to one source. In 1925, 62 members pooled $700 to purchase a Klan Dining Room at the State Fairgrounds, and that December the Kligrapp (secretary/treasurer) established a $2 premium benefit life insurance plan.
In 1926, the KKK and its Fellowship Forum Publishing arm leased an office in the Brownell Block at 139 S. 11th St. They also published brochures from that office noting that the KKK was "Here Today-Here Yesterday-Here Forever."
Seemingly at the Klan's height, the Great Depression brought a sudden end. The Seventh Street property became a private residence, the office was listed as vacant and no public mention was made.
The 1950s Civil Rights Movement saw a third-era organization, but by the 1970s total national membership had dwindled to less than 2,000. Still, in 2006 an 18-year veteran of the Nebraska State Patrol was fired for being a member of a KKK affiliate organization.
While the KKK never quite disappeared completely, U.S. immigration policies are supposedly attracting yet another rebirth of the hate group. Today the Invisible Empire has a toll-free phone number, a website and even an official T-shirt.
Historian Jim McKee, who still writes with a fountain pen, invites comments or questions. Write to him in care of the Journal Star or at jim@leebooksellers.com.