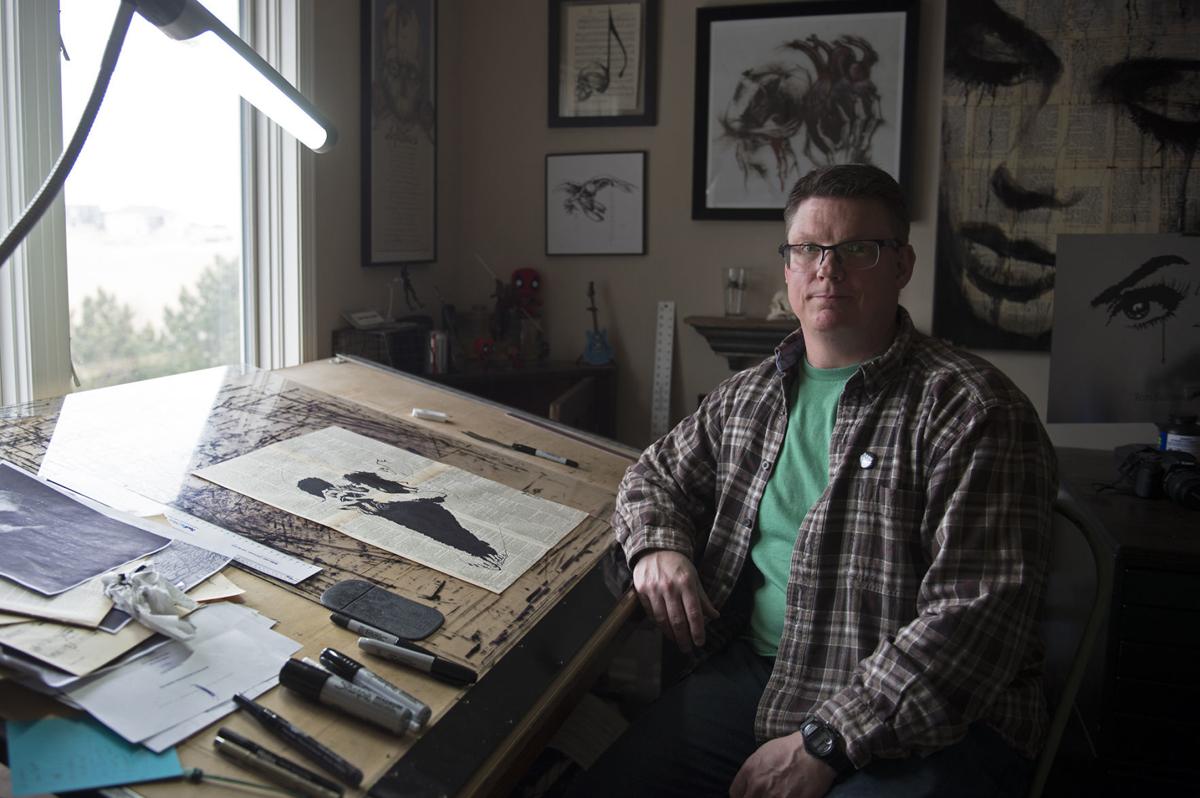 Like most, Tom Sullivan comes home from work every weekday looking to relax.
But for him, that means staying up into the wee hours, painting in the loft he converted into an art studio inside his Lincoln home.
Sullivan spends close to 40 hours each week painting, he said — a second full-time job in addition to his daytime career as a vice president at Union Bank & Trust.
He completes multiple paintings most nights, sometimes working eight hours. He also produces art on the road, bringing a drawing pad along for work trips.
"It's something I do every day. I have to do it every day," he said. "I feel a need to create, so I find it to be more meditative than anything else."
Sullivan, who sells his art under the name "Sulbone," paints with India ink. He starts by looking at a photo of the subject he'll be painting, then manipulating that image as his own. He uses vintage paper, painting on old dictionaries, sheet music, books and maps.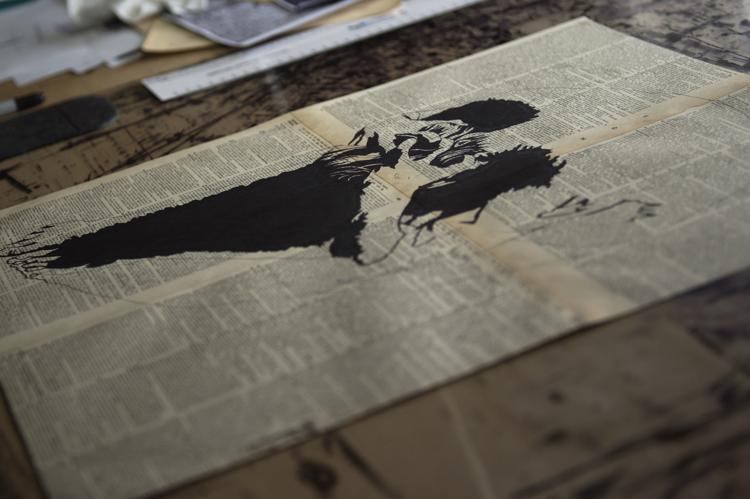 "It started out when my wife bought some old sheet music at an antique sale," he said. "And now I have friends that go to estate sales and pick things like that up for me because they know I'll use it. No one else really wants it."
Sullivan has already amassed hundreds of pieces in just a few years. His subjects vary depending on what he's feeling or what he's commissioned to do, but he specializes in a few subjects: dancers, musicians, the female form and what he calls his "Anguish series" — paintings depicting sad women.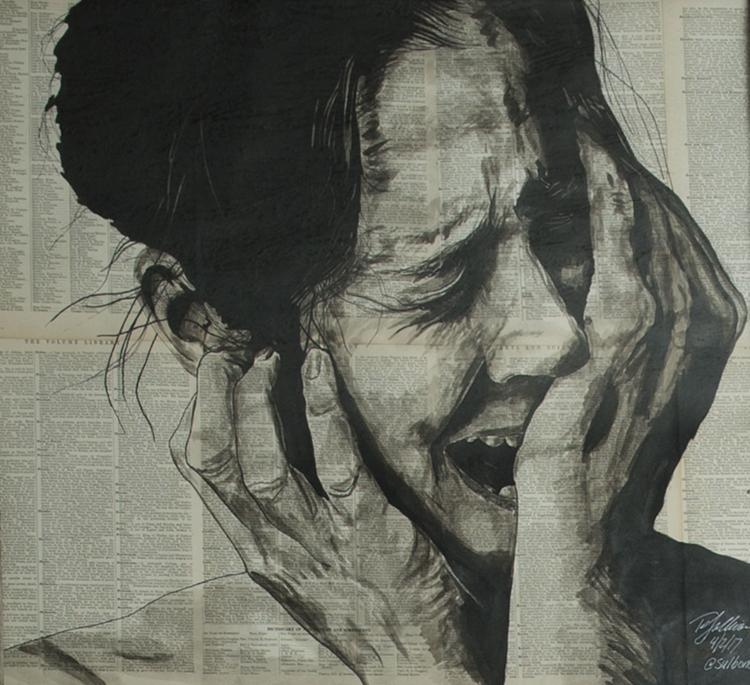 "I just find beauty in it," he said. "I find that women that have gone through something hard in their life can relate to it."
Sullivan calls himself a "late bloomer" when it comes to painting. Only a few years ago, when Sullivan was in his 40s, his youngest son, Christian, asked him to draw a picture for him. Christian was interested in playing the drums, so Sullivan drew him a drummer.
He'd never done any sort of art before, but when Sullivan finished the drawing, he knew he'd found his calling.
"I gave it a shot and it just kind of went from there," he said.
Now, six years later, Sullivan has honed his craft.
You have free articles remaining.
One of his paintings was chosen this month to be featured in an international art exhibit in New York City. Sullivan was among 10 finalists selected from an international pool of thousands for the ARTBOX.PROJECT. The project hosts these competitions at art galleries all over the world, with the one in March being the first in New York.
After seeing a promotion for the project on social media, Sullivan decided to enter three of his paintings into the competition, a first for him.
"I thought maybe I'll give this a shot," he said. "And then in February I found out I was a finalist and it's been a whirlwind since."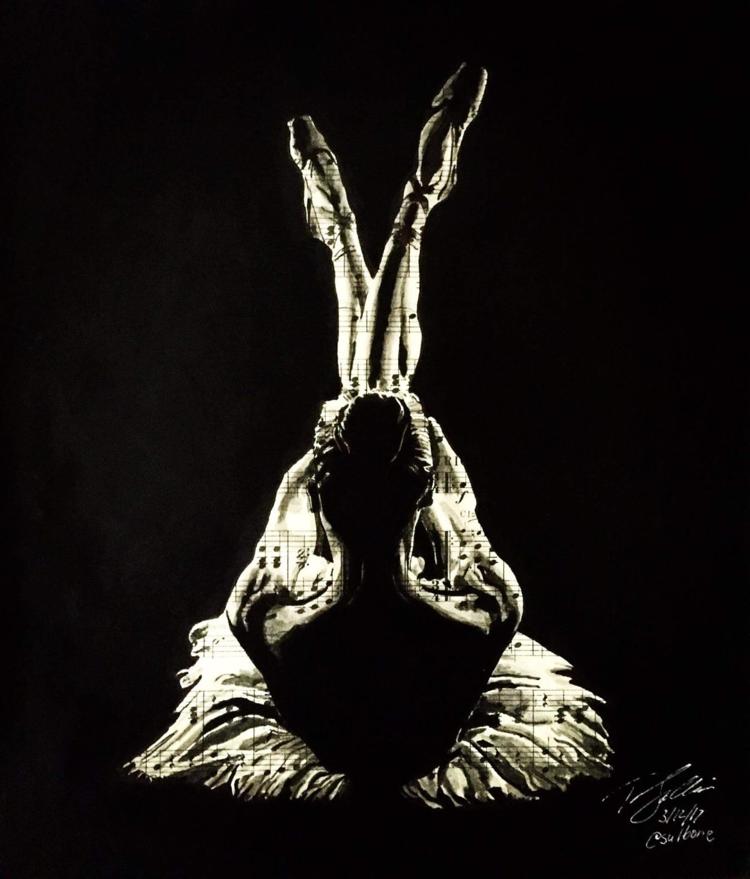 Sullivan traveled to New York to see the piece — one from his ballerina collection — displayed in a gallery.
"I'm floored," he said. "It's very fulfilling to have my art recognized by an international audience. It shows me that what I'm doing is on the right track."
His paintings have received praise here in Lincoln, too.
Last summer, he was named the Lincoln Arts Council's 2017 Emerging Artist. Sullivan's paintings have also been displayed at Metro Art Gallery and sold at fundraisers for the Team Jack Foundation.
Douglas Baehr decorated his south Lincoln hair salon entirely with Sullivan's paintings. Angie, Sullivan's wife, is a client, and when Baehr was looking to redecorate, she mentioned her husband's paintings.
"I told him to bring it in to show us what he had, and as soon as I saw it, I said, 'You put whatever you want up on the walls.'"
The artwork is a conversation starter among clients, Baehr said.
"The amount of detail in his paintings is really cool," he said. "Being a creative space ourselves, it's really inspiring to be surrounded by it."
Despite his lack of training and never having hosted a solo show, Sullivan guesses he has sold more than 100 paintings.
"I don't really understand everything in the art community," he said. "Part of it is also that I keep so busy without doing showings anyway."
This constant urge to create makes balancing work and life quite easy, he said.
"It's a little bit odd because I'm very analytical in my real job, but then I'm very creative and artistic in my not-real job," he said. "I just fell into art, and it just works for me."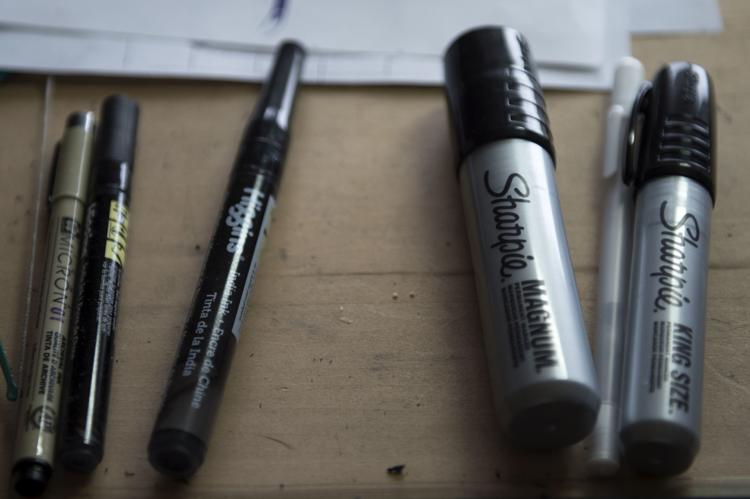 Get local news delivered to your inbox!
Subscribe to our Daily Headlines newsletter.