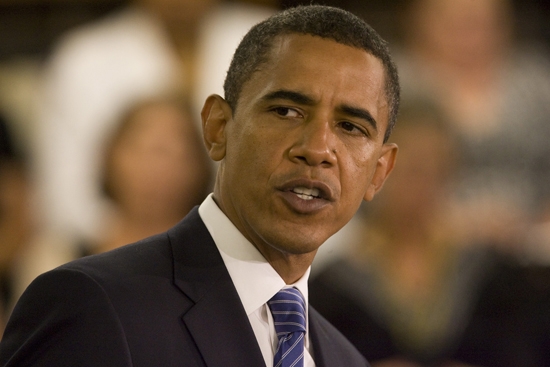 OMAHA — Democrat Barack Obama's campaign officially opened its newest office here Wednesday, drawing 900 people to the headquarters and signaling a serious effort in the Republican-heavy state.
Supporters crowded in and around the Omaha office, backing up traffic in the surrounding neighborhood and lining up to get buttons and sign up to volunteer.
While people were undoubtedly enthusiastic about Obama, some of those attending were impressed that any presidential campaign was actively asking for their vote.
"In the past, I have felt my presidential vote didn't count in this state, because it was going to go Republican,'' said Ron Crampton, 67, of Omaha.
Nebraska has given its five electoral votes to the GOP candidate in every presidential election since 1964. The state is one of just two — Maine is the other — that can split its electoral votes, although it's never happened.
Mike Fahey, the Democratic mayor of Omaha, said he'll do whatever it takes to deliver the electoral vote tied to the 2nd Congressional District to Obama.
The vote would be essential to victory if the election ended in a 269-269 electoral tie, neither candidate reaching the mandatory 270 electoral votes.
"I've never seen this kind of excitement about any candidate running for president since John F. Kennedy,'' Fahey said.
Fahey said even the Republican opposition knows Obama has a good opportunity in Omaha. At the same time as the Obama event, more than 150 people attended a Republican general election kickoff a few miles away.
Republican Mike Johanns' Senate campaign has felt a strong momentum among volunteers, communications director Sarah Pompei said, especially since the party's presidential nominee John McCain picked Alaska governor Sarah Palin as his running mate.
"We've seen a great increase in number of volunteers, number of requests for yard signs and bumper stickers,'' Pompei said.
Obama has 15 paid staffers in Nebraska and hundreds of volunteers who have been canvassing for a few weeks, according to his campaign. McCain is so far relying on a volunteer effort, although state Republicans promise there will be a McCain presence.
Stacey Goodlett, 27, of Omaha, said she was "beyond surprised'' so many people came to see Obama in the state's biggest, most diverse city.
She said as a black woman, she hopes Obama can show children that a black man can become president. Goodlett said she votes for the candidate who has her best interests at heart.