Jerry Penry moved fast. The amateur photographer and aircraft enthusiast got lucky in mid-August, when he snapped a photo of a jet crossing in front of a full moon above Lincoln, its contrails looking every bit like dusty rooster tails on a county road.
He took the picture of the FedEx 757 from his apartment patio in the Highlands, posted it on the Facebook page Nebraska Through the Lens minutes later, and was on his way to more than 4,000 likes by the time the jet from Minneapolis arrived in Fort Worth, Texas.
The pilots admired it when they landed, because Facebook has made the world smaller —  someone who follows the page knew a FedEx pilot who knew who was flying at the time —  and pictures now travel faster than planes.
"It is a magnificent photo. Almost unreal in its look," said FedEx Capt. Patrick Buse of Minneapolis, who's flown for the company for eight years (and whose answers took six weeks to get delivered to Lincoln because they had to be approved by FedEx's public relations and legal teams). "It looks more like a 757 orbiting the moon. It was somewhat of a surreal feeling when I saw the photo, because I was flying the jet in that spectacular shot."
It all came together by chance. Penry likes to photograph the moon, and he likes to try to frame passing jets against its fullness.
He uses the website planefinder.net to track their movements. And that night, storms were brewing above Iowa, prompting the FedEx jet to alter its course. "This is not our normal route of flight," Buse said.
Penry saw it on the website, somewhere between Palmyra and Unadilla, but couldn't see it in the sky — until the final few moments.
You have free articles remaining.
"I knew it was possibly going to be in the area. I was just focusing on the moon, and I see something out of the corner of my eye and I snapped the photo and I got it," he said. "There was some luck involved in grabbing that shot."
The land surveyor is fascinated with the moon; he recently published an article in The American Surveyor magazine about measuring distances to the moon. He typically takes its photo several times a week, more when it's full.
In May 2018, he captured a Denver-to-New York Southwest flight silhouetted against the moon in the daylight. He sent it to the airline but didn't hear back.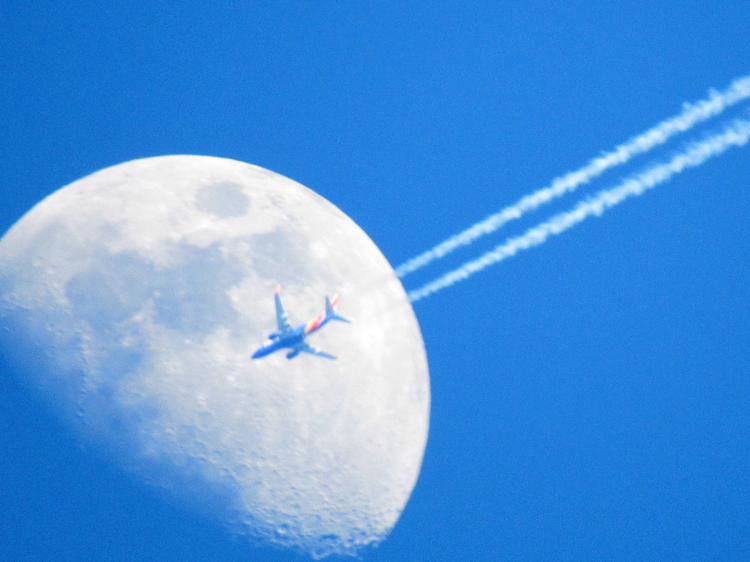 He's posted pictures on the Nebraska Through the Lens page before, but none were as popular as the FedEx photo. It received more than 150 compliments in the comments. He heard from the wives of the pilots, requesting the original image so they could print and frame it.
And now he's hearing from one of the pilots. The photo is spectacular, Buse said, and it reminded him why he enjoys flying.
"It's rare that we get a view of our everyday job from the outside looking in."