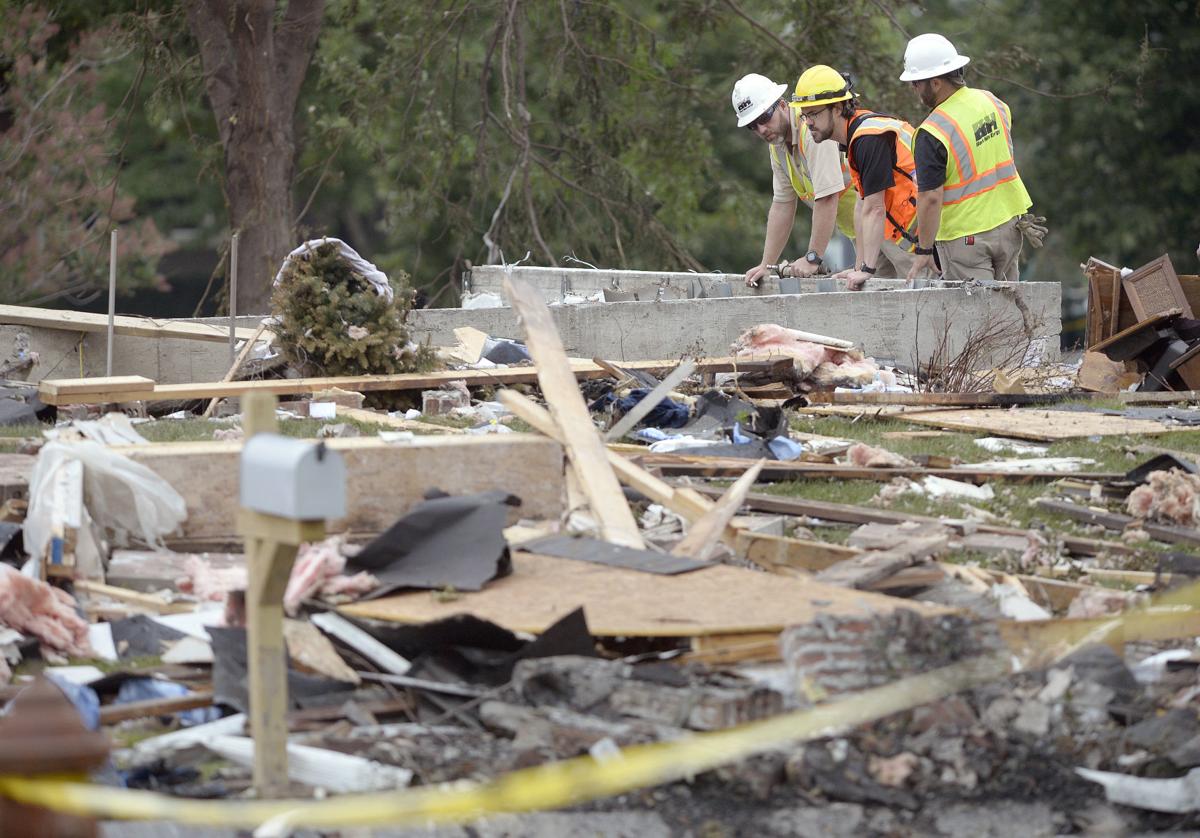 Police no longer have a presence at the site of a house explosion in southeast Lincoln but their probe into what caused it continues.
Chief Jeff Bliemeister said police are still looking into the "seat of the blast" and the events preceding the Aug. 14 natural gas explosion at 5601 S. 78th St.
"The processing and documentation of the scene has been completed, but expert analysis, laboratory testing, investigative follow-up, and collaboration with Building and Safety Fire Inspectors continues," the chief said.
The home's owners, Jim and Jeanne Jasa, remain in critical condition at CHI St. Elizabeth.
Insurance companies now have custody of the rubble that is the Jasas' home, a few blocks north of Old Cheney Road. A 6-foot-tall, chain-link fence protects the site.
Fire and police investigators last week seized evidence from the residence, now considered a crime scene as police try to determine if the blast's cause was intentional.
Finding answers in suspected natural gas explosions isn't always easy, but it's not impossible, fire investigators told the Journal Star.
When an explosion totally destroys a home, "you've got a tremendous amount of work to do," said Norfolk Fire Marshal Terry Zwiebel, a former natural gas company employee.
"Evidence is there. It's just changed shape," he added. "You've got to put it back together like a jigsaw puzzle."
The blast at the Jasas' house is believed to have been triggered inside the residence.
State and city fire investigators ruled out an external leak, and police have said there's no evidence that natural gas provider Black Hills Energy's service or system was negligent.
A judge has sealed the search warrant detailing what evidence police took and why they took it from the scene.
The extent of damage is unprecedented in Lincoln for this type of blast, said Chief Fire Investigator Bill Moody, who has worked five or six large explosions in his 32 years on the job.
Most homes in an explosion sustain limited structural damage, he said.
A May 2016 explosion at 830 B St. stemming from a leak in the line to the water heater, for example, damaged the home's foundation.
Zwiebel, who heads the Nebraska chapter of the International Association of Arson Investigators, can recall two such explosions in Norfolk.
But those were more like "hard ignitions," where a wall pops out and fire starts, he said.
No one was injured in the cases Zwiebel worked, he said.
A pair of natural gas explosions in Omaha grabbed headlines last year.
In one case, a housing inspector died after she went inside a vacated property in the Benson area.
In another, fire investigators said improperly marked gas lines were struck by workers and triggered an explosion and massive fire that destroyed a restaurant in the Old Market.
In that blast, no one was seriously injured.
But one of the deadliest events in the state's history came Jan. 10, 1976, when the Hotel Pathfinder in Fremont blew up, killing 20 people and injuring dozens more.
The ignition source for that explosion was never determined, though fire officials later said the leak stemmed from an underground pipe allowing gas to seep into the building, the Fremont Tribune reported.
Natural gas is a colorless, odorless gas, so a chemical marker is added to give it a distinct smell so leaks are detected.
In Lincoln, natural gas provided by Black Hills Energy smells like rotten eggs.
Foul play factors into some house explosions, but most blasts stem from accidental leaks, Zwiebel said.
The volatile nature of natural gas poses a safety risk that homeowners should consider when working on or around natural gas-fed appliances, he added.
In the death of Clara Bender, the Omaha housing inspector killed last year, investigators determined the person who disconnected the clothes dryer forgot to turn off the gas, according to media reports.
Too many natural gas blasts stem from sloppy work leading to leaks in homes, Zwiebel said.
"Leave it up to the professionals."