When I arrived in Lincoln in the fall of 1958 to begin attending the University of Nebraska, the city's downtown area was much different than it is today.
Instead of wide, blacktop streets with one-way traffic, all of the streets were paved with brick and had two-way traffic. Angle parking was present on most streets. The effect was to limit traffic to one lane in each direction.
No modern traffic signals on cantilevers hung out over the streets. The traffic signals were on each of the four corners of the intersections.
During "rush hour" in the afternoon, a Lincoln Police Department officer was stationed at each downtown intersection to direct traffic and try to help it flow in an orderly manner. For example, at the intersection of 12th and O streets, Officer Harry "Pete" Peterson would sit in his cruiser parked near the intersection to monitor traffic. If a pedestrian attempted to walk against a red light, Peterson would tell him/her through his cruiser's loudspeaker to "Wait for the green light. Go back to the curb."
Years later, in 1969, Peterson became the first African American to be elected to the Lincoln City Council.
During the 1950s, downtown was full of retail stores such as Gold's, Miller & Paine and Ben Simons. For women, Hovland-Swanson offered the latest in high fashion. For men, Magee's at 12th and O streets was the premier men's clothing store.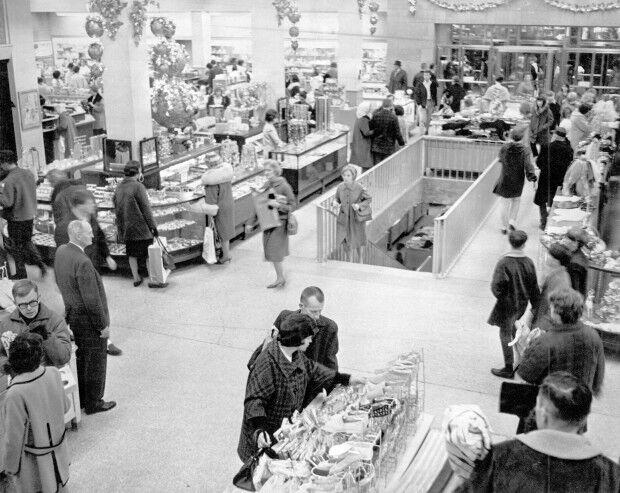 A short way down O Street was Wells & Frost, which offered men's suits and sport coats but also had a nice variety of work clothes and shoes.
For the budget-minded, Guarantee Clothing on the south side of O Street, just east of 13th Street, offered men's clothing of a side variety. One reason I liked to shop there was the store had old-fashioned cash registers that had to be cranked to record a sale.
Downtown chain stores included J.C. Penney, Sears and Montgomery Ward.
Grocery shoppers were served by Safeway grocery stores located southwest, southeast and northeast of downtown. Downtown workers would often shop for groceries after work at one of those stores.
The large downtown office buildings were filled with doctors and dentists, as well as a variety of insurance offices, jewelers and other trades. Many workers rode the Lincoln City Lines buses to and from work, with stops outside Gold's and Miller & Paine on O Street being busy locations.
The downtown area also had several drugstores. Danielson's was prominent, and there were a number of dime stores including Kresge's, F.W. Woolworth, Hested's and W.T. Grant. Many of these stores had soda fountains where lunch was also served.
Movie theaters were all over downtown. The Stuart Theater in the Stuart building also hosted live theater productions. Across the street to the west was the Varsity Theater. East of 14th Street was the State Theater. On the northwest corner of 12th and O was the Nebraska Theater. On the south side of N Street was my favorite, the Lincoln Theater, which was different in that you had to climb stairs to enter the lobby, which provided a way to the sloped audience area. On weekends, crowds would line the sidewalks waiting to buy tickets.
Popular with the college crowd were downtown bars like the Downtown Bar & Grill and the colorful Hob Nob, with its high ceilings and red wallpaper. Lebsack Bros. offered lunch with the owners serving soup and sandwiches personally.
Students on a limited budget could patronize the Acme Chili Parlor at 14th and O streets or the Tastee Inn at 14th and Q streets. For a little nicer fare, you could drive in or dine in at Kings at 19th and O streets. If you wanted to impress a date, you took her to a movie and finished off at the Pow Wow Room at the old Cornhusker Hotel.
At this time, Lincoln still had beat cops. As a shift changed, officers would march in formation from LPD headquarters at 10th and R streets, and peel off to relieve those on duty. There were red call boxes located on poles downtown. If dispatch needed to contact a beat officer, they would press a button for the phone on his beat, and a light would come on. As the officer came by, he would notice the light and call in.
If you wanted sporting goods, Lawlor's on O Street had it all. Nearby Latsch's had everything you would need for office supplies. Stores were open late on Thursday evenings. Lincoln City Lines buses operated late into the evenings and were heavily used by shoppers on Thursday evening trips downtown. Today's StarTran has yet to equal that service.
You could ride the elevators at the Old City Hall, Miller & Paine and Gold's, as well as at the Nebraska Capitol building. Women operators would call floors and the store items on those floors.
There was no Uber or Lyft in those days. Yellow Cab and Checker Cab provided taxi services, and a line of them could always be found at the Burlington Railroad station to provide rides to the travelers riding the 20-some trains serving Lincoln every 24 hours.
Women shopping downtown wore hats and white gloves, and most men on the street wore a man's hat. Caps were rare and only worn by workers.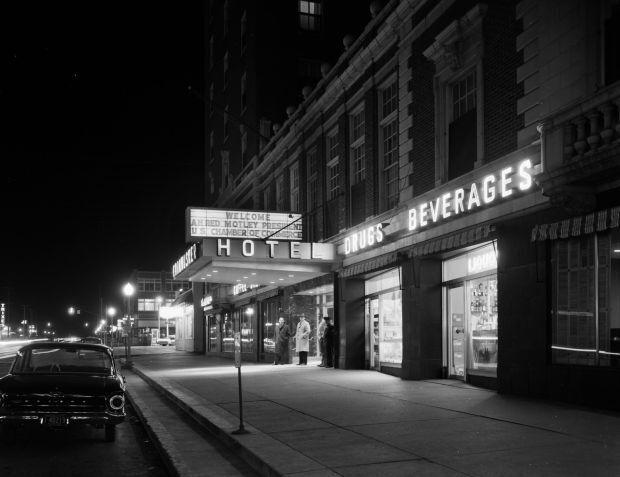 Parades were common downtown. At UNL Band Day each fall, marching bands paraded down O Street led by the UNL Marching Band. Also each fall, a Homecoming Parade and other special events promoted Lincoln stores.
To keep the crowds back out of the street, three-wheel motorcycles, normally used by LPD "meter maids" to enforce parking violations, roamed both sides of O Street with a Corncob member riding on the back and shooing people out of the way.
Today's Haymarket was then primarily a warehouse district, with Burlington switch engines spotting and picking up freight cars on the spur tracks in the area.
With a population of 110,000 as of the 1950 census, Lincoln was a sleepy college town in the summer with a noticeable increase in activity when UNL students returned in the fall. Today, with Lincoln's population approaching 300,000, the downtown area is much different.
The days of the downtown department stores and many movie theaters are in the past. The Stuart and Sharp buildings no longer house doctors and dentists. The old Cornhusker Hotel is gone, replaced by a new one.
And I am grateful that I have been able to experience both eras in Lincoln and those in between.