Steve Loftis set off with Uncle Max early Thursday morning.
The Lincoln man left his home on Jade Court at 5 a.m., wearing combat boots and camo and a weighted rucksack, the start of a 26.2-mile trek along south Lincoln trails in honor of Max Lockhart, the uncle he never knew.
A mile away, his neighbor and training buddy, Pat Driver, waited in the dark with a cowbell and a blast of '80s rock to send him on his way.
He was back on Jade Court at 10:46 a.m. with that bell, ringing Loftis home.
Six months of training and another Bataan Memorial Death March marathon in the books — this one virtual — in memory of Pfc. Max Lockhart, forever 23.
Loftis grew up in Tekamah, like his Uncle Max before him.
It was a patriotic town, the 69-year-old said Monday. A proud American town.
Loftis believed in serving, too. He joined the Air Force after high school. He became an Army helicopter pilot. He spent four years in active duty and served for more than three decades afterward, mostly in the Nebraska National Guard.
"The military has more to do with who I am than any other aspect of my life," he said. "And as I developed my military understanding, Max became more of a question mark in my history. Who was he? How do I get to know him?"
The VFW in Tekamah is named for Lockhart and a pair of classmates who joined the Army and shipped out to the Philippines after basic training.
Three Nebraska soldiers out of more than 60,000 American and Filipino troops who were captured when the Japanese took the Bataan Peninsula on April 9, 1942.
The soldiers were forced to march through the jungle in the stifling heat to prison camps 65 miles away.
Many died on the days-long march, sickened by malaria, beaten by the Japanese, a torturous trek that would earn the title Bataan Death March.
Hundreds more — including Lockhart and his Tekamah classmates — died in Japanese POW camps.
Loftis heard about the memorial march at White Sands Missile Range in New Mexico in the early '90s.
But he was busy then. Being a dad, working his civilian job as a comptroller and serving in the guard as command chief warrant officer.
Then, in 2009, he retired from the military and three years later, he retired from his civilian job and put on a rucksack and started to train.
He'd long been a marathon runner. He helped start the Nebraska Guard involvement in the Lincoln Marathon and served as team captain the first two years.
He was naturally competitive. A guy who liked to push himself and his body.
And he knew a little about Lockhart, his mother's brother.
He knew Max came from a big family. He knew his loved ones called him Sam, although he didn't know why. He knew his uncle had played high school football. That he was strong. And he guessed that times were hard in Burt County when he enlisted in the Army.
"I'm suspecting he joined because there was no other way to make a living."
Loftis spent the fall and winter of 2012 training for his first march.
He found a photograph in his aunt's family album. Max, the high school senior, smiling for the camera, his head tilted, wearing a white shirt and a polka-dot tie.
He digitized it, made a copy, pinned it to the back of his rucksack and set off for New Mexico.
Two years ago, shoulder surgery stopped him.
And last year, the pandemic canceled the march altogether.
Loftis competes in what's called the heavy military division of the march, making the 26.2-mile trek in full combat gear, carrying 35 pounds on his back.
Training starts in October, six months before the early April event.
He's out the door at 5 a.m., wearing long, khaki pants, something on his head, gloves, combat boots.
He's getting his feet ready. Strengthening the muscles, building up calluses.
He starts with an empty pack and an 8-mile walk down Old Cheney Road.
He slowly builds. He adds miles and weight to the rucksack. Clothing and water bottles. Lead weights.
He cross-trains. Swimming, weightlifting, running. If it's icy, he heads to Madonna Proactive to work out inside.
He prefers the fresh air.
"Four or five hours on the treadmill is deadly," he says.
Seven years ago, Driver, his neighbor with the cowbell, started training with him.
"I remember thinking, 'You're walking a marathon? What's the big deal?'" Driver said. "Biggest understatement on the planet."
Eventually, they traveled to New Mexico together, competing in their age divisions. Sometimes winning them.
He understands the physical challenge of carrying that pack, trudging in those boots through the desert.
And he's in awe of his neighbor, a generation older.
"He's a testament to what a lifetime of physical fitness can do," Driver said. "And more than anything, he has conditioned his mind to overcome what his body says it can't do."
In 2019, when Loftis was sidelined by shoulder surgery, Driver went alone, Uncle Max on the back of his pack.
This year, organizers offered a virtual version.
It was lonely those first miles, Loftis said
A buddy from Madonna — 77-year-old Dick Waller — joined Loftis for the final 12 miles.
His wife, Linda, was there to greet Loftis at the end of the march — a personal best time of 5 hours and 46 minutes in the relative ease of the Nebraska plains.
"I had the whole day ahead of me."
"Max always helps me through the last few miles in New Mexico because they are tough. We're a team, and knowing he and I are doing it together helps."
It's hard to explain, he says.
The same way it's hard to describe the memorial march.
The temperature in the desert. The pre-dawn cold, followed by oppressive heat. Relentless sun.
The terrain, most of it sand, sometimes deep. Steep inclines and treacherous downhills. Fierce winds.
The reason that thousands travel to the desert.
"After I did that first one in March 2013, that's when Bataan really embedded itself in my brain, and I could appreciate the role Max played in that event."
The march is just a piece of the three-day gathering in New Mexico. There are movies about the war and the death march. Question-and-answer sessions. Survivors from all over the country, fewer and fewer each year.
Loftis has met some of them.
"They could have been the last handful of people who ever knew my uncle."
It's a great history lesson, Loftis says.
"I'd like to see more people know about it. It's good for people to remember that the sacrifices that people made so we could have the existence we have now."
On the morning of the march, there's a 30-minute pre-race sendoff.
The sun is rising, and the desert is still.
Soldiers are standing at attention. A Filipino delegation is there. American soldiers, too. Wounded warriors.
Young soldiers, veterans.
They start to call roll. Survivors. Those who perished.
He can see his friend and neighbor in the throng. Wearing his heavy pack with a black-and-white photo attached to the back, showing its wear after so many miles.
"He's standing in front of me at attention, and he's honoring his Uncle Max."
Stories of honor: Nebraska veterans
Marine Sgt. Hoenig made maps that helped defeat Japan in WWII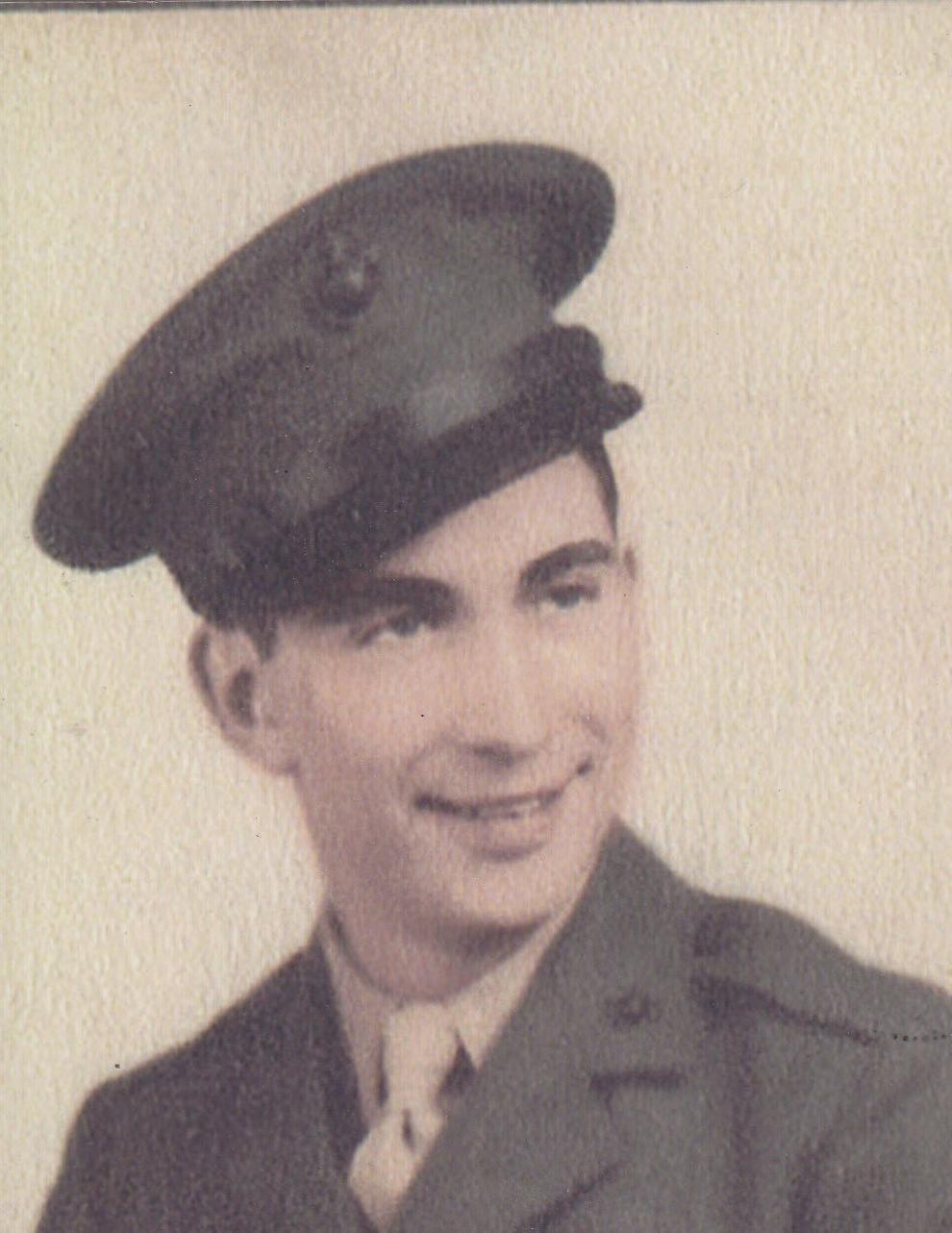 The year was 1943, and Jack Hoenig was decoding Japanese messages, working for the U.S. government in Washington, D.C. Feeling that he was not doing enough to serve his country, the 23-year-old Lincoln man enlisted in the U.S. Marine Corps.
He was eventually assigned to the Pacific Theater of Operations on the Northern Mariana Island of Saipan. Although measuring only 5.6 miles wide and 12 miles long, it was a significant stronghold of Japanese forces during World War II and a strategic location for mainland Japan's defense.
After a month-long journey aboard a ship from the U.S., Sgt. Hoenig arrived at the completion of the battle for Saipan, a Japanese-controlled island and the location of one of the bloodiest battles of World War II.
During a three-week battle, 3,500 American lives were lost, and 13,000 Americans were wounded in order to gain control of the small but-significant piece of land.
Some 27,000 Japanese fought to their death and thousands of Saipan civilians – hearing false propaganda that the Americans would torture and kill them – committed suicide by jumping off nearby cliffs.
Hoenig, who acquired camera and blueprinting expertise through employment at Pat Ash Photography, a downtown Lincoln camera store, became a photo-topographer for the military, inspecting and analyzing aerial photographs and film and making maps.
The military tapped his expertise in photography, geography, model making, and surveying. Sgt. Hoenig made some of the maps that helped defeat Japan.
Aerial attack
In August 1945, nearby Tinian Island was the launching point for the Boeing B-29 Superfortress that delivered atomic bombs to Hiroshima and Nagasaki, Japan. The bombing resulted in Japan's surrender a few weeks later, which shortened the war and saved countless American lives.
After the aerial attack on Japan, Marine Sgt. Hoenig was among the first Americans to arrive in the bombed-out Japanese cities. The group became eyewitnesses to the historic devastation that resulted from the world's first deployed atomic bombs.
Sgt. Hoenig's assignment: to map the epicenter of the bombed cities and document the destruction, which officials later estimated at between 129,000 and 226,000 Japanese lives. The aftereffects of radiation associated with the atomic bomb posed long-term health risks danger for those exposed.
"We didn't even think of that back then," Hoenig, who will turn 99 in July, reflected during a recent interview in his southeast Lincoln home. "We were concerned with our own survival and returning home safely."
Honors received
Upon his honorable discharge in 1946, Sgt. Hoenig received a Good Conduct Medal, Honorable Service Lapel Button and the Marine Corps Discharge Button.
Returning to Lincoln, he became general manager of National Manufacturing in Lincoln. He was active for many years with Lincoln Rotary Club No. 14 and volunteered for the Food Bank of Lincoln and at what was then Bryan Memorial Hospital. He continues to be an active member of First Presbyterian Church in Lincoln.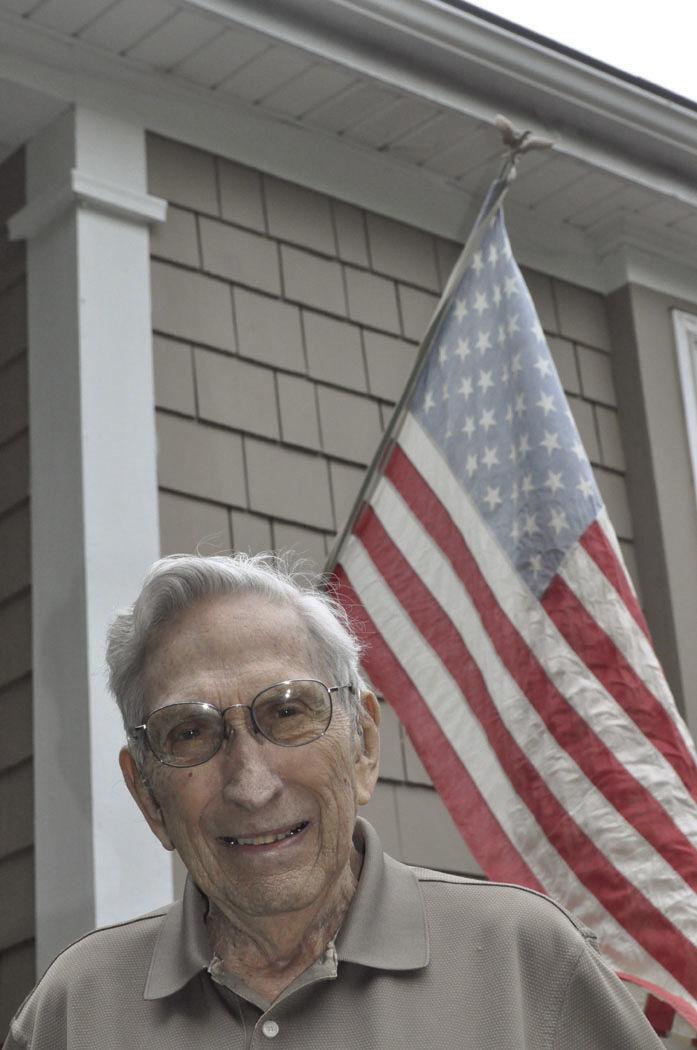 In 2009, Hoenig realized a lifelong dream of returning to the jewel island of Saipan under much different circumstances. Two of the island's residents – Hoenig's granddaughter, Carrie (Knight) Schuler and her husband, Kirk – helped arrange the visit of Hoenig, his wife Marilynn, his daughter Jackie (Hoenig) Knight and Dean Knight.
Carrying a black-and-white album of hundreds of photos of Saipan he had taken in the 1940s, Hoenig found no signs of what he had remembered from 60-plus years ago.
"The island had become a dense, overgrown jungle," recalled Hoenig, who met with the governor of the island and received the World War II Saipan Service Medal, inscribed with "Our Grateful Islands Remember," for his service to the Island of Saipan.
Vietnam War vet looks back on decorated career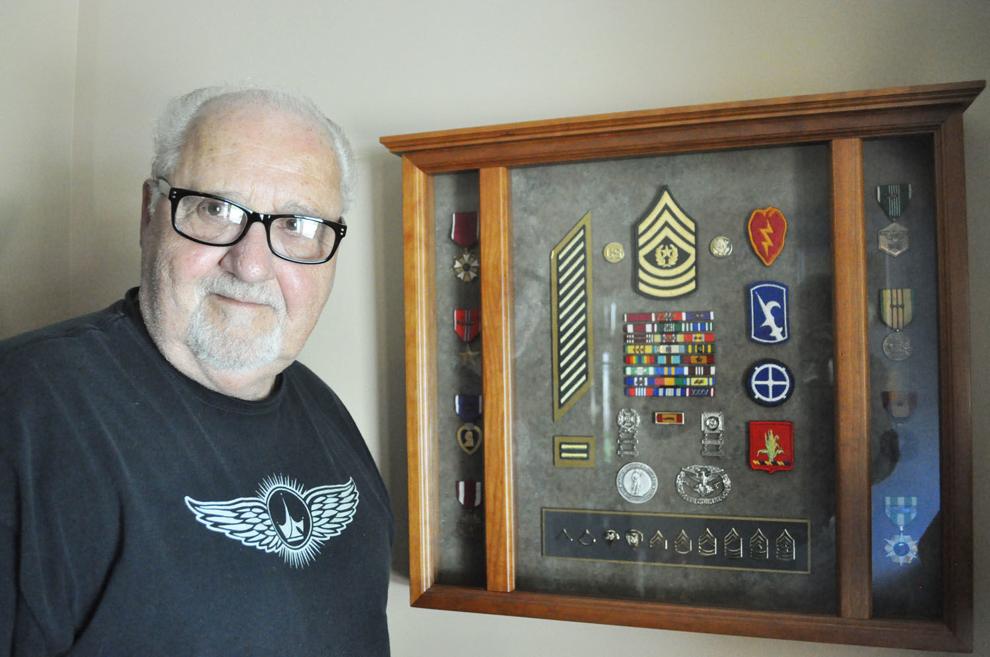 After devoting 38-plus years to military service, including an 11-month stint during the height of the Vietnam War, Thomas Shunk has moved on to a quiet, peaceful retirement with his wife of 29 years, Julie.
Their neatly decorated home and well-manicured property in north Lincoln represent a lifestyle in stark contrast to his combat duty a half-century ago, followed by a subsequent 36-year career that included 30 years as a full-time soldier with the Nebraska Army National Guard.
The last six years of E-9 Command Sergeant Major Thomas L. Shunk's military career were spent as the State Command Sergeant Major for Nebraska – a position that gave Shunk the opportunity to visit soldiers of the Nebraska National Guard who were stationed in Iraq, Afghanistan, Kuwait, Bosnia, Kosovo and numerous other countries.
Numerous medals
The awards and medals earned by Shunk during his decorated military career speak volumes about his courage and leadership:
- Serving in Vietnam from August 1968 to July 1969, he was awarded four Bronze Stars, including two for Valor in Combat.
- He received four Army Commendation Medals, including two more for Valor in Combat.
- He earned three Purple Hearts and numerous other awards including the Vietnamese Cross of Gallantry.
Heroism in Vietnam
The Columbus native volunteered for the military draft in February 1968. After six months of initial training in the Army, the then-19-year-old soldier was sent to Vietnam, where he was assigned to the 25th Infantry Division as a combat engineer/dozer operator.
His duties included clearing jungle, building defensive positions for Infantry, Armor and Artillery units that searched for and fought against the Viet Cong and North Vietnamese armies.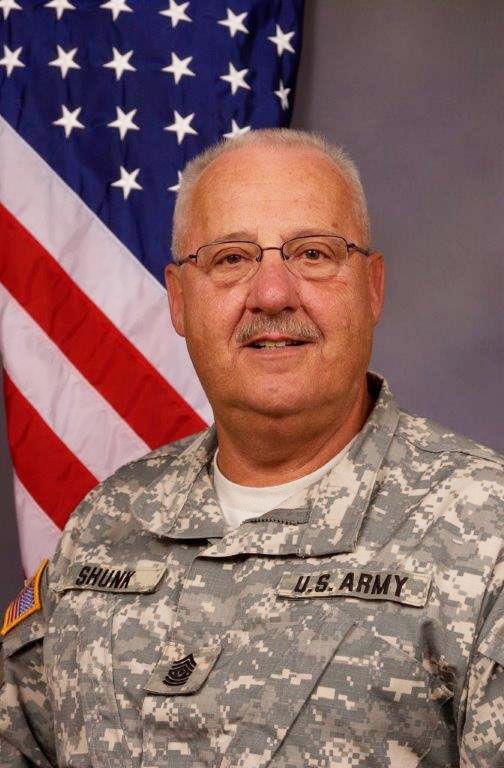 One of his Bronze Star citations reads in part: "While established at Patrol Base Frontier City, elements of Company C came under an intense attack by a large North Vietnamese Army force. Immediately, Specialist Shunk began to place devastating M-16 fire on the hostile positions. As the battle gained in intensity, Shunk secured a machine gun and continued to place effective fire on the advancing insurgents. His valorous actions contributed  immeasurably to the thwarting of the aggressor force."
Another Bronze Star for Valor said: "While part of a land-clearing operation, Shunk drove his bulldozer into a heavily booby-trapped area. With complete disregard for his own safety, Shunk began the task of clearing the heavily mined hedgerows throughout the area. When Shunk detonated one of the explosives, he received wounds that required him to be evacuated."
Seeing the world
In 1971, Shunk enlisted in the Nebraska Army National Guard and served in numerous positions as an Infantry First Sergeant, Internal Review Auditor and Recruiting and Retention Sergeant Major. In 2001, he culminated his career with his appointment as the State Command Sergeant Major for Nebraska, a stint of six-plus years that allowed him to visit Nebraska National Guard soldiers stationed throughout the world. Shunk retired on active-duty status in June 2007.
Retired for the past dozen years, Shunk holds lifetime memberships in the American Legion and Veterans of Foreign Wars (VFW). He said he observed Memorial Day quietly this year.
"Actually, every day is Memorial Day for me," Shunk reflected during an interview. "The noises and the memories of war will never go away," said Shunk, who suffered shrapnel wounds and hearing impairment when he detonated an explosive during one of his acts of heroism.
"You try to move on, but it's only natural to think of that."
The last few years of his military career were among the most rewarding, he said. "As a senior adviser working for the Adjutant General, it was gratifying to be in a position where we could boost morale and provide help."
Roadside bombing changed life of Air Force Staff Sgt. Cari Woelich
Nearly 14 years ago, a Humvee in which Air Force Staff Sgt. Cari Woelich was riding came in contact with an Improvised Explosive Device on the border of Iraq and Kuwait.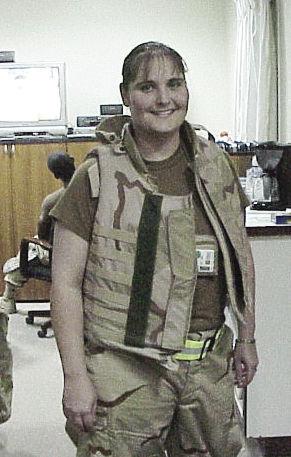 The roadside bombing caused the young Bellevue woman to be hurtled against the dashboard of the military vehicle. The explosion triggered by the IED caused severe, permanent injuries to both of her knees, damage to her spinal column and hurt her right wrist. It has resulted in five surgeries, including a spinal fusion and multiple operations to both knees, as well as frequent migraine headaches and impaired hearing.
Life Woelich, now 39, will never be the same after that fateful day on Sept. 28, 2005. The physical suffering and mental anguish are now a way of life for the disabled veteran, who first learned of her deployment in December 2004 – a day after giving birth to her second child.
Started at Offutt
Woelich joined the Air Force on May 31, 2000, and served at Offutt Air Force Base, not far from her Bellevue home. She served five years in the area before being deployed in May 2005 to Kuwait and Iraq, where she was stationed for eight months.
She applied for an extension and was assigned to Eileson Air Force Base, located near Fairbanks, Alaska, where she did a Pacific Air Force deployment, until officially becoming "medically retired" on June 4, 2007, due to Post Traumatic Stress Disorder. She has been declared 100 percent permanently disabled.
The Veterans Administration covers all of her medical bills, and she receives combat injury pay from the Air Force. She is scheduled for a sixth accident-related surgery – a knee replacement – next year.
'Getting better'
The life-altering battle with PTSD has changed her approach to life. Simple daily activities such as grocery shopping and sleeping at night have taken a back seat to fear and panic.
"I always order my groceries online, and when I first got home, I slept in front of our front door, living with the fear that someone was trying to get in," Cari said over coffee last week. Yelling in her sleep has precluded sleeping with her husband.
"I always think of panic and fear. I feel guilty about that, but that's my life."
Older son Alex, a junior-to-be at Bellevue East High School, was age 3 when his mom was injured while serving our country 7,000 miles away. Over the years, he is pleased to have observed progress in his mother.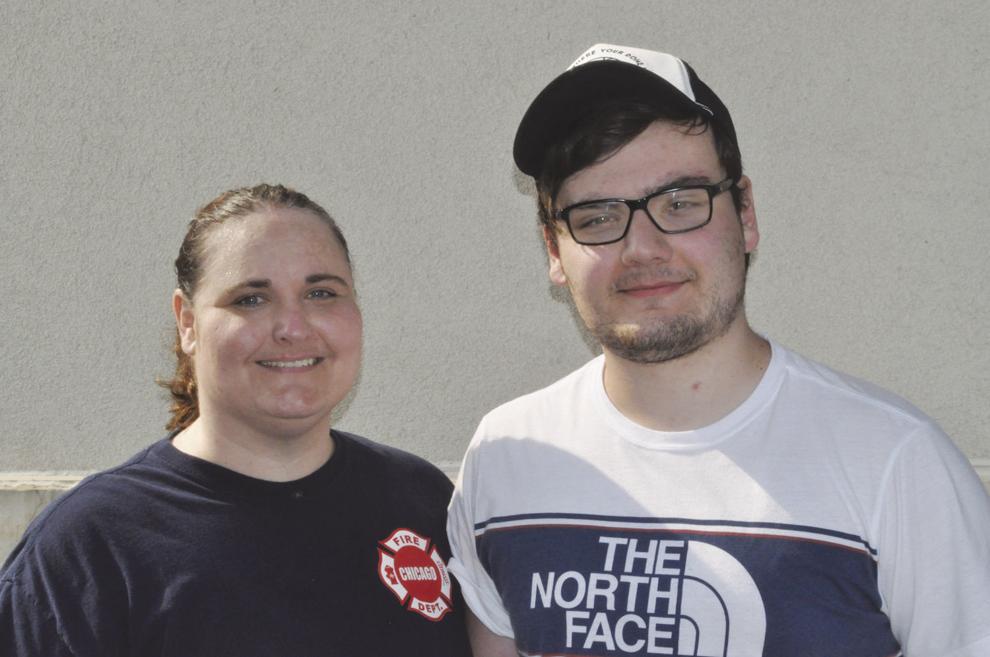 "I've seen an improved attitude overall," says her 16-year-old son. He is accustomed to having his outings constantly monitored by his mother's calls to his cellphone, but mother and son agree that the trust issue is getting better.
"She's overprotective, but I get that," said Alex, who often accompanies his mother on the occasions when she does venture outdoors. "She used to be more reluctant about allowing me to go anywhere."
Trust is a precious commodity in the Woelich household. Her inner circle includes her family: her husband of 19 years (and her caretaker) Joseph; Alex; and son, John, 14, as well as Alex's best friend, and his best friend's mother.
Cari's condition leads to a tendency to avoid large crowds and loud noises. "I stay away from malls and Walmart, for example, because of the noise and the people." She manages to frequent movie theaters but makes it a point to grab an aisle seat in the back row – just in case she feels the sudden need to exit.
Fireworks shows, obviously, are taboo for the PTSD sufferer.
Praise from son
"My mom is one of the strongest people I know," Alex Woelich said in his Stories of Honor nomination letter. "She always tries to maintain a positive attitude and will do anything for anyone."
Cari Woelich's analysis of her physical condition exemplifies her attitude: "I have all of my limbs, so I'm OK, all things considered."
Listening Post helps Air Force veteran 'pay it forward'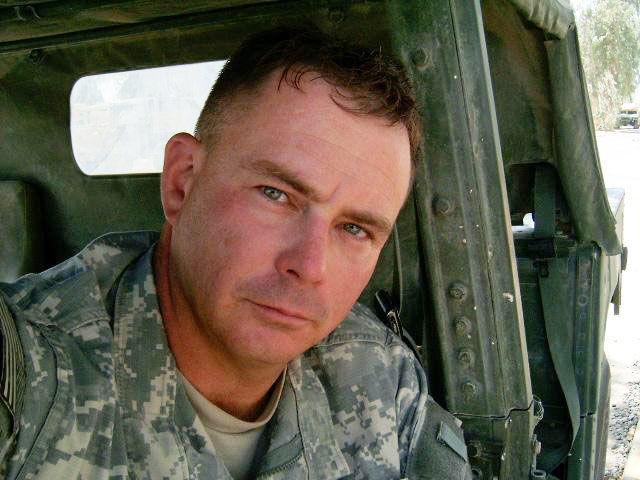 David McConnell can relate to the disconnected veterans who come to him in search of guidance.
After two tours of duty in Iraq and a combined 22 years in active and reserve duty, McConnell is grateful for help he received after finding himself at a crossroads about a decade ago.
That was the impetus behind the formation of Listening Post Ayr, a nonprofit that helps veterans reintegrate into civilian life. The Air Force veteran and current executive director of the nonprofit says he took the volunteer job in December 2017 as a means of giving back.
"When I returned from Iraq, I struggled," said the 53-year-old Central City resident. "This helps me pay it forward. Our mission is designed to help veterans get back on their feet and to identify resources for them."
His mission is supported by several volunteers, including his fiancée, a nurse who helps with mental health services.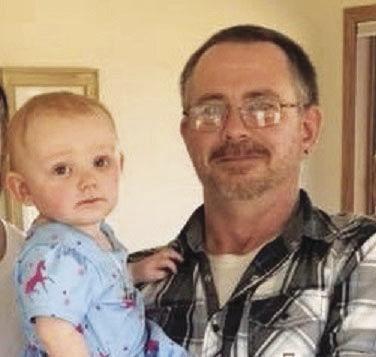 To help carry out its objective, Listening Post Ayr is raising money to buy land outside of Schuyler. The nonprofit has applied for a $500,000 grant from the Robert Daugherty Foundation to help veterans become acclimated. A response to the nonprofit's application is expected by summer's end.
Steeped in tradition
David McConnell's family tree can be traced to nearly every military conflict since the Revolutionary War in 1778.
When the McCook resident graduated high school in 1984, the then-18-year-old enlisted in the U.S. Air Force. His father, Stephen McConnell, who died last year, spent 10 years in the U.S. Navy as a sonar technician and later worked as a police officer and deputy sheriff.
David McConnell chased his dreams and saw the world. His travels also led to eyewitness accounts of several natural disasters, including an F2 tornado while serving in Alabama and a volcanic eruption in the Philippines in 1991. The eruption of Mount Pinatubo was the second-largest volcanic eruption of the 20th century.
His assistance during the tornado cleanup in Alabama occurred while he was off post and involved the rescue and evacuation of elderly and injured residents along the storm's path.
Began in law enforcement
He entered the Air Force in July 1984 as a law enforcement specialist, beginning his career at Gila Bend Auxiliary Field, Arizona.
His work in Desert Patrol involved responding to aircraft crashes, immigrant rescues, wildfires, drug interdictions and traffic accidents.
He would be reassigned to Ellsworth Air Force Base, South Dakota, where he worked as a base patrolman and desk sergeant for two years. He moved on to Clark Air Base, Republic of the Philippines, where he was a member of the Emergency Services Team and worked as a base patrolman and corrections specialist. The natural disasters he worked in the Philippines included a 7.7 magnitude earthquake that struck the island of Luzon.
He was later assigned to Kelly Air Force Base in San Antonio, Texas, working as a base patrolman and desk sergeant, ending his tour as a law enforcement trainer.
His Air Force career ended with an assignment to Royal Air Force Chicksands, United Kingdom, where he was a base patrolman and was promoted to flight sergeant.
Tours in Kuwait, Iraq
McConnell left the Air Force in 1995, returning to Nebraska to raise his sons around extended family.
Two years later, he joined the U.S. Army Reserves, and in 1999 he was assigned to active duty as a unit trainer and platoon sergeant.
He deployed in 2003 to Truckville and Camp Arifjan, Kuwait, as part of Operation Iraqi Freedom, returning stateside in November 2004. Eight months later, he volunteered for a second tour and was assigned to the Force Protection section at Logistical Support Area Anaconda, Balad, Iraq.
After 20 years of active duty and two years in the reserves, he retired in May 2008 and worked for the John Day Company, contracted with Valmont Industries. He left the company in October 2012 to move to Central City, where he earned a degree in social work.
Nebraska Army National Guard Major Stokes humbled by honor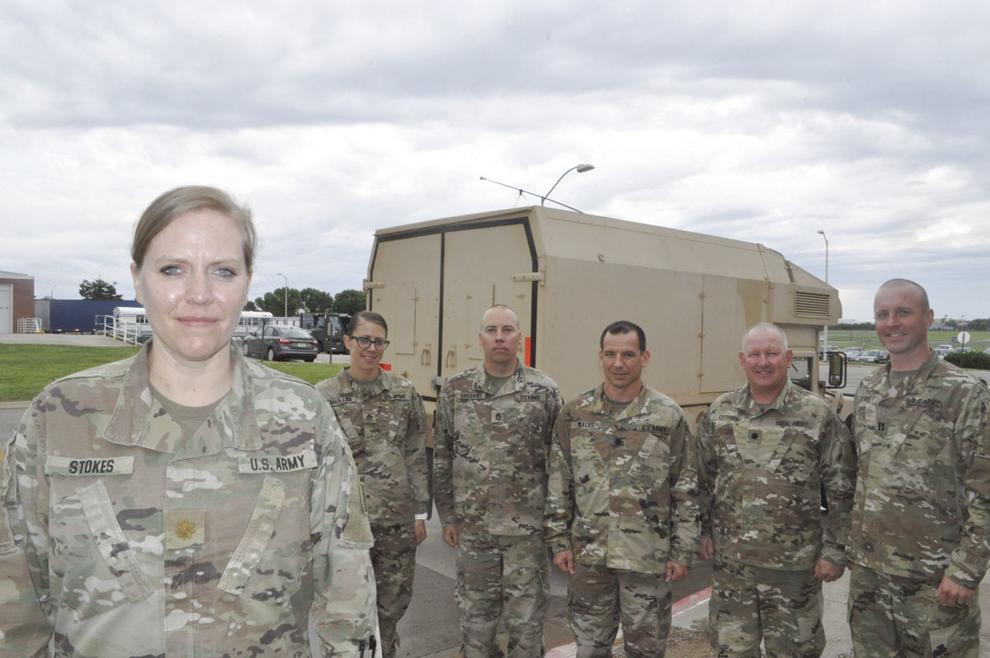 Major Jeanne Stokes of the Nebraska Army National Guard is the epitome of humility.
Notified that she had been selected for recognition in the Stories of Honor series, the full-time deputy state surgeon with the Nebraska Army National Guard was filled with modesty.
"Many are more deserving than I am, although it is an honor and a privilege to receive this recognition," said the 44-year-old Seward resident with 24 years of military service.
"None of this is possible without working alongside some very committed professionals who are extremely dedicated to our state and country," she added.
'Amazing soldier'
"Major Jeanne Stokes is an amazing soldier who I have had the privilege of serving with for the past 10 years," said Nebraska Army National Guard State Surgeon Kevin Reichmuth of Nebraska Pulmonary Specialties.
"Major Stokes serves as my Deputy State Surgeon; I rely heavily on her," Dr. Reichmuth said in his nomination letter. "She does not get near the credit she deserves for all she does for our state and our country."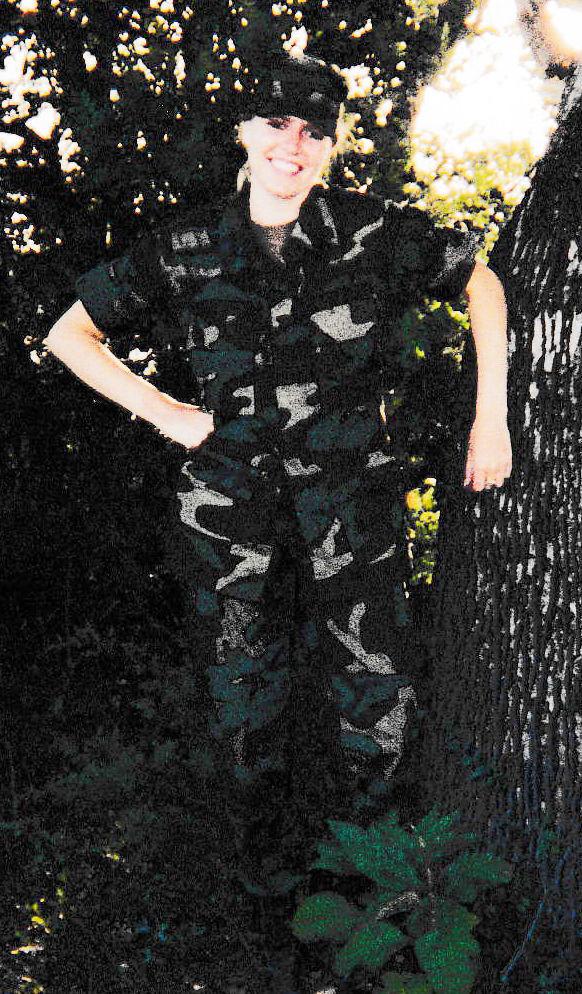 Dr. Reichmuth cited Major Stokes' talent and expertise, contributing to the successful deployment of thousands of Nebraska Army National Guard soldiers in the past 18 years.
"She works tirelessly to make sure our soldiers are medically ready for the missions in the United States and the rest of the world," Dr. Reichmuth wrote.
Major Stokes said military medical managers currently face tighter regulations in their quest to ensure higher deployable percentages in a "fit to fight" movement that started two years ago. "Our current deployable percentage is 92 percent; our goal is 95 percent," said Major Stokes.
About 500 of Nebraska's 3,600 soldiers are currently on active duty under the umbrella of the Nebraska Army National Guard, she noted.
Flood relief
Major Stokes beams with pride when describing the Nebraska Army National Guard's response to flood relief efforts that evolved in mid-March in Nebraska and Iowa.
"Our motto is 'We're always ready,' and that was never more evident than on March 14th, when we received the call to duty," Major Stokes reflected. "The response of our soldiers to the flood disaster effort was amazing. It makes me proud to be affiliated with the Nebraska Army National Guard."
Some of the soldiers were separated from their families for weeks as a result of the historic flooding.
Military household
The Robert and Jeanne Stokes home in Seward is a military household in which the couple juggles busy schedules while raising their three active children: Kaitelynd, 15; Maddison, 12; and Steinen, 7.
Robert Stokes is also full-time military, serving as a medical non-commissioned officer supervising a mobile analytical laboratory system for the 72nd Civil Support Team (72nd WMD-CST) of the Nebraska Army National Guard, which supports civil authorities in the event of the use, or threatened use, of a weapon of mass destruction.
The formation of the CST was spawned by the terrorist attacks by the Islamic terrorist group al-Qaeda against the United States on Sept. 11, 2001.
Family sacrifices
"With her husband also serving full time, the entire family sacrifices for our great state and country," Dr. Reichmuth added in his nomination letter. "She truly epitomizes the Army Soldier Ethos: 'I will always place the mission first, I will never accept defeat, I will never quit, and I will never leave a fallen comrade.'"
In her usual humble style, Major Stokes downplayed the sacrifices her family makes on a regular basis. "Lots of families make sacrifices. It truly is an honor to serve."
Third-generation airman makes his family proud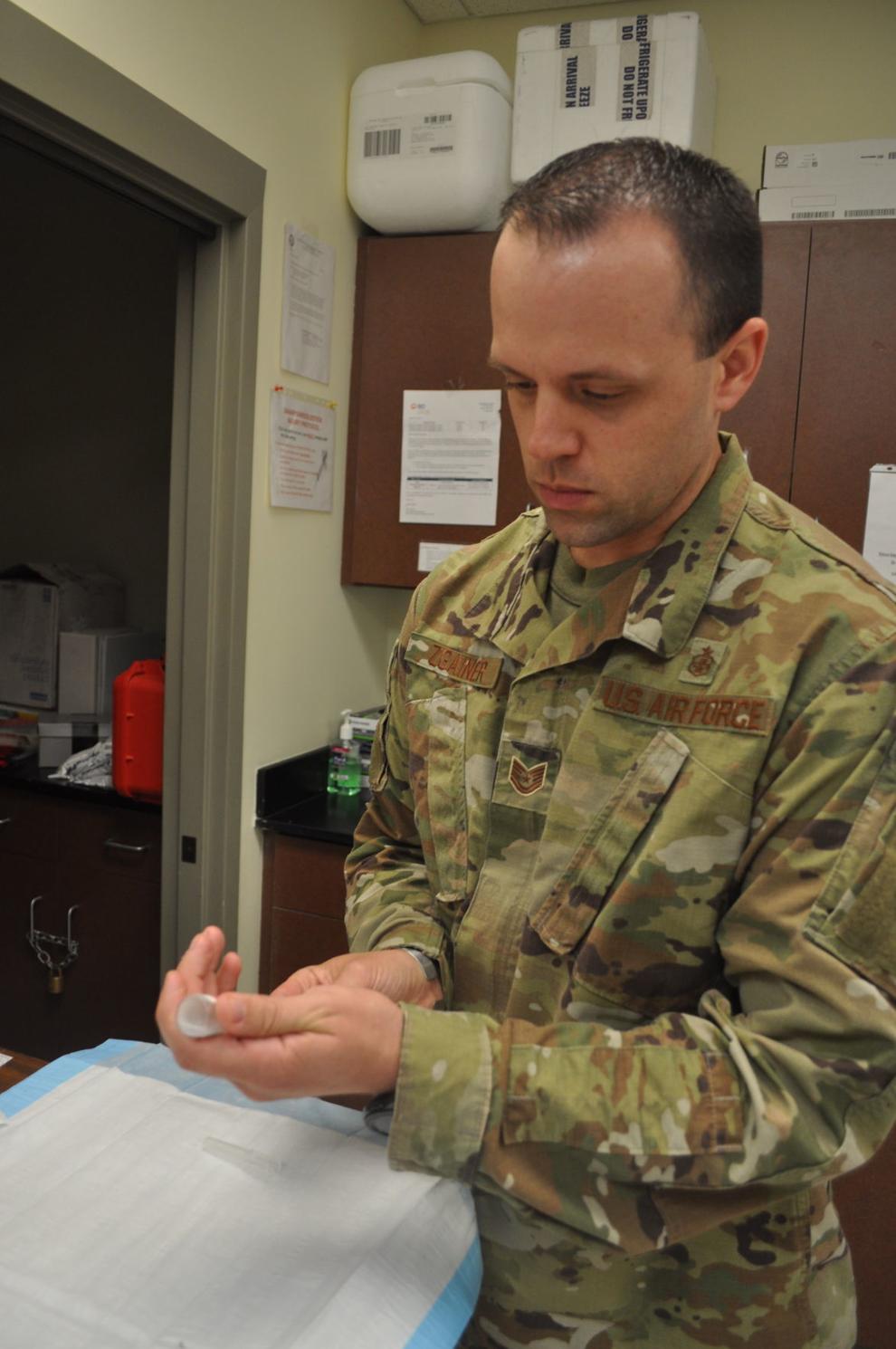 Patriotic pride runs deep in the Zgainer family.
The late Air Force Chief Master Sergeant John E. Zgainer worked with B-52s during a 30-year military career. His son, (Ret.) Air Force Master Sergeant John A. Zgainer, devoted 20-plus years to working in aircraft avionics in a precision measurement equipment laboratory. Today, he works at Offutt Air Force Base and lives in Bellevue.
When it came time for Jonathon Zgainer to carry on the Zgainer military tradition, an attempt to enlist in the U.S. Air Force was rejected. The then-19-year-old weighed 240 pounds – overweight in the eyes of the military and in the view of his doctors.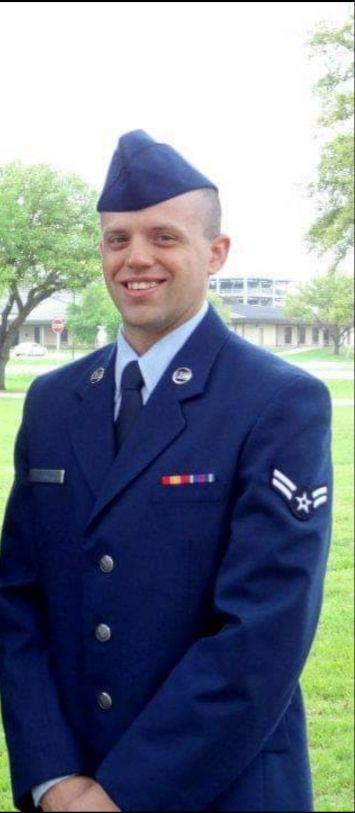 Determined to improve his health while pursuing his life's goals, Zgainer worked a series of odd jobs while also going to work to shed weight off his 5-foot-10 frame.
Relying on a combination of eating sensibly and developing an aggressive cardio program, the 2005 Bellevue East High School graduate was 24 when he made the grade, physically, and enlisted in the military in August 2011. He underwent basic training at Lackland Air Force Base in San Antonio, followed by nearly 10 months of medic training and a return to civilian life.
Nearly eight years after enlisting, Technical Sergeant Jonathon Zgainer has applied his medical training during several deployments and is steadfast in pursuit of his goal to achieve the rank of Master Sergeant.
Three deployments
Tech Sgt. Zgainer, now 32, has served in the 155th Air National Guard unit since the beginning of 2012 during deployments to Guam, Qatar and in Texas.
In 2015, he was part of a team of medics that deployed to Guam to take care of fliers.
In 2016, a similar mission presented itself with a 90-day deployment, 2,400 miles away in the West Asian country of Qatar, an area of the Arabian Peninsula, where the medic team was dispatched. Zgainer and other members of the medical team were assigned the task of handling the fliers' healthcare and well-being.
Tech Sgt. Zgainer's first medical mission precipitated by a natural disaster occurred with deployment to Hurricane Harvey in Texas, where the Nebraska National Guard 155th Medical Group was deployed. The mission was to provide assistance and medical triage capabilities as a CBRNE (Chemical, Biological, Radiological, Nuclear, and high-yield Explosives) unit.
Through the deployment, team members are required to don decontamination suits, gas masks, rubber boots, rubber gloves and hardhats before they mount piles of rubble to find and decontaminate casualties.
Fiancée, family support
"Jonathon serves his country daily with his full-time job at the National Guard base in Lincoln," according to a Stories of Honor nomination submitted by his fiancée, Brenda Weber, a Nebraska Heart Hospital nurse. She and Tech Sgt. Zgainer plan to marry Sept. 28.
"He loves and enjoys his job as a medic and on the search and extraction team of the unit," Weber wrote. "He is a very humble and prideful person when it comes to serving his country."
"Life is full of last-minute surprises, especially in the military," said Tech Sgt. Zgainer. "My fiancée has been very supportive," he said. "As a nurse, she has a hectic schedule of her own. She supports my training and travel, sends care packages and has been very understanding."
Tech Sgt. Zgainer has an effective "sounding board" when he seeks career advice.
"Dad's career goals and mine are very similar," says the third-generation airman. "He's supported my Air Force decisions and has given me a lot of good career advice."
Tech Sgt. Zgainer is a goal-oriented airman with a clear path ahead: "I definitely want to reach Master Sergeant, and to uphold the family heritage."
Woman, 99, reflects on life of service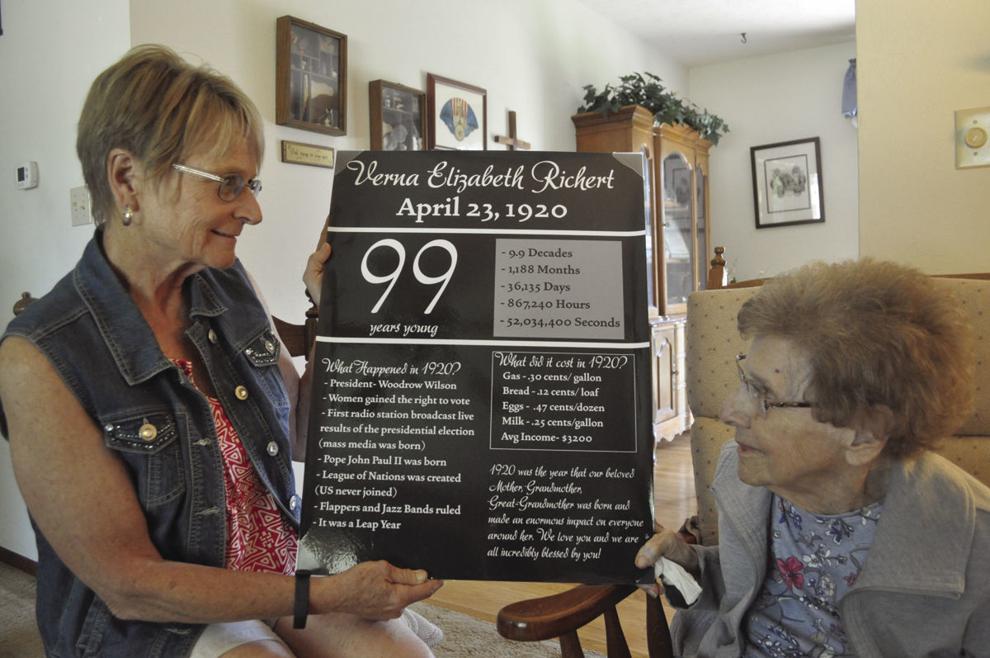 Verna Richert grew up with a burning desire to become a nurse and proudly serve our country.
The path leading to her career goals needed to start with a high school diploma – which was made more challenging amid the backdrop of the Depression era of the 1930s.
At the age of 6, she and her family moved to the Gresham-Utica area. Determined to be a member of the Utica High School graduation class of 1938, she vividly remembers walking 1.75 miles to school each day from her parents' farm to catch a ride – which cost 40 cents per day -- to high school.
Forty cents was a big daily expense in 1935 – the buying-power equivalent of about $10 today – but the career-minded woman was reminded by her mother that an education was imperative to achieve her goals.
Four years after graduating high school, the former Verna Schmieding graduated from the Nebraska School of Nursing in Omaha. Being a registered nurse met the membership requirement of the Army Nurses Corps, which formally admitted Second Lieutenant Verna Schmieding to the military in 1943.
The product of the tiny Nebraska farming community was ready to serve her country – and to see the world.
Five-day voyage
Her first military stint was a six-month assignment at a hospital in Clinton, Iowa. In August 1943, she boarded the Mauretania and left from New Jersey, arriving five days later in Liverpool, England, where she proceeded to serve the following year at the 316th Station Hospital in Newton Abbot, England. Because the area was a scene of massive invasion maneuvers in 1943, the need for additional U.S. hospitals, such as the 316th Station Hospital, was considered a vital one.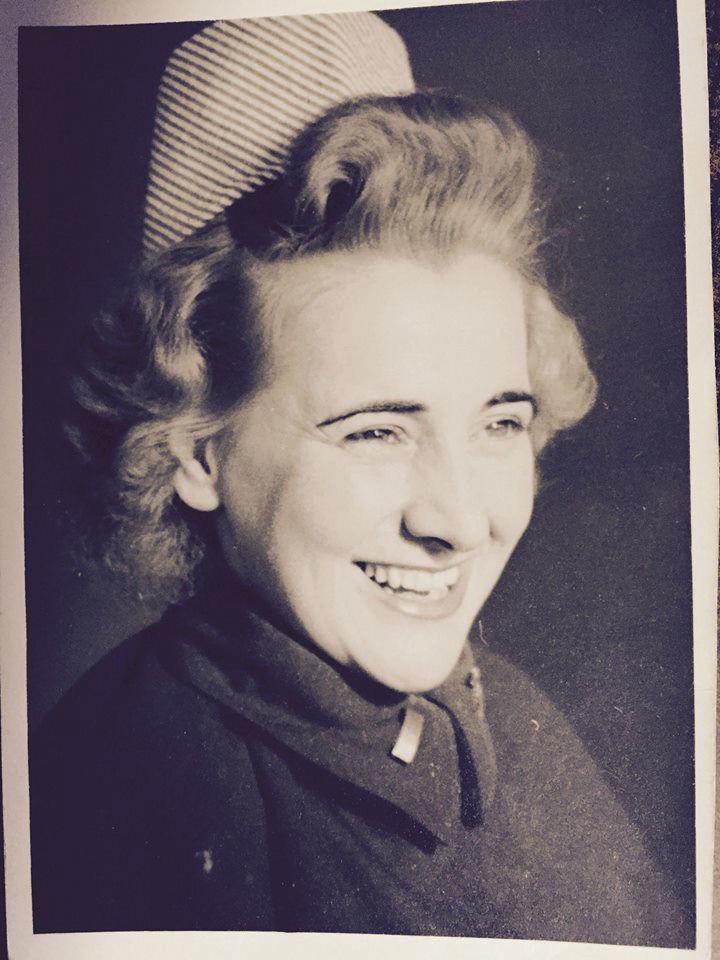 "A gas mask was considered part of the dress uniform in those days," said Verna, vividly recalling her regular regimen from some 75 years ago. "We weren't allowed to wear street clothes."
The 316th unit was moved in the fall of 1944 to Glasgow, Scotland, where care was administered to the soldiers who would be sent home. In August 1945, she was sent home on the RMS Aquitania, a British ocean liner, completing a three-year stint in the Army Nurse Corps in the European Campaign. She was honorably discharged with the rank of First Lieutenant.
Married veteran
Verna Schmieding and Alfred J. Richert were classsmates for 12 years in the Utica area. Their career paths also shared a common thread.
Drafted in 1941 at the age of 21, Infantryman Richert was an Army sergeant who was injured in warfare against the Japanese while fighting in New Guinea. Alfred Richert served in the 32nd Infantry Division.
With both veterans returning to their roots after the war, a romance blossomed. "Although we were classmates all those years, we never dated until after our military years were over," Verna reflected.
The couple married in 1947. Alfred Richert retired from farming in 1985 and died in 1995. Verna worked as a nurse from 1960 to 1982 at the hospital in Seward and at the Utica Medical Clinic.
The Alfred and Verna Richert family tree includes three daughters, eight grandchildren and 16 great-grandchildren. Verna, who still resides in her own home in Utica, cherishes the World War II Victory Medal in honor of her years of service. Her late husband earned nine medals, badges and awards for his years of service, including a Purple Heart and a Bronze Star Award.
Verna Richert was nominated for Stories of Honor recognition by one of her eight grandchildren, Melanie Tonniges.
Purple Heart award recipient was injured twice in Vietnam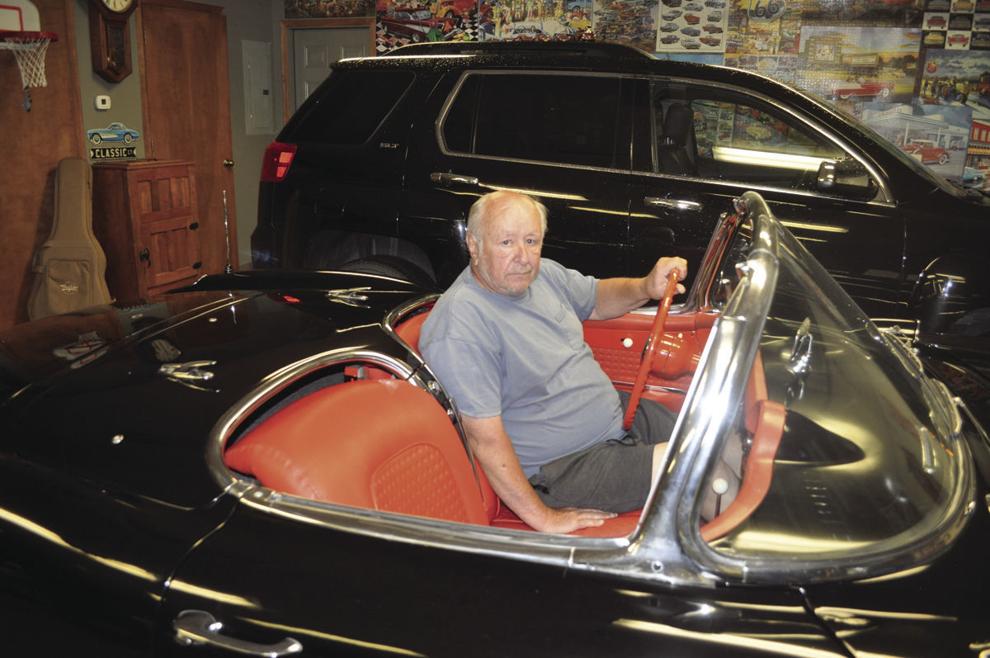 Douglas Ruben knows all too well the ravages of war.
Roughly a half-century ago, he was among the more than 56,000 American Marines to be injured during the long, costly and highly divisive Vietnam War.
Injured twice within a six-month period in 1967, E-4 Corporal Ruben was a machine gunner fighting in the humid, searing heat of the jungles in Chu Lai, located 26 miles south of the coastal city of Da Nang.
He was in just his third day on the front lines, serving with the 3rd Battalion of the 7th Marine Division, when the first injury occurred.
"I was carrying an M14 rifle when we came under attack, and I was shot in the lower back," Ruben said recently, recounting that fateful day in March, 1967. Part of the blast caught the Marine's canteen.
"I remember feeling this warm fluid oozing down my leg and thinking I was bleeding to death."
Ruben received treatment for his wounds and was sent back into battle shortly thereafter. A second brush with death occurred five months later.
Second attack
One of the ways in which the North Vietnamese Army hampered the Americans' ability to pursue them in a retreat was by using creative methods to rig booby traps to injure or kill U.S. troops.
"The scary part was accidentally stepping on some explosive when you were walking in water, trudging through the rice paddies," Ruben recalled.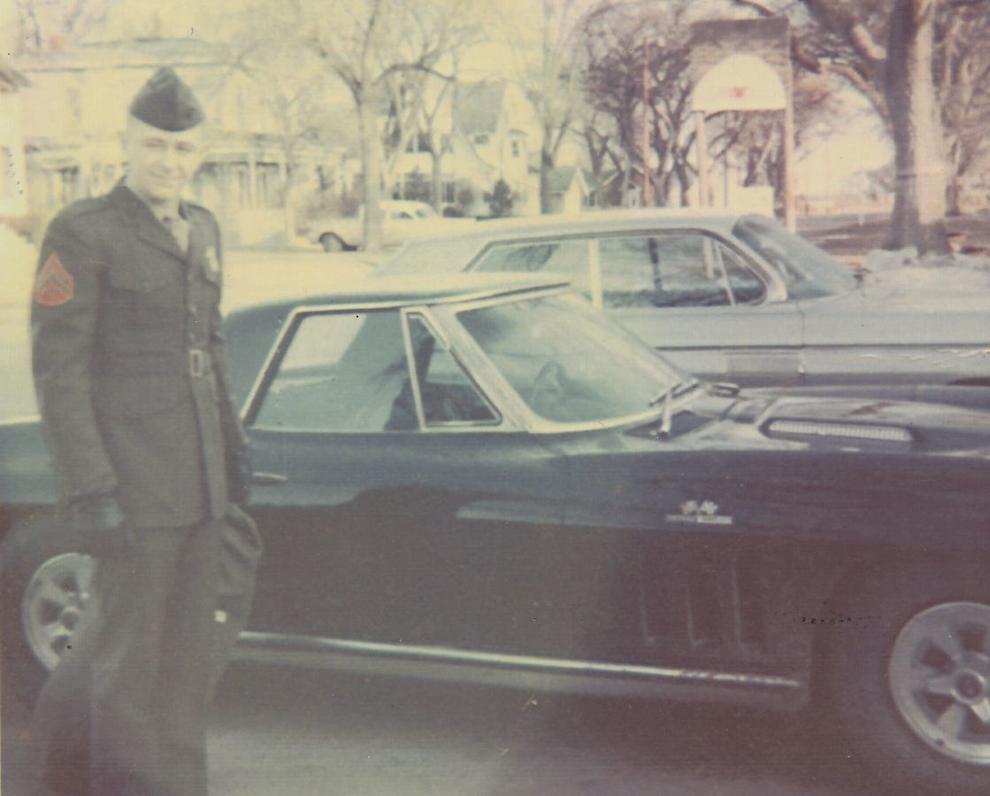 That was the scenario in August 1967 when a member of Rubin's machine-gun team inadvertently tripped a wire. Ruben once again found himself in harm's way.
"I heard it go 'poof' and I knew that wasn't good," he said. The incident left Rubin with a fractured right leg – an injury sustained either from the explosion or from a subsequent 20-foot fall into a hole.
"Excruciating" didn't describe the pain, he said. "Pain of that magnitude is all-consuming … it controls your every thought."
Picking 80 pieces of shrapnel out of his leg, Ruben reached for an answer to offset the pain: morphine, which was a staple item that accompanied every Marine sent to battle.
Military history
E-4 Corporal Ruben was awarded the Purple Heart Award for his service and was honorably discharged in mid-August 1967.
Originally, he had enlisted in the Marine Corps in November 1965 and reported to Fort Omaha. He later flew to the Marine Recruit Depot in San Diego for nine weeks of training, followed by two weeks of machine-gunner school at Camp Pendleton, California.
Ruben then received a one-year assignment at Marine Corps Base Quantico, Virginia, where his group's sole mission was to guard the White House.
Civilian life
Returning to Nebraska in the fall of 1967, the Chapman, Nebraska, native and Grand Island High School graduate enrolled at the University of Nebraska-Lincoln, majoring in political science.
The son of two schoolteachers, Ruben had enrolled at Nebraska Wesleyan University before joining the military.
Ruben's first job after military service reconnected him with the military. He served as the veterans' representative on the Veterans Administration campus in Lincoln. He later was employed in vocational rehabilitation, working with disabled veterans. After 10 years with the VA, Ruben worked from 1985-'87 for General Motors, promoting seat-belt usage before belts became mandatory.
In 1986, the versatile ex-Marine became a restaurant co-owner, joining two partners in opening the popular Billy's Restaurant, an eatery which continues to flourish west of the state Capitol. He later sold his share in Billy's and worked for his son-in-law's tile installation business before retiring in 2015.
Doug, now 73, and his wife of 53 years, Connie, reside in Lincoln. They have two daughters – Dawn Ruben and Nicole Schmidt – and two grandchildren, Collin Schmidt, 18, and Olivia Schmidt, 15.
Koenig family produced seven WWII veterans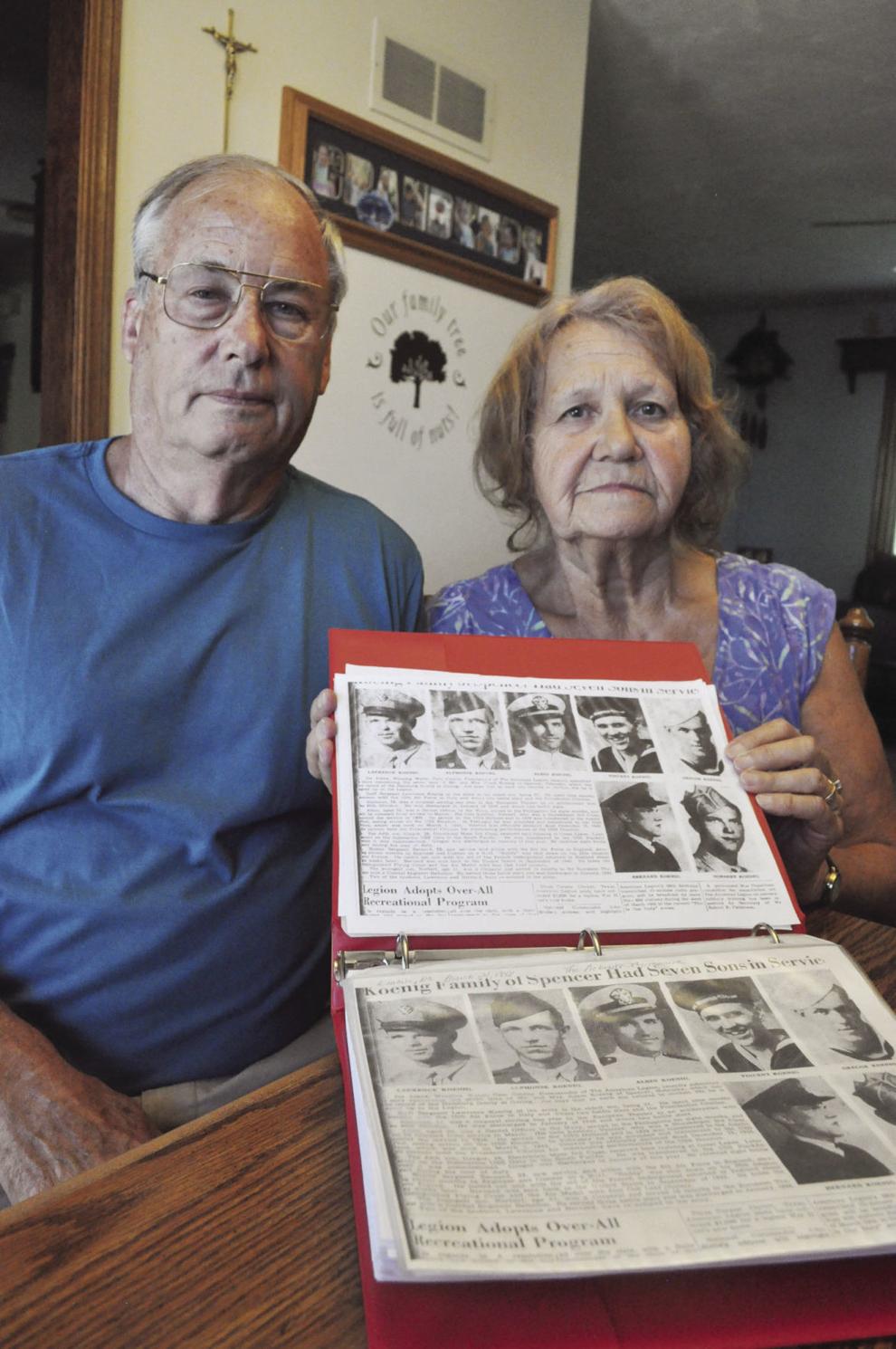 Military service was a way of life for the seven sons of Mr. and Mrs. Adam Koenig. State record-keepers say that the brothers combined to tie a record for the largest representation in World War II by a Nebraska family.
"We were a military family," reflected Lincoln resident Vince Koenig, a son of one of the brothers and a veteran in his own right. His dad, Alphonse, was a corporal who served a year in the European Theater as an artilleryman with the 65th Division.
The second oldest of the seven Koenig brothers, Cpl. Koenig was discharged in January 1946 and earned two battle stars. Alphonse Koenig later lived in Lincoln.
12 children
Adam Koenig operated the grain elevator in Spencer. He and his wife had 12 children – seven sons and five daughters. Times were tough for the Koenigs and other families during the Great Depression and World War II.
"As you can imagine, my dad's family didn't have much money," Vince Koenig reflected recently, perusing some family archives with his wife, Charoyl, in their northwest Lincoln home.
"The military was not only a way to serve our country, it was a source of income during some very difficult economic times."
The average monthly base pay for an enlisted serviceman from 1941 to 1945 was $71.33.
"My uncle Albin always wanted to be a dentist but couldn't afford dental college," said his Lincoln nephew. "My uncle Vincent (Albin's twin brother) used his Navy money to help Albin through dental school."
Albin Koenig went on to be a dental officer in the Navy and served in the Philippines for eight months.
His twin brother Vincent, a Storekeeper 3rd Class, served on the USS Holland and was transferred to the Asiatic Fleet, seeing action on the USS Houston.
Vincent Koenig was later wounded and transferred to the USS Pecos, which was sunk March 1, 1942. Vincent Koenig was declared dead on Dec. 15, 1945. His parents received the Presidential Citation for their son's meritorious service.
Battle stars
The proud nephew looks back today and said the seven Koenig brothers combined to earn a plethora of awards.
"All seven earned battle stars," he said. "Grandpa had two boxes filled with his sons' medals."
Master Sergeant Bernard ("Buddy") Koenig saw action with the 8th Air Force in England, serving 11 months as an engineer and gunner on a B-17. He was shot down on his 25th mission over France.
"Buddy was later recognized with a ticker-tape parade in New York City," his nephew said.
The other Koenig military men were: Army Staff Sergeant Lawrence Koenig, who earned two battle stars and the Presidential Citation; Electrician Mate 3rd Class Gregor Koenig, who earned eight battle stars; and Cpl. Norbert Koenig, having earned three battle stars.
"All told, we had two in the Army (Norbert and Vince's dad, Alphonse), two in the Army Air Corps (Lawrence and Bernard), and three in the Navy (Albin, Vincent and Gregor)."
Another generation
Vince, 76, followed the footsteps of his dad and uncles and continued the Koenig military tradition by serving in the Navy from 1961 to 1965. Most of his time was spent serving on an escort ship sailing between San Diego and Seattle.
Vince's dad, Alphonse, moved from Spencer to the Lincoln area in 1958. The only one of the Koenig brothers to move to the Lincoln area, Alphonse spent most of his life as a meat-cutter. He died in Lincoln in 1991.
Vince Koenig retired in 2009 from a 41-year career as a bridge supervisor for the State of Nebraska. Vince and Charoyl Koenig will mark their 53rd wedding anniversary July 30. They have four children and seven grandchildren.
Vince has two brothers – Bob, a Lincoln Pius X High School graduate and also a Navy veteran, and Rick, a UNL graduate who taught for many years at Norris High School – and a sister, Laurie Rodaway, who teaches English at Lincoln Pius X High School and is a former tennis coach for the Thunderbolts.
Leah (Uhing) Olsen marks 4th generation of military family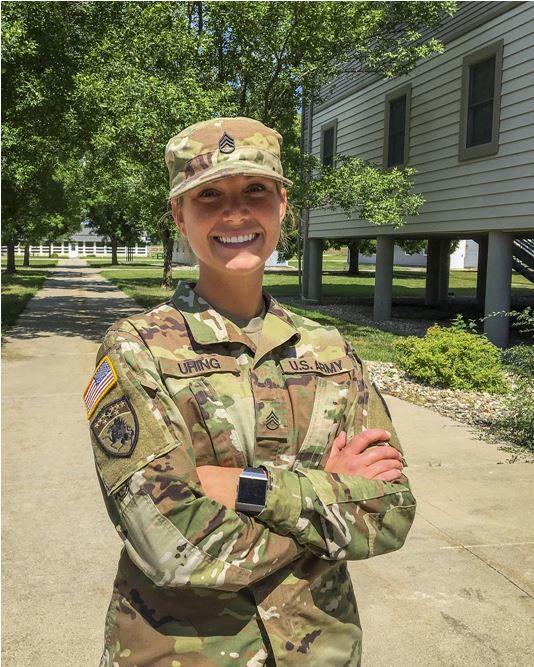 Leah Olsen is described in her Stories of Honor nomination as "strong, fearless and very dedicated to the U.S. military."
The characteristics Megan Rothluebber describes in her nomination letter are traits the 27-year-old Waverly resident seeks to instill in the soldiers she instructs at Camp Ashland, a training site for the Nebraska National Guard, Active Army and Reserve along the Platte River.
The former Leah Uhing is a member of a family steeped in military tradition. Her father, Sergeant First Class Michael Uhing, is a U.S. Army veteran who continues to be active in the military at the age of 58. He served in the National Guard and Army from 1981 to 1990, re-enlisted into the Nebraska National Guard in 2006 and currently serves full time at Camp Ashland as well.
Leah is a proud fourth-generation military family member. Her paternal grandfather, Jerome Uhing, served in the U.S. military from 1958 to 1964, and her maternal grandfather, Howard Daily, earned the Purple Heart award for his service in the Korean War, serving in the U.S. military from 1951 to 1953. Leah's maternal great-grandfather, Edwin Daly, served during World War I.
A self-described "adventuresome" individual, Leah grew up in Hartington with aspirations of emulating her father and helping to defend our country. She was a high school junior at Hartington Cedar Catholic when she joined the Army National Guard in December 2008.
"Dad's dedication and passion was influential in my career decision," she reflected.
Early training
Leah had just completed her junior year of high school when her military  career began to unfold with three months of training at Fort Jackson, a U.S. Army installation in Columbia, South Carolina. She returned to complete her high school education at Hartington Cedar Catholic. Then it was back to Fort Jackson in the summer of 2010 for Advanced Individual Training (AIT).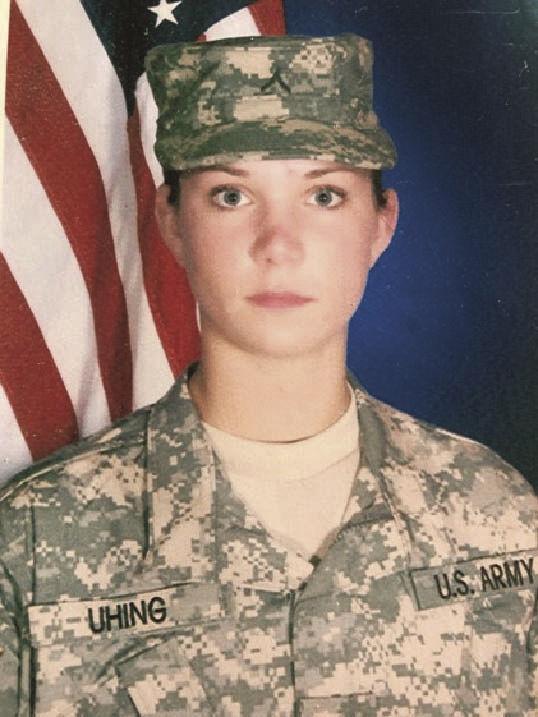 She proceeded to enroll in classes at the University of Nebraska at Kearney, but the military soon came calling -- and she answered the call. She was deployed for a year of service in Iraq, where she served as an administrative specialist with a medevac unit.
At the age of 19 she found herself stationed in Tikrit, Iraq, during which a United States-led coalition would eventually overthrow Saddam Hussein. Historians say the war claimed the lives of 4,424 U.S. soldiers and wounded nearly 32,000. The nearly 9-year-old conflict ended on Dec. 18, 2011.
The then-teenager from Nebraska was proud to serve.
"There is the constant element of danger, of course, but I volunteered for the mission and was proud to have served," the young soldier reflected recently from her home in Waverly. "I signed up due to a desire to serve my country. When the opportunity arose, I volunteered and jumped on it."
Today
The soldier eventually returned to the University of Nebraska at Kearney, where she completed requirements for a degree in social work.
Today, Staff Sergeant Leah Olsen works full time as a Basic Leader Course Small Group Leader, commuting from her home in Waverly to the Nebraska National Guard's Camp Ashland Training Site.
She began her full-time military career in 2015 as an administrative non-commissioned officer. In her current role, she finds herself on the opposite side of the table, preparing prospects for military life.
"She strives to teach others how to become a leader, while continuing to further her education with the Army's help," Rothluebber noted in her Stories of Honor nomination letter.
Leah Olsen was married on June 22 to Luke Olsen, an information technology specialist for Bass Pro Shops.
The newlyweds' residence is also home to Luke's daughter, Shaylee Olsen, age 8, two dogs and a cat.