In 1952, the Lincoln City Directory listed the occupations of the inhabitants of 2225 S St.
Melvin Shakespeare, production worker at Speier's Laundry. Rubie Shakespeare, charwoman.
Besides washing clothes and cleaning houses, it did not mention the couple's other duties. Minister and first lady of the new AME Church in Hastings. Editor and publisher, advertising and business manager of The Voice, a weekly paper.
A paper with Abraham Lincoln on its masthead, membership in the Associated Negro Press and its mission printed faithfully on the upper left-hand corner of Page 2: "Dedicated to the promotions of the cultural, social and spiritual life of a great people."
A paper that, by then, had been faithfully published for five years.
On the front page of the anniversary edition that Oct. 18 was the story of a young Black Lincoln man — Charles M. Goolsby, who had been recently admitted to the Graduate School of Arts and Sciences at Harvard.
The story noted his parents, the Rev. and Mrs. Lewis S. Goolsby of Columbia, Missouri, formerly of Lincoln.
And his position at Harvard: "At the Ivy League school he has received an appointment as a research assistant to one of the country's leading endocrinologists."
The Voice spoke up and out about race relations around the country, reprinting wire stories about Jim Crow laws and voter registration drives.
There were Washington, D.C., datelines: "Dr. DuBois Acquitted in Trial as 'Foreign Agent.'"
And headlines from the Deep South: "No Chance for Integration in Dixie Guard."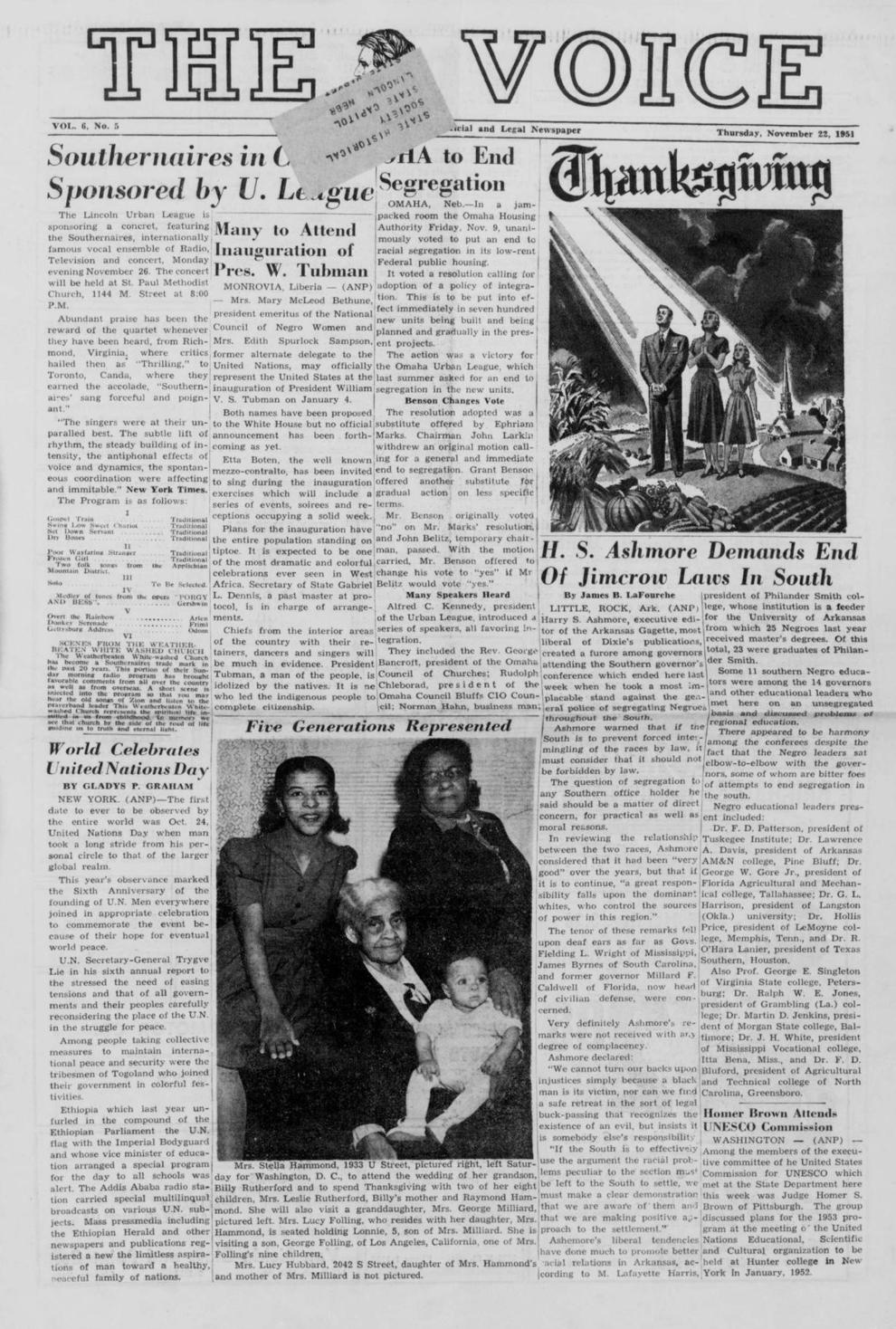 The one-section paper noted anniversaries and funerals, business, civic and educational successes.
"Clyde Malone Attends National Urban League Conference."
"Butler B. Ivory only Negro of the seventh grade in Belmont school was elected president of his class."
"Mr. and Mrs. Hugh O. McField came to Lincoln from Kansas City, Kansas, in 1938 and immediately established the McField Cleaning and Tailor Shop."
Each week, the Household Hints column did just that, mostly in regard to cooking, cleaning and holidays. Spinach Shepherd Pie, Washboard Cookies, Apple Santas.
Letters of praise appeared, at times on the front page: "The public press plays a very important part in our way of life," wrote Val Peterson. "Your success is measured by the manner you keep your people informed."
In 1940, at the time of the U.S. Census, both Melvin and Rubie Shakespeare were 34. They had no children of their own but claimed a church family in places such as Beatrice and Nebraska City and Hastings and, after their time in Lincoln, eventually out west — New Mexico, Utah, Colorado.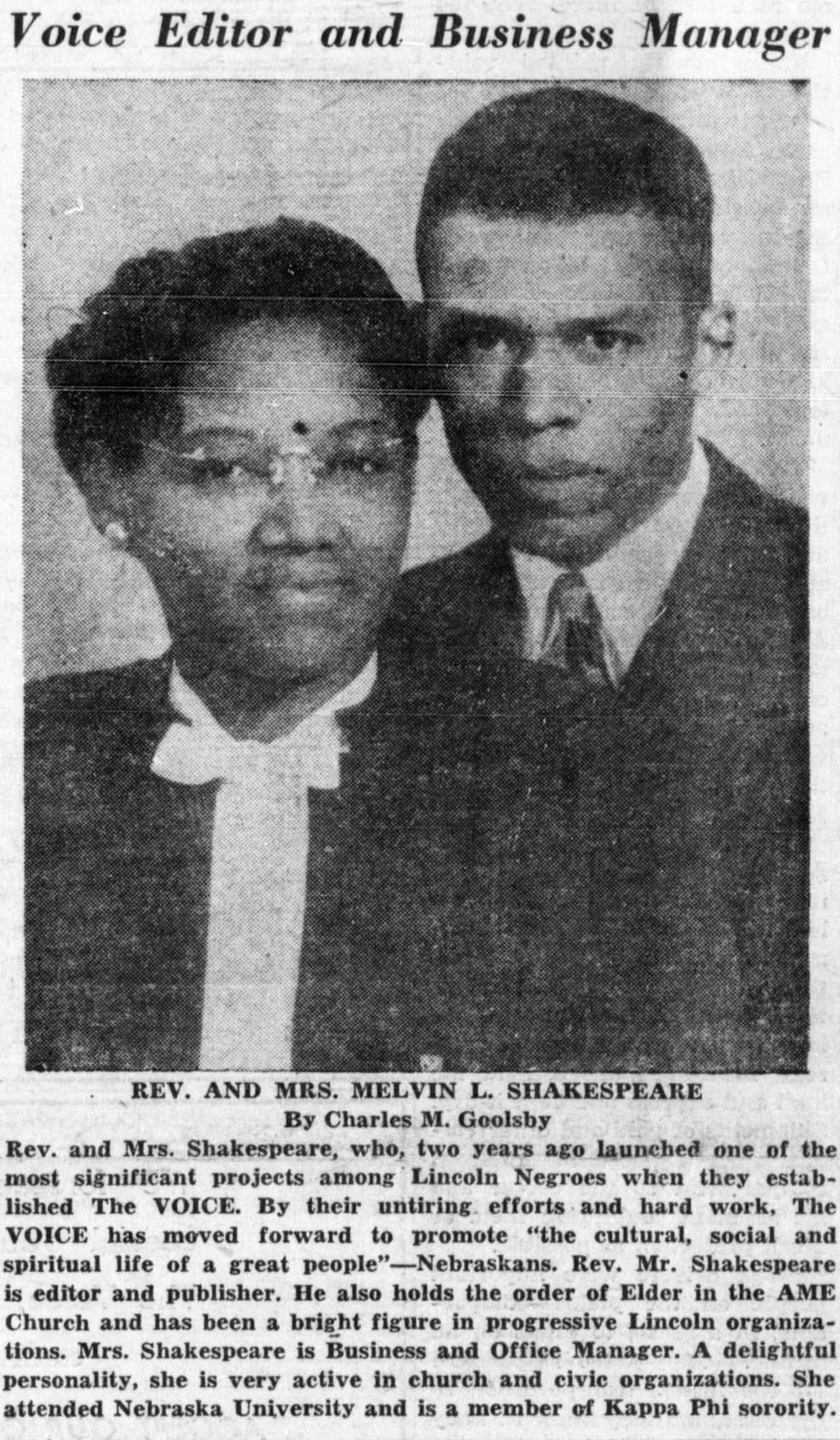 The couple used its paper for good, attracting advertisers from Black-owned businesses and from local companies run by whites, too. Many of them sent well-wishes on the fifth anniversary of the paper's publication.
The Lincoln Journal had already taken note in 1950, praising the paper that started as a hobby and had grown into a full-fledged weekly newspaper. "Providing editorials and feature stories and serving as a reference item on many a school and public library rack."
The paper employed university students, the editorial said, and at least two who have "taken up journalism seriously as a result of their work."
It was an impressive endeavor, said Frank Edler, a retired philosophy professor with a lifelong interest in history who researched The Voice and shared his findings with the paper.
"I don't quite know how they managed it," he said. "It was remarkable."
In 1946, an annual subscription cost $2; single copies a nickel. By 1950, a two-year subscription was offered for $7.50, and single copies doubled to 10 cents.
The Voice provided practical information — church services and times — and practiced advocacy journalism: "A representative of the administrative board of St. Elizabeth hospital announced last week that all racial restrictions with respect to patients and nurse training would be removed," a front-page story began. "The announcement was made to the publisher of The Voice who had received reports of discriminatory practices …"
Among its community-minded efforts toward equality was a fundraiser for scholarships when Bryan Memorial Hospital integrated its nursing program.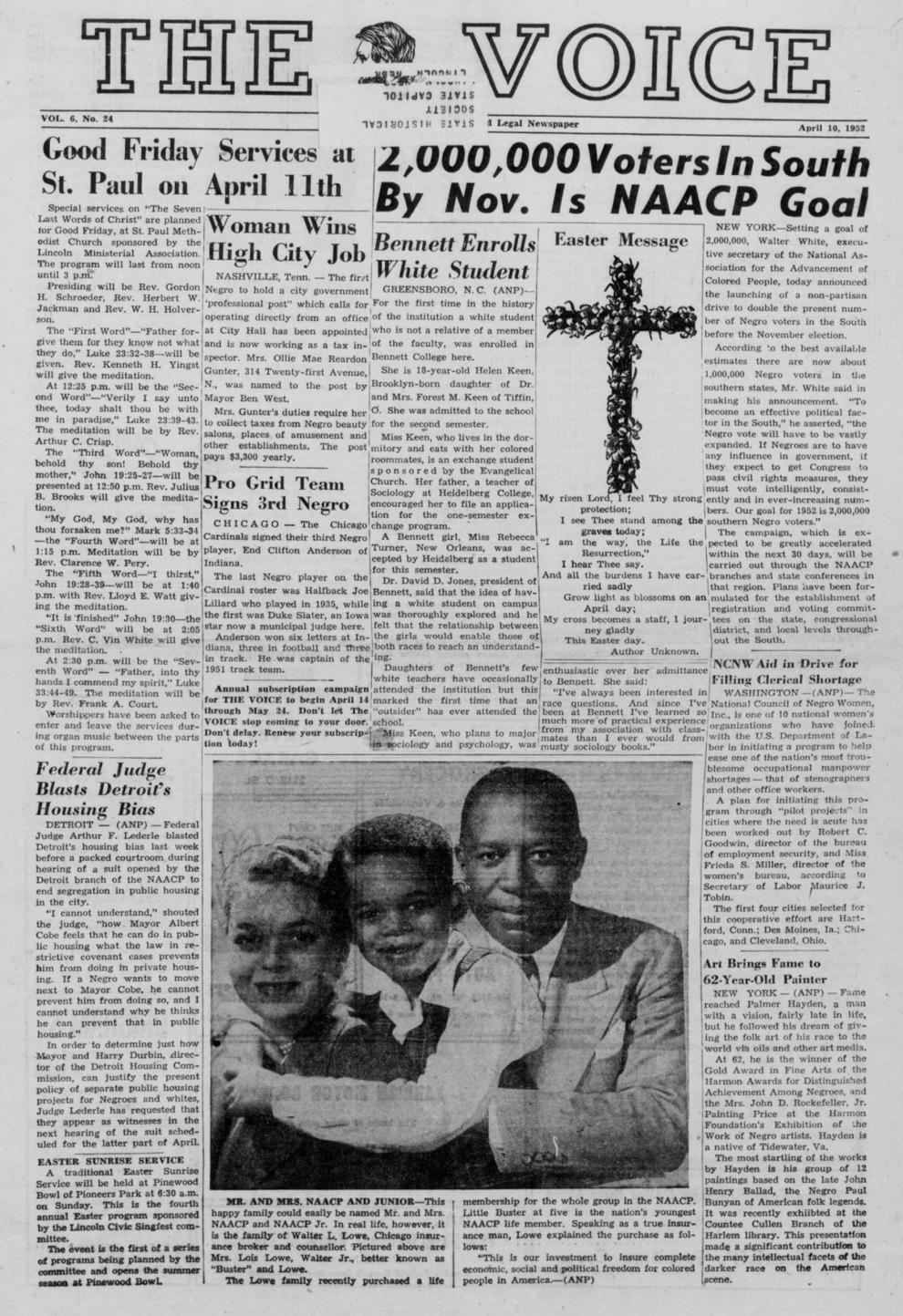 Championed by Rubie Shakespeare and Brevy Miller, editor of the Household Hints column, the paper published the Lincoln Voice Cookbook, a spiral-bound, 74 page-volume that included recipes and selected advice gleaned from Household Hints. The book sold for $1 — available at Miller & Paine, Nebraska Book Store and via a door-to-door sales campaign —  resulting in two $100 scholarships in 1948.
According to the Journal Star: "One of the cherished projects of 'The Voice,' Negro newspaper published by Rev. and Mrs. Melvin L. Shakespeare, culminated this month with the admission of two Negro girls to the Bryan Memorial Hospital training program."
Recently, a collection of the cookbooks sold for $300 in an online auction.
"The recipes offer an uncommon view of African American cookery in the north, rather than the more stereotyped dishes of the South," the sale bill noted.
During their Lincoln years, Melvin Shakespeare was active in the Urban League and as spokesman of the Northside Council, a group dedicated to equal housing opportunity.

"The Negro is the same as everyone else," he said, addressing a gathering at the Urban League in 1951. "He pays taxes, consumes goods and works but is still forced to find shelter within certain boundaries, usually in the poorest section of town."
The Northside group pressured the city council to support low-cost housing options. There was publicity about deplorable conditions in rental houses in the parts of town Shakespeare spoke out about.
And "a hullabaloo" arose, Edler said. "Melvin and Rubie relocated to New Mexico."
After the Shakespeares departed Lincoln, the paper continued under new leadership. The Voice published its last edition on May 14, 1953.
The publication changed during that time, Edler said.
"You lost that sense of advocacy it had. I think that was a hallmark of the Shakespeares, and that was gone."
Rubie was 59 when she died in Pueblo, Colorado, where the couple had landed to minister after their time in New Mexico, in 1965. Melvin eventually remarried and moved to California in 1972. His date of death is undetermined.
The Voice lives on in digitized form in the archives of the Library of Congress.
Kay Walter, who served as director of the Nebraska Digital Newspaper Project, wrote a short essay summarizing the paper's life and times.
She noted its focus on community life, education and religion, which helped "offer a snapshot of post-WWII life of African Americans in Nebraska."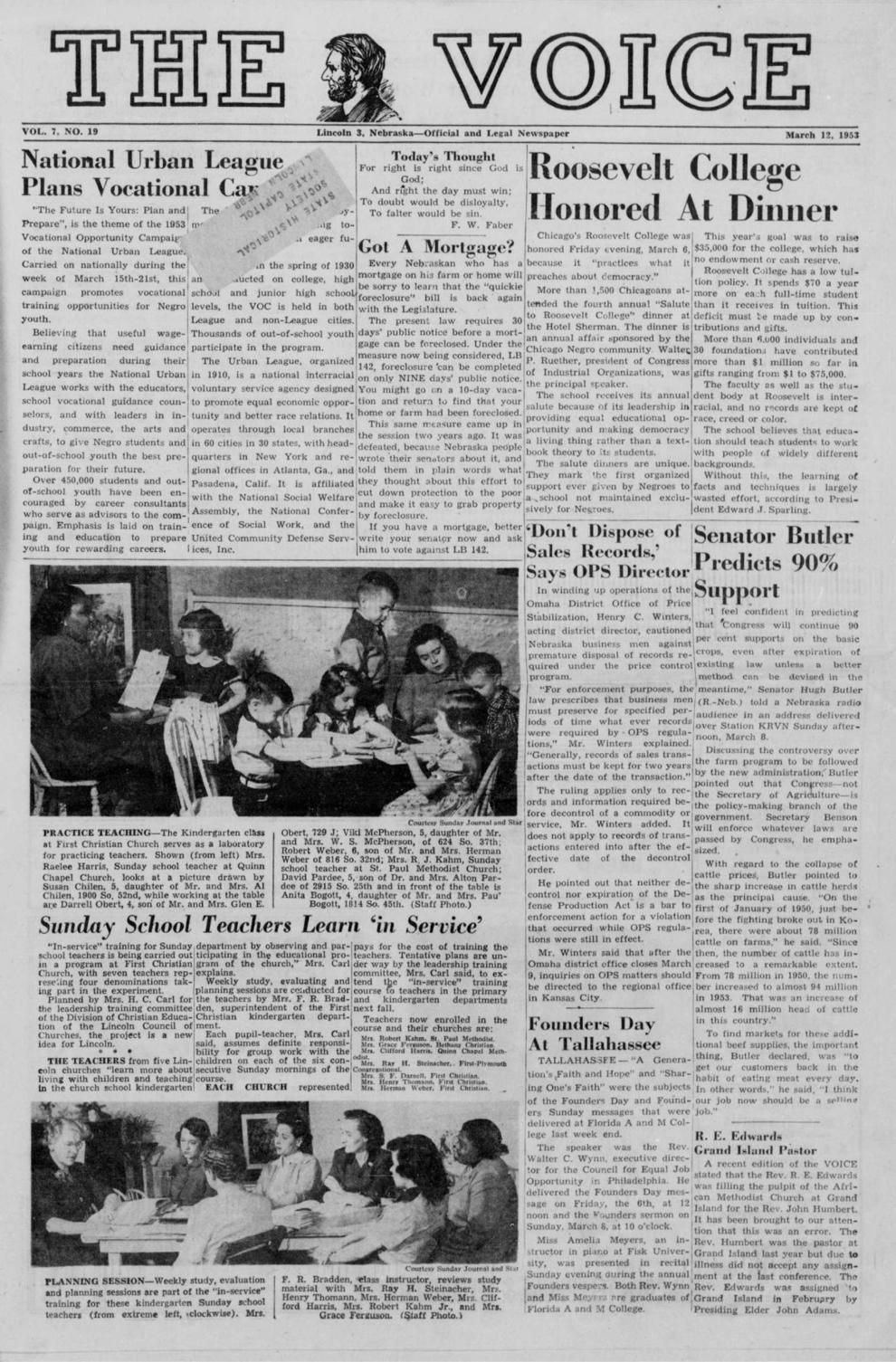 She noted the Rev. Trago T. McWilliams, an early Lincoln civil rights leader named in the masthead, whose words introduced the paper on Oct. 11, 1946, like this:
"A voice crying out to Lincoln citizens at large for greater opportunities in fields of employment that we might live more abundantly. A voice asking for tolerance and fair play. A voice that will not be stilled so long as any group is denied inalienable rights guaranteed under the constitution."
STORIES OF INFLUENTIAL BLACK LINCOLNITES