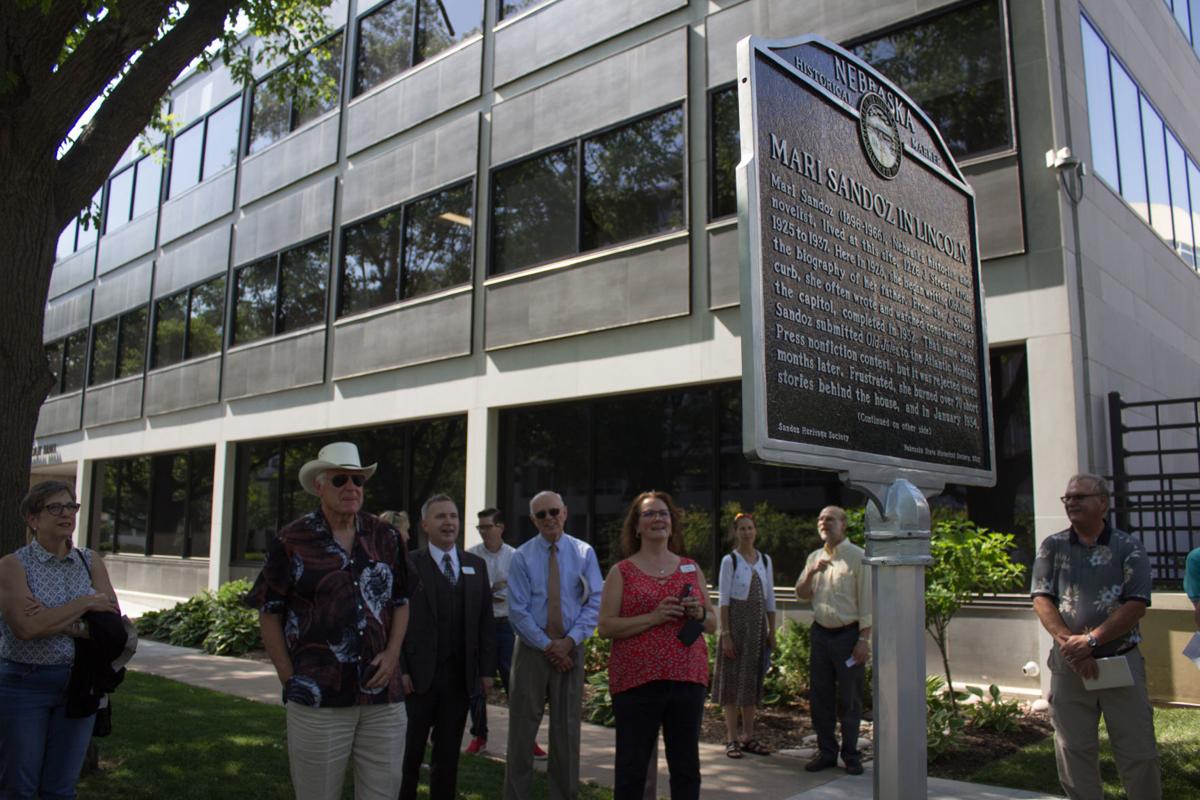 In 1928, Mari Sandoz often sat on the curb outside her home at 1226 J St., writing her father's biography "Old Jules" and watching the state Capitol being built.
Ninety years later, the Mari Sandoz Heritage Society on Friday dedicated a historical marker at that spot to honor her legacy.
Sandoz is regarded as one of the most influential Nebraska writers and historians, and her works continue to resonate today, said Jamison Wyatt, a member of the heritage society.
"Everything she wrote about, everything she stood for, every political position she took in the '40s, '50s and '60s — all the positions are highly relevant today," he said. "She's a figure from the past, but her ideas are very much alive in the present."
Sandoz wrote 21 books about pioneer life, Nebraska and Native Americans. In a time when the West was romanticized and Native Americans were thought to be savages, she sought to provide an unflinching perspective of life in the high plains and served as an activist for Native Americans, said Lynn Roper, president of the heritage society.
The society dedicated the marker to recognize the 83rd anniversary of Sandoz's career takeoff.
She was working at the Nebraska State Historical Society, on the ninth floor of the Capitol, when she received a telegram that her "Old Jules" manuscript won a contest held by Atlantic Press after 14 attempts to publish it.
"Old Jules" is about Sandoz's father, Jules Ami, who requested on his deathbed that she write it. The account of life in the Nebraska Panhandle was the start of Sandoz's 30-year writing career.
Heritage society board member Michael Smith, who discussed the work's importance to Sandoz's career and society, said she created a picture of an embittered-yet-distinctive man, a Swiss immigrant who "burned an indelible impression into everyone with whom he came into contact."
For those who attended the dedication ceremony, the marker is a way to interact with a significant place in Nebraska history, Heather Stauffer of Lincoln said.
Stauffer works as a historian at the University of Nebraska Press, and her grandmother, Helen Winter Stauffer, wrote Sandoz's official biography, "Mari Sandoz: Story Catcher of the Plains."
Stauffer said the marker is a testament to Sandoz's presence in Lincoln and her love for telling otherwise-overlooked stories.
"The marker here is really important and it brings attention to the fact that she was here … and telling the stories of Nebraska in all their glory and terribleness," she said.