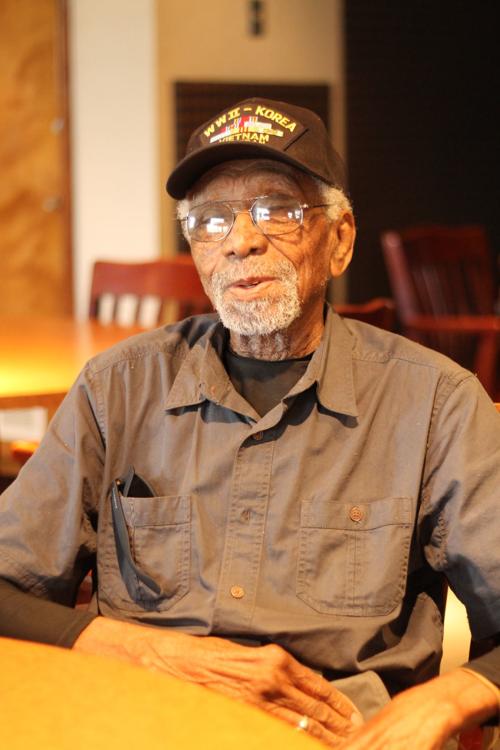 Foch Clark is a man of many names.
He'll answer to Foch, the first name given to him after French general Ferdinand Jean Marie Foch. But give him a call and he'll answer the phone with a spirited "This is Clark."
During his service in the Army, a career that started in 1942 and lasted 22 years, he went by his middle name, Leonard, until he met a group of children in Italy who weren't impressed with the name and cheerfully called their new friend "Leonardo."
It's fitting, though, that a man like Clark would go by many names. He is a fascinating member of the Hillcrest Country Club staff, a revered veteran, shoe repairman by trade, father, grandfather, great-grandfather, and, perhaps above all else, a captivating storyteller. Don't call him a storyteller though. He might respond with a deep chuckle and twinkling grin — "Did you just call me a liar?"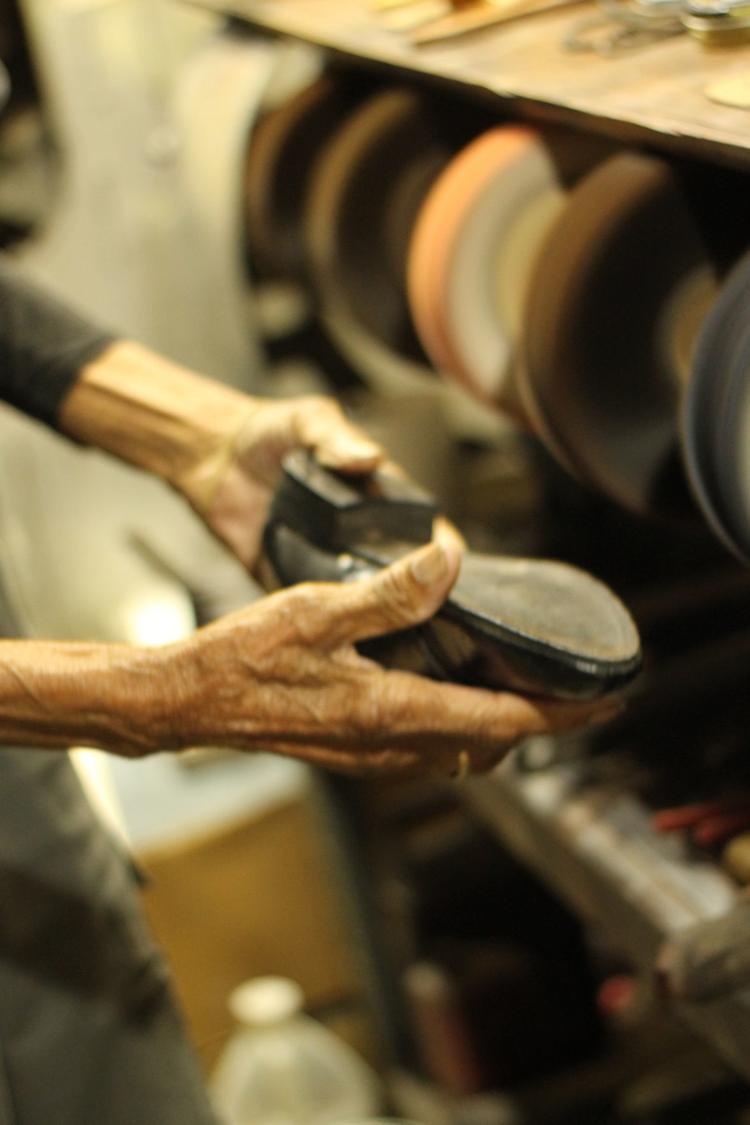 Foch Clark is also 99 years old. But that part of his identity isn't immediately apparent as he takes a break from work to recount nearly a century's worth of stories, dates and facts; or when he jaunts up and down stairs to proudly show off every corner of the workplace he calls home several days a week.
Clark, a tall and slender man topped off with a baseball cap honoring his military service, takes broad strides that should belong to a man decades younger. His stories are decorated with bits of wisdom, elaborate hand gestures and just a peppering of mild profanity that only someone with a gentle charm like his could get away with. Occasionally he gets off track and corrects himself, or throws out an unsolicited opinion on a variety of topics:
* On being left-handed: "Heck, I couldn't go through all of that."
* Or accepting differing opinions: "Everything that might not work for you works like heck for other people."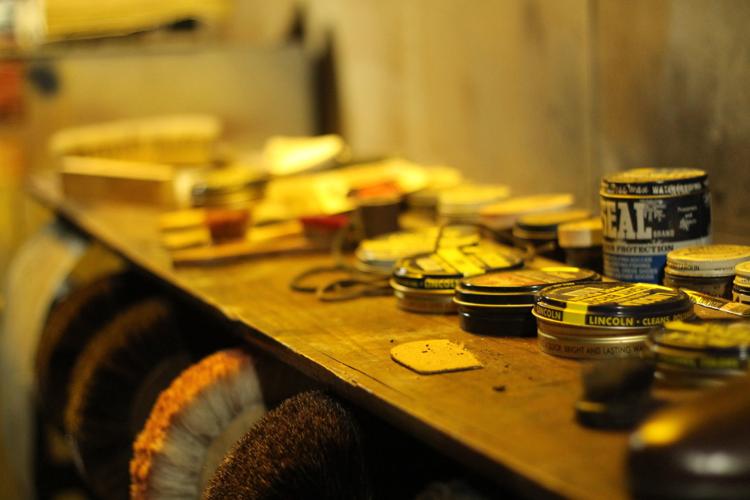 Hidden in the corner of the dimly lit stag bar of Hillcrest, a place that even when empty holds the memories of men clinking glasses and retelling tales around tables suited for playing cards, is Clark's workspace. He ducks to clear the small doorframe, and in a room no bigger than a large closet begins the day's work. There's a microwave that has seen better days holding his daily coffee inside. He reheats it throughout the day when his job distracts him too long and it cools. A television keeps him company. And an assortment of shoe polish containers cover shelves and emit a distinct odor of hard work and craft. Clark, thanks to his military service and the education the Army offered him, is a shoe repairman.
His resume would also include his time with the Civilian Conservation Corps, a phone company in Louisiana and, when Clark and his family ended up in Lincoln, a career as a prison guard — a position he was offered based on his reputation in the Army.
"Doggone if I didn't stay there 18 years," he said.
There would be gaps in that resume, a time when Clark admits "I got lazy and was just loafing around."
Today, Clark's workspace holds racks of shoes, mostly of the golf variety, waiting for the expert work of his worn hands. A large electric shoe shiner spins and Clark casually buffs shoes like he's done it a thousand times before — and he certainly has, but isn't keeping track.
Born just one month after the resolution of World War I to a Native American mother and Haitian father in the Deep South, Clark isn't sure how exactly his parents met, but it's no doubt where his story began.
"I don't know. But here I am."
You have free articles remaining.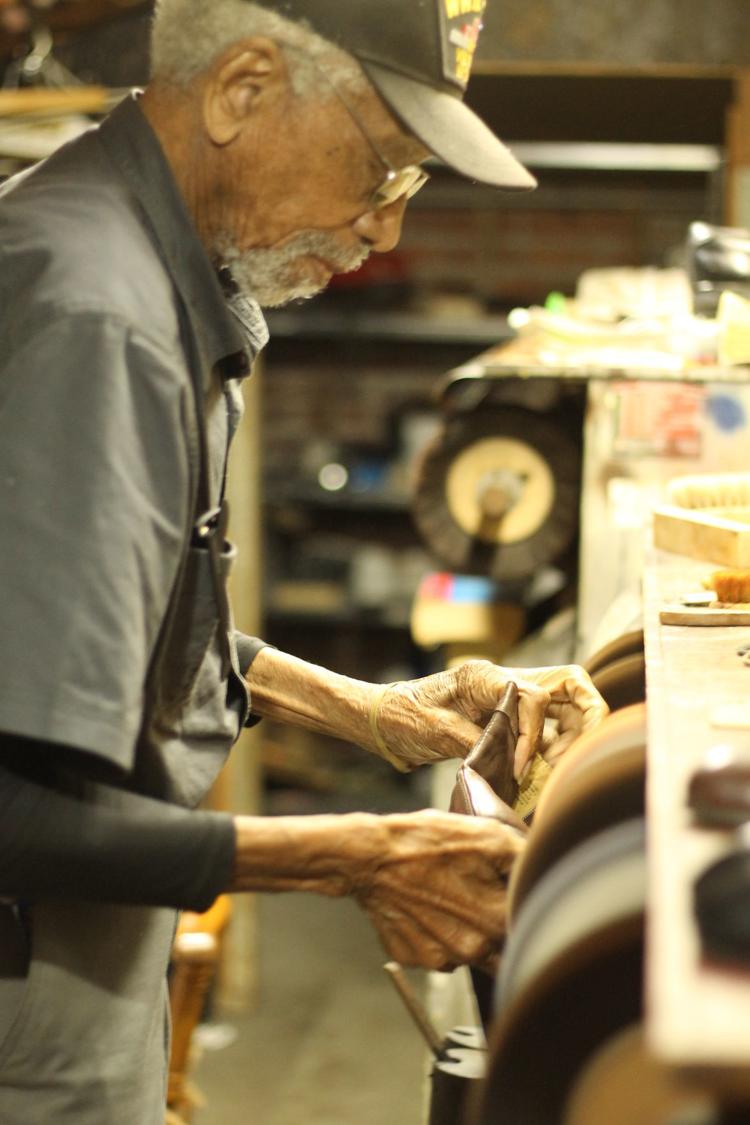 He sums up his life story best: "I've been around the world twice."
But twice may be an understatement. Clark served in World War II, Korea, and early involvement in the Vietnam War.
In fact, he's been around the world so many times he claims, "I got to a point where I wasn't sure I knew how to speak English anymore."
He describes his favorite destination in simple terms: "This may sound incredible, but the whole world."
And his telling of the end of World War II is nothing short of enchanting: "We just pushed (the enemy) back until there was nothing left but the ocean and the sea."
There's no question that Foch Clark lived up to the military roots of his name. Though he describes his time in combat as more of a journey of curiosity and learning than a time of struggle or fear.
"I'm trying to think of a time I ever was scared, but it's not there," he says.
Instead, Clark simply reveled in the opportunity of travel, comradery, and, of course, storytelling.
Kim Cotton, the Hillcrest clubhouse manager of 18 years, says Clark's tales are what he's best known for.
"He's definitely a storyteller. The older gentlemen really enjoy him."
Through his captivating retelling, Clark has mastered the past. But as far as the future, he has much less to say. This December he'll be turning 100, and so far has no plans on how he'll be celebrating the milestone. As he explains, he doesn't like to make plans, but rather, just take one day at a time.
As for any secret wisdom on living a long life, he doesn't have much to offer in terms of advice.
"I blame the Almighty," he says of being 99. And what does 99 years of age feel like?
"Well, I'm still trying to figure that out."
In his time off from work, Clark shares his home with his dogs and one of his daughters, and still proudly tends to his garden. Even though he doesn't live alone, he boasts "I'm taking care of myself."
"I've been doing that for the past 50 years," he says. "I'm a brutal old man."
But after a moment of laughter and thought, he says a bit more softly, "No, I'm a compassionate old fellow."
There's little doubt that Foch Clark is, indeed, a compassionate old fellow. One with a book's worth of stories to tell and the whole world, twice, behind him. Ahead of him? Clark just plans to keep working, one day at a time.