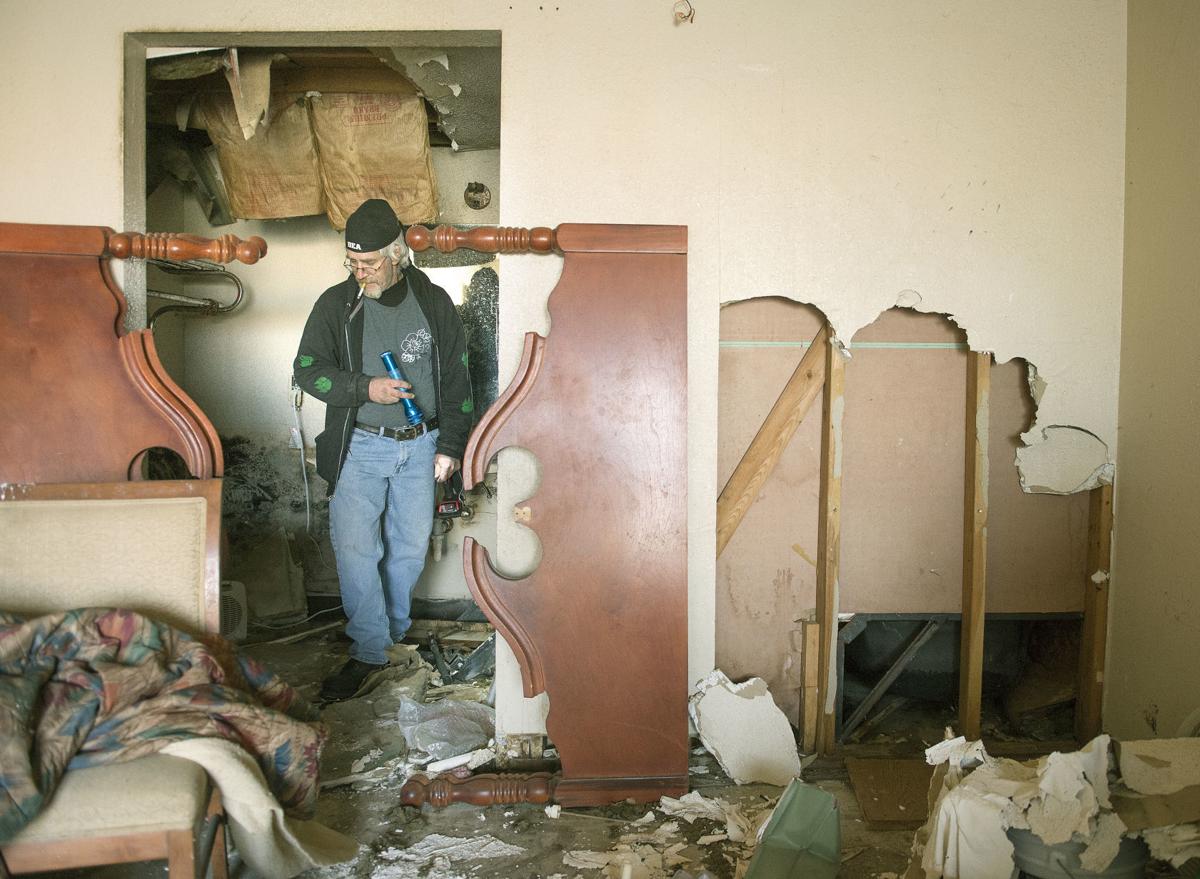 The fire department was here first, the cops came after that and the building inspector would be on his way.
So the only authorized guest of the former motel now owned by the sex shop is used to unexpected company, and sure, he'll show the newspaper reporter around the remains of the Economy Lodge.
But Martin Bream has a recommendation. "You might want to wear a respirator."
Rousting 'riff-raff'
In his weeks at the motel, where he lives in a pair of first-floor adjoining rooms, the 50-year-old has explored most of the property, tucked in an armpit of Cornhusker Highway and Interstate 80.
Sometimes, his master key card gets the green light from a lock, but more often he has to persuade the door with a crowbar.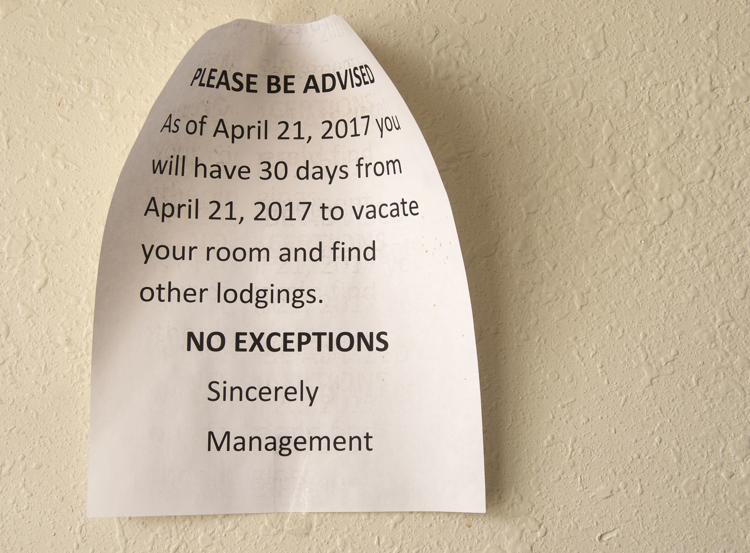 He's visited the room with the marijuana grow operation, the room he calls the meth lab, the room where he thinks an old man died, the room with the black mold. But then he'll point out so many other rooms with just as much mold blotting through the bathroom paint.
Bream was given a three-part job description when he took this job.
"First, get the riff-raff out," he said. "The vagrants, or whatever."
Second, secure it. Third, clean this place up.
Sounded simple and straightforward. But the burglar and the arsonist and the unauthorized guests are slowing him down.
Evicted
Even before it closed, this motel was crawling with decay.
Customers lodged 13 housing complaints in its last three years, describing blood  — and worse —  on the walls, infestations of roaches and bed bugs, mold in the microwave. The Economy Lodge's property value dropped nearly $300,000 between 2016 and 2017.
Lincoln police were familiar with the place. In the final three years of the motel's life, officers were called here an average of once every three days, mostly to break up disturbances, but also to investigate serious crimes, like rape and assault.
They're still coming. In the year since Doctor John's bought the property, closed the motel and turned its office into an adult entertainment store, police have returned more than 20 times.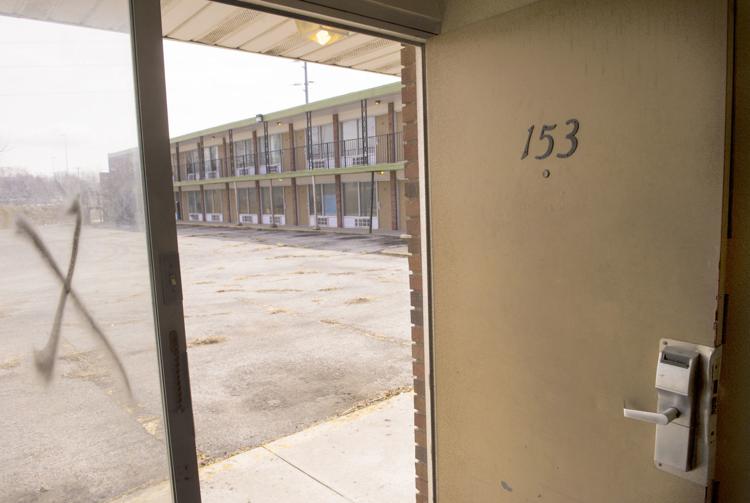 The motel had become a half-step up from homelessness for those with nowhere else to go, its long-term rates keeping some guests here for years. And they didn't want to leave when it was time to go: "We're having a hard time getting people out," a Doctor John's regional manager said a year ago.
But it was clear last week, as Bream opened doors, gave each room a sniff test and searched for squatters, that many had left abruptly, and they left behind the remnants of their lives.
Lost and found
In Room 132, someone left "The Da Vinci Code" on the table in a room tidy enough it looked like it was just one housekeeping visit away from being rentable again.
In another, a paper Christmas wreath was still nailed to the wall above where a bed used to be.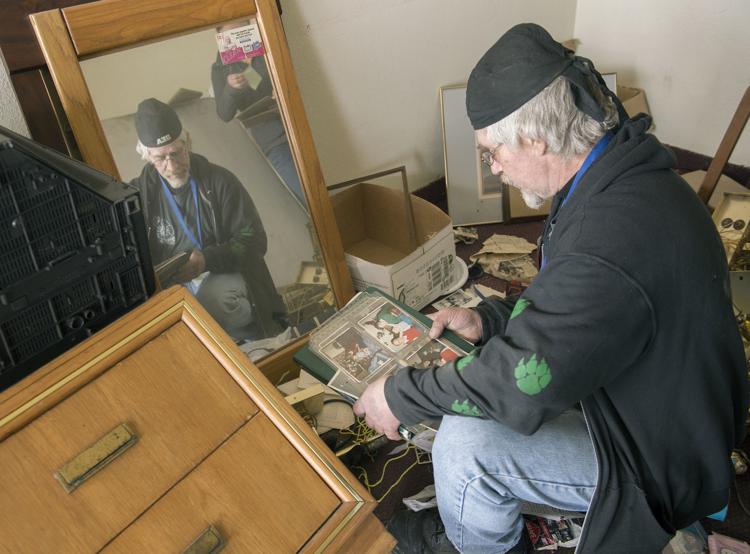 Someone else left Prilosec, an Everett fifth-grader's graduation certificate, a relative's high school diploma from 1930 and a Custer County marriage certificate from a decade later.
Others left unemployment paperwork, credit counseling plans and a confirmation for a five-night stay at a Super 8 in Boise, Idaho, in 2015.
They left playing cards and birthday cards — "Kelly, I wish I could give you so much more" — and they left rubbing alcohol and mouse traps and mountains of clothes and food that spoiled months ago.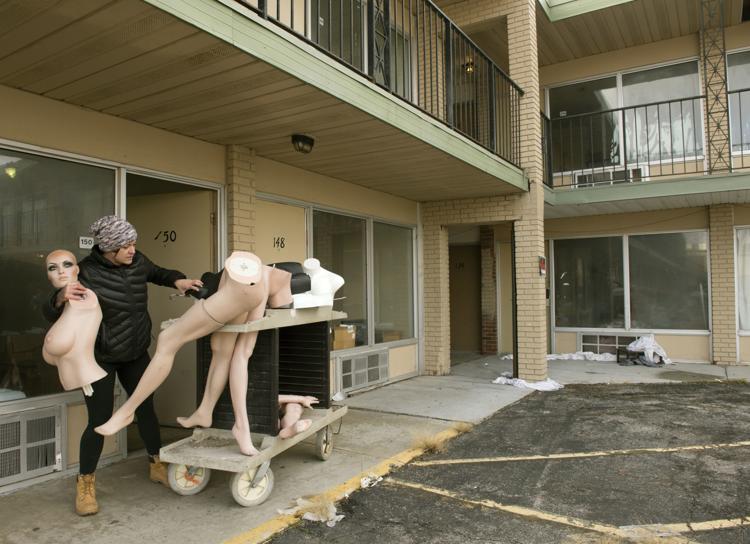 Adjoining rooms
The motel consisted of three buildings on three acres: the office and lobby, now the sex shop; and a pair of two-story rectangular blocks of rooms arranged in the shape of a T.
The rooms back up to each other, and squatters have doubled their living space by tunneling through the shared bathroom walls.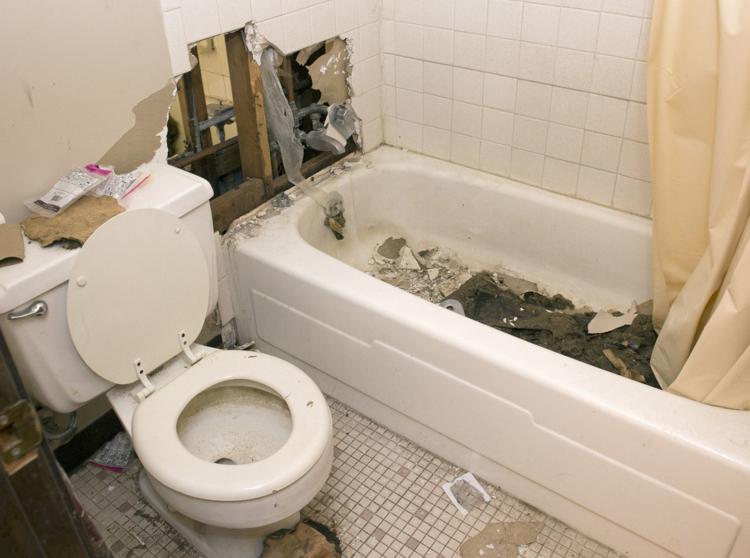 Bream, the caretaker, has rousted dozens of them, he said, but they return. He knows, because he'll find doors opened after he locked them. He'll find lights on after he turned them off. He'll find rooms warm on cold mornings, with space heaters still too clean to have been here long.
He put one of the squatters to work cleaning up the parking lot, which is strewn with clothes and furniture and food containers.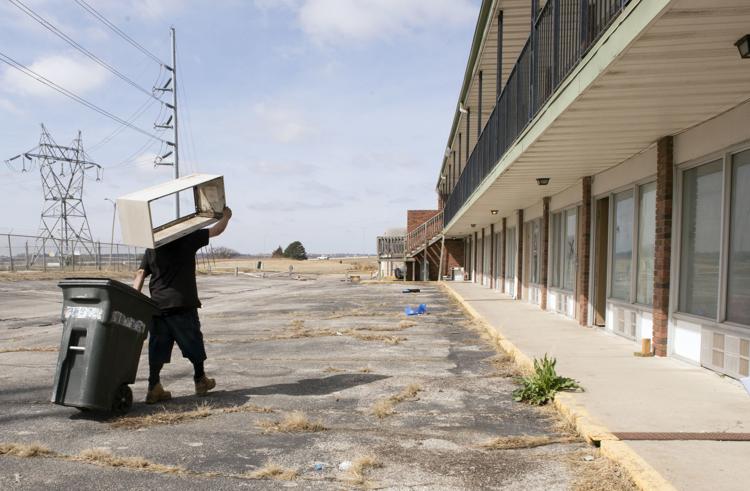 Some nights, the man said, as many as 10 people would share a room, because this place is too frightening to stay here alone.
Bream has found suicide notes, he said. He's been shown the room where he was told a boy was killed and the room where he was told the child's mom took her own life later. He points to where he thinks an old man died, a jar of instant coffee still on a folding table, velcro-tied shoes on the floor near the bed.
These are the rooms with the ghosts, he said.
Recent visitors, uncertain future
First, Bream was visited by a pimp, he said, who demanded continued access to the rooms.
"He came to me saying, 'I've been running a business for years. You're interfering.' I said, 'I was directed to keep the people away.'"
Then Bream returned from Home Depot recently to find his window shattered and his power tools missing. The next night, he woke to the smell of smoke, and found a pile of garbage burning in the parking lot outside his rooms, and the fire department came.
The police were called later, after Bream was seen walking across the parking lot with a BB gun that looks like a military rifle.
And then the city started wrapping its red tape around the former motel.
First, it issued a misdemeanor fire-code violation because of all of the trash in the parking lot, said Chief Fire Inspector Bill Moody.
Police initially labeled the fire as arson. Moody's office is still investigating, but think about it, he said: "Debris in a parking lot catches fire, and there's not a lot of ignition sources out there."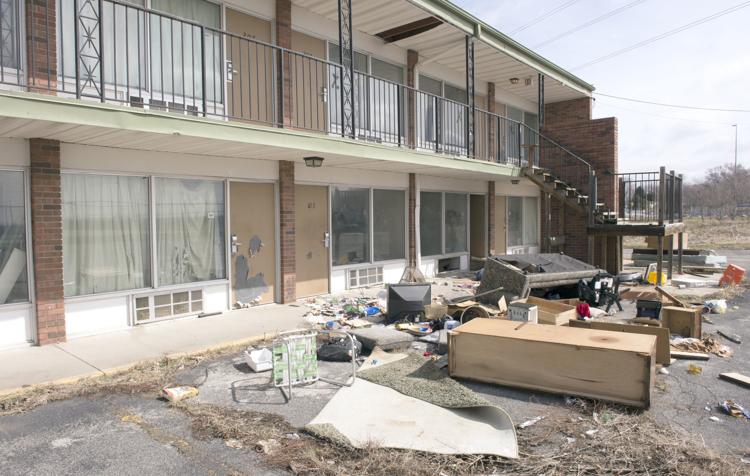 A building and safety inspector followed up last week, finding "piles of junk and debris everywhere. Numerous broken windows and room doors kicked in." He issued a violation, too, giving the owners 20 days to secure the building and clean the mess spilling out of it.
It's not clear what the owners have planned for it. Bream has heard the possibility of retail stores in the smaller block of rooms, and apartments in the other, he said, but a regional manager for Doctor John's hadn't heard that, and the Texas company that owns the property couldn't be reached.
So Bream will keep locking, and relocking the rooms, and start cleaning them up. Sometimes, when he finds something interesting, he'll take it back to his room to save it from the dumpster.
Like an antique cross-stitch tapestry, stained by age but still in its wooden frame: "Here let us live life at its best; here may the heart find comfort and rest."
Get local news delivered to your inbox!
Subscribe to our Daily Headlines newsletter.