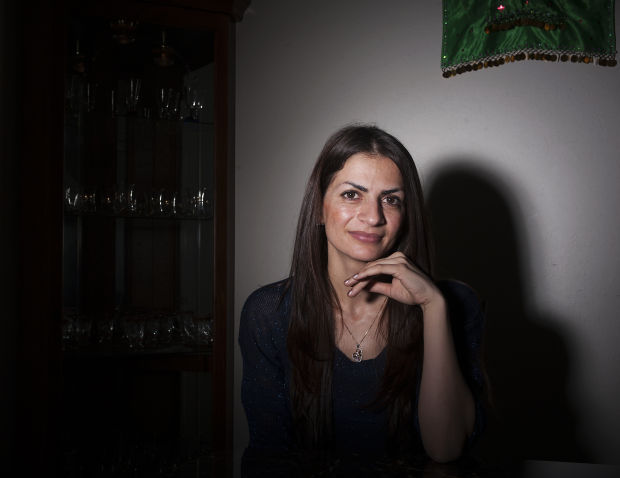 Gulie Khalaf recalls the optimism with which she approached childhood in a Syrian refugee camp.
Her family fled Iraq when Saddam Hussein launched a genocidal campaign against indigenous Yazidis in the country's northern Kurdish regions.
Inside her refugee camp, a bakery served insect-infested bread, water arrived infrequently, and some of that was so bad it had to be poured on the family's small garden.
"The basic necessities were plenty, but as the years passed, we would get less and less," Khalaf said, due to corruption and the diminishing interest of humanitarian organizations.
Yazidis came to be treated as second-class citizens, especially at the camp school, where students would fail for refusing to study the Quran.
"There were times I wish I was a Muslim," said Khalaf, 28. "I was a nerdy student, a really hard-working student, but I could never get the best grades because I would not take the Quran class."
Still, possibly because of her youthful naivety or predisposition to looking at life's better side, Khalaf knew there was something more, somewhere.
In 1998, her family emigrated to the United States. Khalaf remembers her family gave up on even the possibility of peace for Yazidis in the Middle East.
Now, two decades later, with Islamic terrorists promising to convert or kill all Yazidis there, Khalaf said, the entire Yazidi way of life is threatened.
"Seeing this final genocide take place has scared us that the Yazidis are going to be completely lost," she said.
There has been little peace for Yazidis, who can count 74 genocides against them dating to the 13th century and the Ottoman Empire.
More and more Yazidis are killed each time in the name of ethnic and religious purity, or for political reasons, Khalaf said.
Many become displaced, scattered around the world. More than 35,000 Yazidis have settled in Germany, 10,000 in Sweden and France, and still more in Russia, Armenia and Georgia over the past few decades, Khalaf said.
Those who fled -- especially those who came to Lincoln after volunteering as interpreters for the U.S. military -- maintain a deep connection to Yazidis still in the Middle East.
Khalaf had planned to visit her family's ancestral homelands in July, hoping to bring along younger family members who knew it only through an uncle's stories or the news. The Islamic State ended those plans when it spread from Syria to capture Mosul, Iraq's second largest city.
The terrorists next turned their attention north to the peaceful and long-persecuted Yazidis.
"We still have family living there, and so do almost all Yazidis living in Lincoln," Khalaf said. "That's why we feel their pain and why it affects us so much."
The Islamic State terrorists slaughtered thousands of Yazidis, forced women and children into slavery and caused thousands more to flee.
In Lincoln, Yazidis turned their fear, sadness and anger into action. Khalaf was among a few hundred Yazidis who marched through downtown Lincoln in hopes of drawing attention to the genocide.
She later organized Yazidis to provide interviews to national news outlets and speak on behalf of Iraq's voiceless.
Although the U.S. and other countries provided aid and military support, Khalaf knows firsthand that refugee camp life starts precariously and then deteriorates.
In November, Khalaf traveled to Iraq with other Yazidis to meet with global spiritual leaders, and the conditions in Iraqi, Syrian and Kurdish refugee camps were worse than expected.
"When I got there, I broke down in tears," she said. "I had been in the camps; it's not like I'm some spoiled kid who had the good life, but what is happening to them came to me as a shock.
"None of it is exaggerated," she added.
Even where tents were available, other amenities were not. In one place, dozens of families shared a single toilet, Khalaf said, and a skin disease had spread throughout the camp.
Some families in Kurdistan have taken shelter in unfinished buildings, stretching tarps around poles to maintain dignity and privacy.
Throughout the winter months, heaters are few and less than reliable, Khalaf said. One camp burned down when a heater malfunctioned.
"Many of these kids fled their homes in the summer with their summer clothes on, and now it's winter and it gets chilly at night," she said.
Some Yazidis, hoping to scavenge what they could, made their way back home after Islamic State militants departed. One cousin, she said, returned to find his home blasted into rubble by a wayward airstrike.
Many others refuse to go back.
"Every corner, every street reminds them of a neighbor who was killed or a family member who was captured and killed by ISIS," Khalaf said.
Lasting security for Yazidis will not come easy, but Khalaf said she has no choice but to work toward it.
During her tour of Iraq, Khalaf was asked to participate in a conference to speak about the genocide. The sixth-grade language arts teacher at Goodrich Middle School accepted the invitation and has become a leading advocate.
"There is so much misinformation about who the Yazidis are. I feel like that is the first step in promoting an understanding," she said.
The Yazidis who toured refugee camps in November were the focus of a conference held in conjunction between the International Association for Human Values and the Kurdistan Regional Government's "Protecting Women and Bringing Peace and Stability."
They also became keynote speakers at November's International Center for Cultural Studies gathering in India, where they were invited to pray in the Yazidi faith in front of 3,000 attendees before sharing their history, culture and heritage.
Khalaf hopes the message they shared will resonate with different faiths and cultures throughout the world.
"It helped us, first of all, by putting another voice out there," she said.
New books that accurately describe the Yazidi faith and culture are being written, and a website -- www.yezidis.org -- promises to offer information to those who seek it.
Khalaf, who is substitute teaching this year before rejoining the faculty next year, said her work isn't done. She and others will continue to advocate for international intervention.
"Without international protection, it's going to happen again," she said. "The governments keep changing, the borders keep getting redrawn, but it's the same thing."
Haunting videos of Yazidis scraping out an existence in Iraq's refugee camps upset her, Khalaf said. It's proof the situation grows worse.
But she remains determined.
"I'm trying to focus on action," she said. "I think we have hope. Different communities are siding with us and fighting with us. Every day we are gaining more."