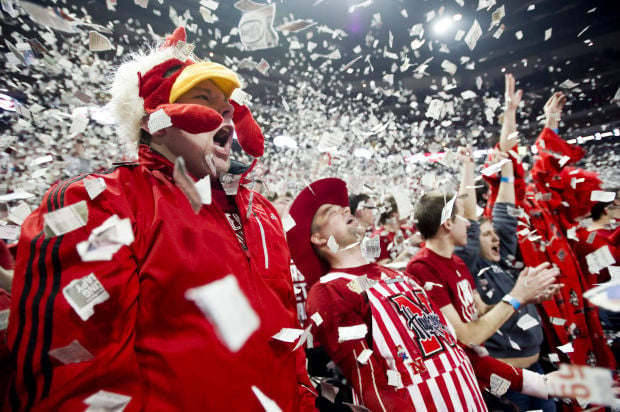 A small section of a page labeled "ALCOHOL" in a consultant's report on Pinnacle Bank Arena will undoubtedly create the most conversation and controversy over the next few months.
As expected, the report pointed out that selling alcohol at collegiate sports events is the trend. (Ohio State announced this week plans to sell beer and wine in suites and club seats for football games this fall.) The consultant's report hinted that Lincoln might want to start with alcohol sales in premium seating areas at the arena.
"SMG estimates that selling alcohol in premium areas only during men's and women's Husker games would return a net income to the arena in the six figures," the report said.
Private management firm SMG runs the day-to-day operations of the arena under a contract with the city.
The focus is on premium seating because people pay more money and expect more amenities in those seats. And college students, often not yet of drinking age, don't generally use premium seating.
University of Nebraska Regent Tim Clare, who said he hadn't made up his mind on the booze-selling question, said he's gotten feedback from both camps on the issue.
He's heard from people who say this is a college game, played by amateur athletes, and selling alcohol would detract from the purity of that game.
He's also heard from people who think being able to buy a beer would enhance the fan experience.
Clare said he is willing to take the discussion to the regents if that is what his West Haymarket Joint Public Agency partners want to do. The JPA is responsible for paying off arena debt.
It's clear that Mayor Chris Beutler, who is one of the three JPA board members, favors a discussion with regents.
In his own Beutler way, the mayor indicated he supported selling alcohol at college games played in the arena. 
First Beutler pointed out that a reporter, in framing a question to the mayor, seemed to be assuming that gaining revenue from alcohol is a bad thing. 
Beutler said he doesn't think making more money is a bad thing. He thinks making more money at the arena and giving the taxpayer even more security is a good idea. 
Cuts not responsible budgeting
Mayor Chris Beutler's concerns with Councilman Roy Christensen's proposal to cut the budget for next year goes beyond any problems created by specific cuts.
The Chamber of Commerce has already pointed out that the marketing money that Christensen proposes to cut helps it retain groups that spend lots of money in Lincoln. Roller skaters and an air show, for example, bring in $10 million in economic impact, a Chamber of Commerce representative said. 
Christensen's proposal to cut $1.8 million from next year's budget is not a good budgeting or management practice, said Rick Hoppe, Beutler's chief of staff.
Christensen is cutting one-time funds -- money not spent this year and generally earmarked for specific items next year, like equipment or trees.
However, the cuts, which would provide a 1-cent savings on the property tax levy (or $15 a year for owners of a $150,000 house), are intended to continue.
Christensen is promising to sort out the specific long-term issues of how the cuts will affect city services next year.
That does not allow the public to weigh the pros and cons of the reductions in services vs. the tax savings, Hoppe said.
But the larger issue is that this type of "budgeting gimmick" -- removing the underlying cushion of unspent money -- is what created the huge deficits Beutler faced when he took office, Hoppe said.
Christensen's plan creates a "structurally unbalanced budget," Hoppe said.
"His approach is not fiscally responsible," Hoppe said.
Two-fisted arena is swimming in money
The Pinnacle Bank Arena setup is complicated. But let's try to simplify it. Let's look at the arena governing structure as two separate fists.
The left fist is the West Haymarket Joint Public Agency — a three-member group including the mayor, an NU regent and a City Council member -- that is responsible for paying off the bonds used to construct the arena and related street system.
The right fist is the daily operation of the arena. That's the responsibility of the city (mayor and council), which has a contract with an international management firm (SMG) to run the arena. Tom Lorenz, an SMG employee, is the manager.
City/SMG/Lorenz = daily operations
The right fist is living nickel to nickel. Arena operations did not make as much money as city leaders expected when they were putting together arena plans a few years ago. Daily operations have been operating in the red since the arena opened.
The left fist has tons of money, primarily from the occupation tax on bars, restaurants, hotel stays and vehicle rentals, but also from naming rights, premium seat ticket sales and long-term advertising revenues. 
Mayor Chris Beutler is right when he says Pinnacle Bank Arena -- think both fists together -- has no financial problems.
When they were planning the arena, city leaders expected that each fist -- debt service and operations -- would be financially sound. But after almost two years of experience, it is clear arena operations can't make it without help.
The recent consultant's report indicated that's not unusual. New arenas with collegiate basketball teams as primary tenants have the same problem making ends meet on the operational side because debt service is getting much of the long-term revenue.
City leaders are tired of all the controversy and complaints about the failing arena operations when there is plenty of money to go around, as long as you consider both fists.
Last week Beutler put the two fists together and declared the arena is on "solid financial footing." 
And city leaders want to drop the word subsidy from the public vocabulary. So the left fist (JPA) will simply transfer more than $1.6 million each year to the right fist (operations).
That transfer is not a subsidy under this enlightened scenario. It's a clarification. The arena operations will be getting what it should have been getting in the first place, if the city fathers hadn't been so darn conservative when they drew up the original arena-related agreements.
And the two-fisted arena is financially fit into the foreseeable future, based on a sophisticated computer analysis of revenue streams.
Everyone loves Hudl
Quickly and with great pleasure, the City Council this week approved all documents required so that developers can build a headquarters for Hudl in the West Haymarket. 
In fact, so many council members jumped in to provide a second for the initial resolution that Chairman Trent Fellers declared it "seconded by everybody."
"I think we all support this wholeheartedly," Councilwoman Leirion Gaylor Baird said. "It's a game-changer. It brings 21st century jobs. It attracts the best and brightest from across the county. It gives Lincoln the ability to signal that we are a world-class city worthy of investment and attention."
Developers plan to spend more than $32 million, including about $6.6 million in tax dollars, on a seven-story office building that will house the Hudl headquarters and some Nelnet employees.
Hudl, whose founders were University of Nebraska-Lincoln graduates, provides video-editing software for tens of thousands of sports teams.