More than 40 men and women who have been part of the decades-old South Beltway project celebrated the completion of the environmental impact phase, an important bureaucratic milestone on the long path to freeway construction.
At the Thursday afternoon ceremony, part-news conference and part-party, federal, state and local leaders signed the "Finding of No Significant Impact" statement, which allows the state to move ahead with final design and remaining right-of-way purchases necessary for the four-lane divided highway long intended to divert heavy truck traffic off of Nebraska 2 through the city limits.
Finishing the environmental impact study and signing the document keeps the South Beltway project on schedule, with construction expected to begin in 2020, said Jeni Campana, spokeswoman for Nebraska Department of Transporation. Work could extend five to seven years.
"It is a proud day at the department. A lot of blood and sweat and tears has gone into the project, said NDOT Director Kyle Schneweis.
The South Beltway project will promote safety and economic growth, he said. 
"We cannot wait to drive this thing," he said.
Indeed, Thursday's milestone is historic for Lincoln, said Mayor Chris Beutler, who, like others, thanked the many people who have "been long and constant partners in this epic struggle to get the South Beltway."  
"The South Beltway is the largest and one of the most complex projects the state has undertaken," Schneweis said.
You have free articles remaining.
Keep reading for FREE!
Enjoy more articles by signing up or logging in. No credit card required.
The new 11-mile east-west freeway, to be built about half a mile south of Saltillo Road, will connect U.S. 77 on the west with Nebraska 2 on the east and will cost about $300 million to build.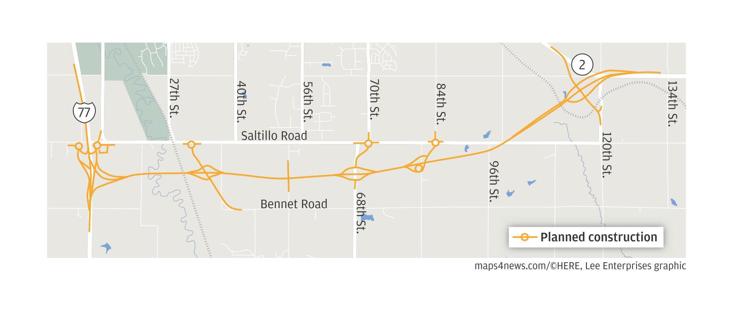 The project and the initial environmental study sat dormant between 2008 and 2013 because funding wasn't available. That changed with passage of the Build Nebraska Act in 2011, which diverted a quarter-cent of the state sales tax to funding highway improvements, including the South Beltway.
Funding for the South Beltway project includes $30 million from the city and $20 million from the Railroad Transportation Safety District, which draws revenue from property taxpayers across Lancaster County.
The project also garnered a very competitive $25 million federal TIGER grant.
The next steps are final design, following by right-of-way acquisition. Preliminary discussions with landowners along the South Beltway corridor could begin later this year, Campana said.
Doug Atkin, with the Federal Highway Administration, gave a lengthy explanation of the environmental document being signed, known as the FONSI.
Then, he said, "That's government-ese for 'let's get going.'"