Bill Roehrs was introduced to pickleball eight years ago when he was visiting some friends in Arizona.
He watched some games, played some games. "And the rest is history," Roehrs said.
"It is a lot of fun. It is easy to learn. It is very, very contagious," said Roehrs, a retired Lincoln music educator, who has helped build interest in the sport in Lincoln.
Pickleball — a combination of tennis, badminton and pingpong — is one of the country's fastest-growing sports. And Lincoln, like the rest of the country, is seeing pickleball interest take off, as baby boomers look for sports that aren't quite as taxing on the joints.
It's a way to meet new people, says Roehrs.
The interest is shown by the membership in the year-old Pickleball Lincoln, which now has more than 200 dues-paying members. It may hit 300 by this spring or summer, said Mark Nelson, a member of the board and an ambassador for U.S.A. Pickleball. 
Two years ago, the city converted two tennis courts at Peterson Park, Nebraska 2 and 22nd Street, into six pickleball courts, with the help of donations from the pickleball community.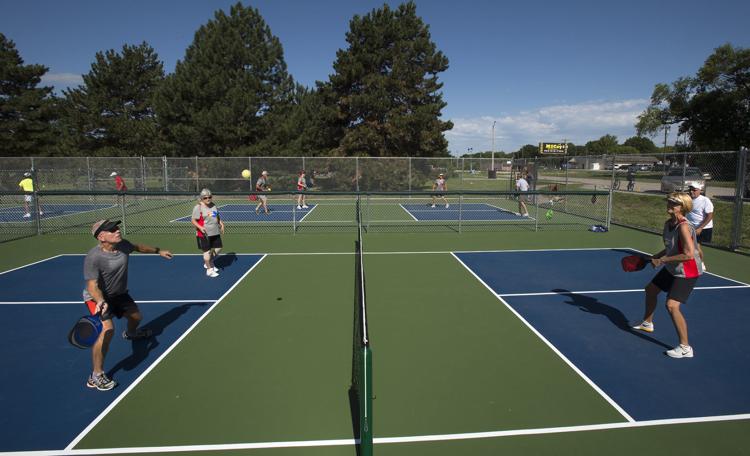 Today, Lincoln players are outgrowing Peterson Park, including overwhelming the parking area, said J.J. Yost, planning and facilities manager with the city Parks and Recreation Department. 
So the city has penciled in up to 32 pickleball courts at Jensen Park, a new park at the southeast edge of the city, near 84th Street and Yankee Hill Road.
The courts are part of a conceptual master plan for the 170-acre park approved recently by the Parks and Recreation Advisory Board.
The primary vision for Jensen Park is the development of a campus of outdoor fields that could serve the community's growing demand for youth baseball, softball and soccer fields and potentially host multi-team tournaments, according to the fact sheet presented to the advisory board.
You have free articles remaining.
Specifically, the conceptual plan includes 12 baseball/softball fields, six multi-purpose/soccer fields, up to 32 pickleball courts, and ponds that will capture stormwater runoff for re-use in irrigating the ballfields.
But the plan is conceptual, not a final document. It gives an idea of where the city might be headed with the park, according to Yost.
The city has funding for just two ballfields, currently under construction. They will replace fields along Pine Lake Road in 2019. The Pine Lake Road fields will be displaced by the widening of the road, said Yost.
The Parks and Recreation Department's capital improvement budget has money only for maintenance, not for new areas, Yost said. So pickleball supporters will have to raise funds for those courts.
The pickleball courts are a recent addition to the conceptual plan for Jensen Park, but could be the next construction project for the park, with a successful fund drive.
Building 16 outdoor courts would cost between $300,000 to $400,000, according to Nelson.
Pickleball is a very social sport, so having multiple courts in one spot is an advantage, Yost said.
Pickleball's initial appeal was with seniors, as an alternative to tennis. But it's growing in popularity with younger people, said Nelson, who is in his mid-40s.
There is the social aspect to it. But it can be extremely competitive, he said. And in Lincoln, part of the competition is finding an open court. 
"You can walk out almost any nice day and the pickleball courts in Lincoln are pretty much full," Nelson told the advisory board before it approved the Jensen Park plans. 
"This will be a trying year for us because of the number of people wanting to play."