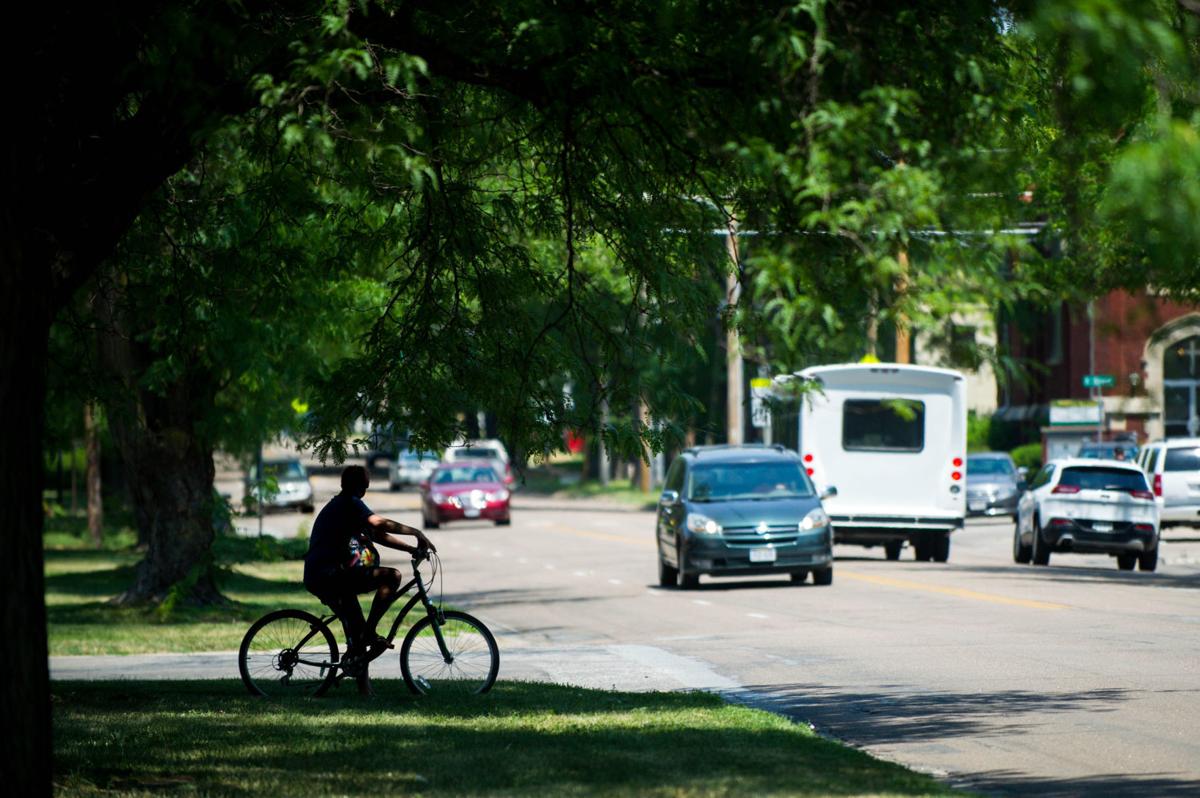 It's commuters vs. neighborhood advocates.
The Lincoln Independent Business Association on Monday publicized a website, SaveLincolnStreets.com, which attacks the city's plan to make a stretch of South 13th Street a three-lane road. The plan is aimed at making the street safer for bicyclists and pedestrians.
"Stop Lincoln's War on Cars. Say No to the S. 13th Street Shutdown," says the first paragraph of text on the site, which encourages people to contact City Council members on the issue.
Also Monday, five neighborhood advocates praised the city's plan at the end of the weekly City Council meeting.
"There is huge support for this," said Chelsey Pounds, who lives in the area. "So many neighborhood members use it as a path around their neighborhood and not through the neighborhood (referring to commuter cars)," she said.
City Public Works staff outlined the reasons and benefits for the proposed 13th Street changes — which would turn the four-lane road from downtown to South Street into three lanes, with a middle turn lane and bike lanes — during a pre-council meeting Wednesday afternoon.
Councilman Roy Christensen, who is quoted on the LIBA website, said he expects to have a resolution on the council's agenda as early as next week asking the city to maintain the current four-lane configuration of 13th Street.
Numerous engineering studies show that converting four-lane streets to three lanes with a middle turn lane reduces accidents and can improve traffic flow, Lonnie Burklund, assistant director of transportation, told the council during Monday's pre-council meeting.
Crashes are reduced by 19 percent to 47 percent when four-lane, undivided streets are converted to three lanes with a center turn lane, he said.
A turn lane would also make it easier for drivers to access the roughly 100 driveways and streets along that stretch of 13th Street, he said.
You have free articles remaining.
Christensen pointed to news stories from several cities about public animosity and problems with such conversions, sometimes called "a road diet." Burklund said he would check into some of the situations to see if they were comparable. 
The conversion works when daily traffic is no more than 18,000 to 20,000 vehicles, and 13th Street north of South Street has about 8,000 to 10,000 vehicles a day. Roads with counts of 1,000 to 15,000 are good candidates for the conversion, Burklund said.
The website points out problems LIBA believes will occur with a three-lane 13th Street, including snarling traffic and suffocating Ninth and 10th streets with drivers seeking new routes in and out of downtown, and increased gridlock on gamedays and during arena events.
"The city doesn't know how this shutdown will affect your quality of life or the devastating impact it will have on local business," says the website.
Neighborhood advocates suggested council members also look at the city website, which details the 13th Street project and the benefits.
The neighborhood is already divided by many arterial streets: Ninth, 10th, 13th, 16th and 17th streets, said Shawn Ryba, director of the South of Downtown Community Development Organization. And it is a lower income neighborhood with three schools, where people rely heavily on walking and biking.
There is a need to make it safer, Ryba said.
And much of the conversion costs would be covered by a private grant, he noted.
The planned changes to 13th Street are supported by many in the neighborhood, based on meetings and conversations between outreach workers and residents, he said. 
When Christensen asked Ryba if he had any outreach with those who commute through the neighborhood, Ryba said no: "I have been hired to advocate for the neighborhood, for what they want."
"My concern is for the people who have to deal with the traffic and safety issues," he said.
Most neighborhoods jump at the chance to eliminate through traffic, Christensen said.