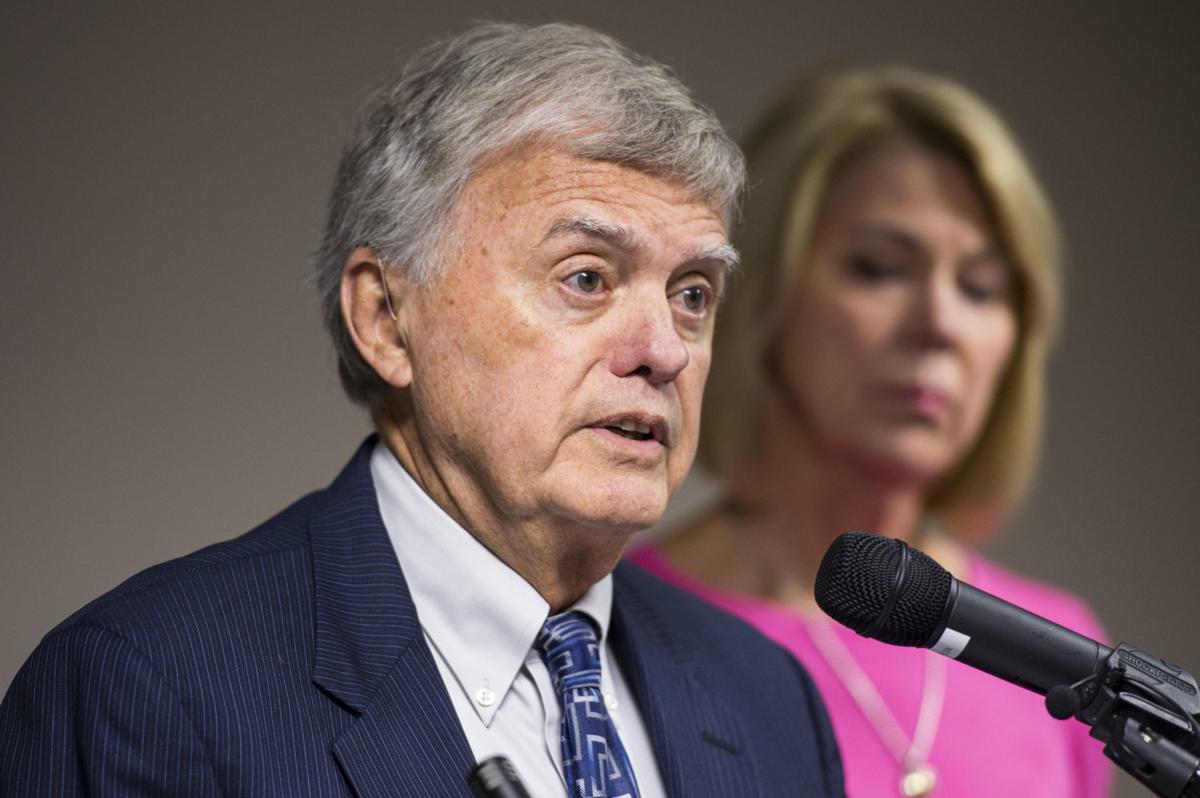 Lincoln voters ended Mayor Chris Beutler's mayoral career Tuesday by approving a charter amendment that limits the Lincoln mayor to three consecutive terms.
The term-limits amendment, spearheaded by several prominent Republicans, applies retroactively, so Beutler cannot run for a fourth term next spring as he had planned.
Voters narrowly approved the term-limits proposal despite a campaign of more than $160,000 against the charter amendment.
That campaign, financed by a newly formed group called Fair Elections Lincoln and run by Beutler's re-election campaign chairman Brandon Bayer, tried to point out the issue was not just philosophical. It was a way to make sure Beutler could not run again and thus give Republicans a better chance at the mayor's position.
Beutler has beaten Republican candidates in the last three mayoral elections. In fact, Democrats have held the mayor's office since 1999.
Tuesday's term-limits vote is a game-changer for city hall politics over the next six months. Beutler will be a lame duck mayor, with a few short months to get approval for any new plans. 
It also opens up the mayoral election.
Councilwoman Leirion Gaylor Baird and State Sen. Adam Morfeld, two Democrats mentioned as potential future candidates for mayor, will have to decide whether to run in the spring 2019 election.
Councilman Cyndi Lamm, viewed as a conservative Republican, has already announced she will seek the mayor's seat next year.
The fact that Lincoln has an "autocratic mayor"  and the mayor controls so much, resonated with voters, said Matt Innis, spokesman for the Term Limits supporters.
"People don't want people politicians having unchecked power. They want the power returned back to the people," he said.
The amendment makes Lincoln a first in Nebraska. No other Nebraska city or village has term limits for either a mayor or council or board members, according to staff at the League of Nebraska Municipalities
Nebraska has a two-term limit for both the governor and the state legislators. The term limit for state senators, begun through a successful petition drive and vote, was not applied retroactively. Individual senators were allowed to serve eight additional years before the two-term limit took effect.
Some Democratic leaders have threatened to spearhead a similar petition drive in Omaha to limit the Omaha mayor's term and keep current Mayor Jean Stothert from running again if the term-limit questions was successful in Lincoln.
Election results
Election results for all statewide and Lincoln-area races
Medicaid expansion
| Position | Vote totals |
| --- | --- |
| For Initiative 427 | 345,837 |
| Against Initiative 427 | 304,253 |
Congressional races
| Race | Candidates | Vote totals |
| --- | --- | --- |
| District 1 | Kate Bolz | 116,120 |
| | Jeff Fortenberry, R | 179,557 |
| | Dennis Grace, L | 8,452 |
| District 2 | Donald Bacon, R | 162,087 |
| | Kara Eastman, D | 146,992 |
| | Tyler Schaeffer, L | 9,423 |
| District 3 | Mark Elworth Jr., D | 49,771 |
| | Dustin Hobbs, L | 10,723 |
| | Adrian Smith, R | 222,363 |
| | | |
Lincoln mayor term limits
| Position | Vote totals |
| --- | --- |
| For amendment | 51,720 |
| Against amendment | 46,053 |
| | |
Lancaster County races
| Race | Candidate | Vote totals |
| --- | --- | --- |
| County treasurer | Matt Schulte (R) | 52,186 |
| | Rachel Garver (D) | 58,146 |
| County clerk | Dan Nolte (D) | uncontested |
| County assessor | Rob Ogden (R) | uncontested |
| County sheriff | Terry Wagner (R) | uncontested |
| County attorney | Pat Condon (R) | uncontested |
| Public defender | Joe Nigro (D) | uncontested |
| Clerk of district court | Troy Hawk (R) | uncontested |
| County engineer | Pam Dingman (R) | uncontested |
Lancaster County Board
| District | Candidate | Vote totals |
| --- | --- | --- |
| 1 | Tim Duey (R) | 4,556 |
| | Sean Flowerday (D) | 11,423 |
| 3 | Deb Schorr (R) | uncontested |
| 5 | Todd Wiltgen (R) | 11,462 |
| | Rick Vest (D) | 12,274 |
| | | |
Legislature
| District | Candidate | Vote totals |
| --- | --- | --- |
| 1 | Janet Palmtag | 5,577 |
| | Julie Slama | 11,899 |
| 3 | Rick Holdcroft | 8,582 |
| | Carol Blood | 8,779 |
| 5 | Mike McDonnell | 6,559 |
| | Gilbert Ayala | 3,777 |
| 7 | Tony Vargas | 6,819 |
| | Jorge Sotolongo | 1,919 |
| 9 | John Cavanaugh | 8,003 |
| | Marque Snow | 6,690 |
| 11 | Fred Conley | 3,330 |
| | Terrell McKinney | 5,820 |
| 13 | Justin T. Wayne | 11,010 |
| 15 | David Rogers | 6,210 |
| | Lynne Walz | 9,157 |
| 17 | Joni Albrecht | 7,343 |
| | Sheryl Lindau | 3,576 |
| 19 | Mike Flood | 15,200 |
| 21 | Mike Hilgers | 9,895 |
| | Brodey Weber | 8,132 |
| 23 | Bruce Bostelman | 11,287 |
| | Helen Raikes | 6,868 |
| 25 | Suzanne Geist | 16,147 |
| | Stephany Pleasant | 8,104 |
| 27 | Brenda Bickford | 5,448 |
| | Anna Wishart | 9,923 |
| 29 | Eliot Bostar | 10,927 |
| | Jacob Campbell | 9,622 |
| 31 | Rich Pahls | 10,197 |
| | Tim Royers | 9,093 |
| 33 | Steve Halloran | 12,756 |
| 35 | Raymond M. Aguilar | 6,570 |
| | Dan Quick | 5,688 |
| 37 | Mercadies Damratowski | 4,098 |
| | John Lowe Sr. | 12,774 |
| 39 | Allison Heimes | 11,457 |
| | Lou Ann Linehan | 14,554 |
| 41 | Tom Briese | 15,804 |
| 43 | Tom Brewer | 10,628 |
| | Tanya Storer | 7,691 |
| 45 | Susan Hester | 7,671 |
| | Rita Sanders | 8,835 |
| 47 | Steve Erdman | 14,901 |
| 49 | Jen Day | 12,125 |
| | Andrew La Grone | 11,873 |
Public Service Commission
| District | Candidate | Vote totals |
| --- | --- | --- |
| 1 | Dan Watermeier (R) | 72,956 |
| | Christa Yoakum (D) | 69,230 |
| 3 | Tim Schram (R) | 94,743 |
| | Mike Forsythe (D) | 57,929 |
NU Board of Regents
| District | Candidate | Vote totals |
| --- | --- | --- |
| 1 | Tim Clare | 92,526 |
| 2 | Jack A. Stark | 96,770 |
State Board of Education
| District | Candidate | Vote totals |
| --- | --- | --- |
| 5 | Patricia H. Timm | 36,803 |
| | Maris Bentley | 21,707 |
| 6 | Maureen Nickels | uncontested |
| 7 | Robin R. Stevens | uncontested |
| 8 | Pat McPherson | 30,501 |
| | Deborah Neary | 43,528 |
SCC Board of Governors
| District | Candidate | Vote totals |
| --- | --- | --- |
| At-large | Timothy R. Cerveny | 81,405 |
| | Neal Stenberg | 82,575 |
| 1 | Chuck Byers | 17,329 |
| | Jeanne H. Stec | 15,268 |
| 2 | Kathy Boellstorff | 20,349 |
| | Chad Aldrich | 15,415 |
| 3 | Edward C. Price | 32,588 |
| 4 | Kristin E. Yates | 25,167 |
| 5 | Arlyn Uhrmacher | 41,327 |
| | | |
Lower Platte South Natural Resources District board
| Subdistrict | Candidate | Vote totals |
| --- | --- | --- |
| 1 | Don Jacobson | 11,941 |
| 2 | Ron Nolte | 12,778 |
| 3 | Mike DeKalb | 6,243 |
| | Kenneth Vogel | 6,177 |
| 4 | Gary R. Aldridge | 9,201 |
| | LeRoy W. Sievers | 9,199 |
| 5 | John Yoakum | 4,402 |
| | Greg Osborn | 2,618 |
| 6 | Anthony Schutz | 10,257 |
| 7 | Chelsea Johnson | 8,933 |
| 8 | Christine Lamberty | 7,807 |
| | Christy Eichorn | 4,505 |
| 9 | Milt Schmidt | 4,712 |
| | Lisa Lewis | 7,518 |
| 10 | Ray A. Stevens Jr. | 6,528 |
| | Bastienne Salners | 5,268 |
| | | |
Seward County sheriff
| Candidate | Vote totals |
| --- | --- |
| Joseph O. Yocum (R) | 3,059 |
| Mike Vance (D) | 3,868 |
| | |
Retention of judges
| Judge name | Yes | No |
| --- | --- | --- |
| Stephanie F. Stacy | 75,767 | 17,747 |
| Julie A. Martin | 420,928 | 113,161 |
| James Michael Fitzgerald | 395,604 | 130,312 |
| Lori A. Maret | 64,891 | 20,225 |
| Susan I. Strong | 69,033 | 16,152 |
| Robert R. Otte | 65,830 | 19,367 |
| Holly J. Parsley | 68,969 | 15,895 |
| Thomas E. Zimmerman | 64,248 | 18,907 |
| | | |
Charter amendment questions
| Ballot question | For | Against |
| --- | --- | --- |
| Gender-neutral language | 50,325 | 15,449 |
| Raising city bid threshold | 43,488 | 18,442 |