Tammy Ward, who owns a consulting business, announced she will be a candidate for City Council at a Thursday news conference, surrounded by a number of establishment Democrats. 
Councilman Carl Eskridge, who is retiring from the council, introduced Ward, who is running for the northwest Lincoln District 4 seat he now holds. 
Ward has shown her compassion by tirelessly working for programs and facilities for seniors and veterans in the community, he said. "Her passion and compassion are genuine." 
"Tammy has lived, worked, volunteered and worshiped in District 4," Eskridge said. "She knows the issues of the residents in the 20-some diverse neighborhoods and has worked with small businesses and major institutions." 
Eskridge is endorsing Ward. Other supporters are Lancaster County Commissioner Jennifer Brinkman; Nick Cusick, past chair of the Lincoln Chamber of Commerce and member of the Lincoln Airport Authority; and former state Sen. Kathy Campbell.
Ward said she will support policies that will continue Lincoln's strong economic growth for all areas of the city. 
"I want to be sure we continue to look at our workforce development issues and keep attracting and retaining young professionals and other workers who want to live, work and raise their families in Lincoln," she said. 
Ward said she is is a farm girl from Geneva who moved to Lincoln more than 30 years ago to attend college, "fell in love with this city" and has never left. 
Ward owns a local consulting business that provides advocacy training, community outreach and project management to a variety of clients. 
Before starting her own business, Ward was the executive director of the Seniors Foundation of Lincoln and Lancaster County, where she helped lead the development team that persuaded the U.S. Department of Veterans Affairs to select the Lincoln VA campus as the site for a new outpatient clinic. 
Ward also mentioned increasing public safety and infrastructure, affordable housing and expanding Lincoln's child care opportunities in her morning news conference. 
You have free articles remaining.
"The strength of our city government is the ability to work together to solve problems and keep moving Lincoln forward. What can unite us is the desire to serve our citizens who expect us to rise above politics and serve the greater good," she said. 
"I pledge to listen, learn and work with other members of the City Council and the next mayor and help create and maintain a new tone of cooperation on behalf of all Lincolnites," she said. 
Other people active in local and state politics attending Ward's announcement included former Lincoln Mayor Don Wesely; Councilwoman and mayoral candidate Leirion Gaylor Baird; Tim Becker and Dayle Williamson, who both worked for retired U.S. Sen. Ben Nelson; and former Councilman Dan Marvin.  
Ward formerly worked for Nelson. She also worked in the Lincoln mayor's office, the Nebraska governor's office, the Nebraska Legislature and the Nebraska Department of Economic Development.
She is the vice chair of the Lincoln Electric System board of directors, serves on the University of Nebraska President's Advisory Council and is a board member for Lincoln Rotary Club No. 14. 
James Herrold has also announced he will be seeking the District 4 council seat in the 2019 spring election. 
Three other Lincolnites have announced they are seeking district council seats next year. Colten Zamrzla is running in southwest Lincoln's District 3. That seat is now held by Jane Raybould, who has not indicated whether she will run for re-election. 
Megan Stock is running for the District 2 seat, representing southeast Lincoln. Jon Camp, who represents that district, has not said whether he plans to run for re-election.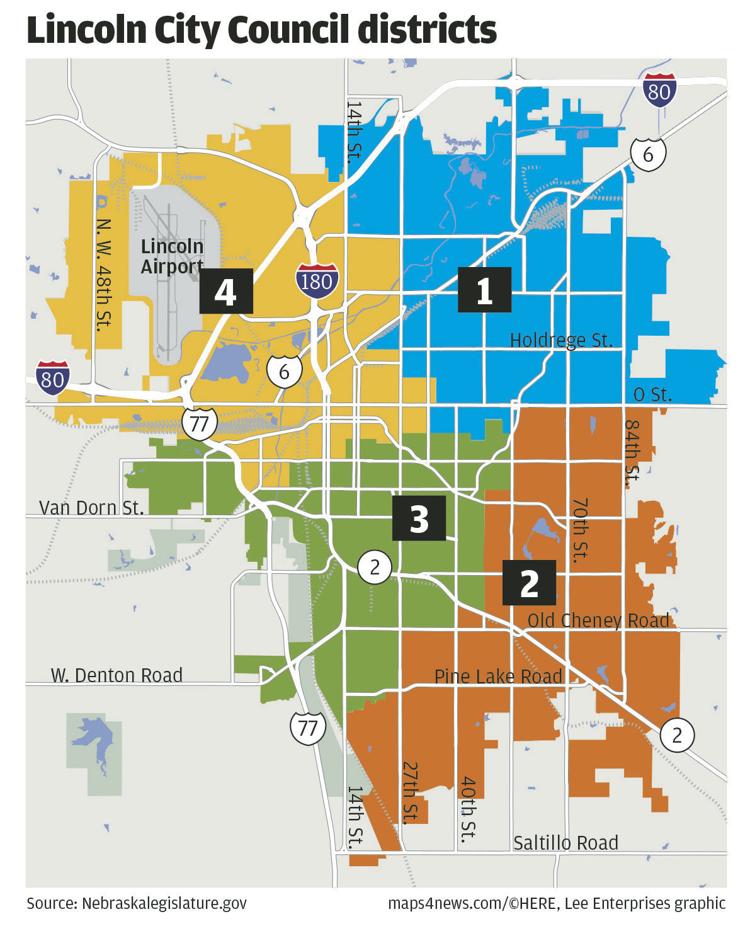 James Michael Bowers has announced he is seeking the District 1 seat. Cyndi Lamm, who represents northeast Lincoln's District 1, is giving up the seat to run for mayor. 
The mayor position and City Council seats are nonpartisan, with no party labels on the ballot. However, the two parties recruit and help support specific candidates.