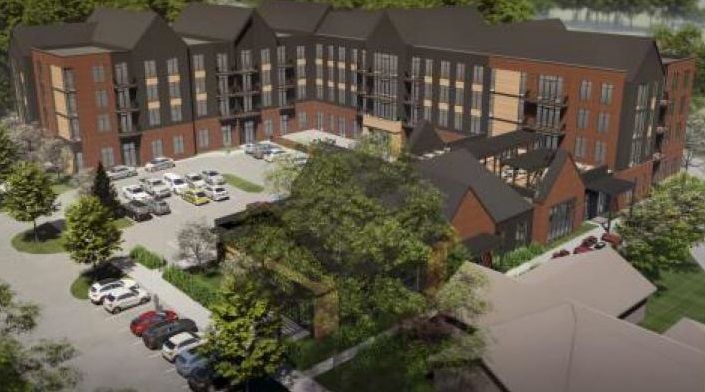 Tabitha wants to build a first-of-its-kind intergenerational housing community for seniors and Bryan College of Health Sciences students. 
The Lincoln City Council on Monday approved the first step needed for the project to move forward: finding about 53 acres along 48th Street between A and L streets blighted.
The area includes the Tabitha Senior Care campus west of 48th from Randolph to J streets.
The blight designation means Tabitha could be eligible for tax-increment financing, though because it is a nonprofit it would have to designate the property as private and pay taxes on it.
TIF allows developers to use the increased future property taxes the project generates to pay for certain upfront costs.
Christie Hinrichs, president and CEO of Tabitha, told the council that the four-story, 128-unit apartment complex on the southwest corner of 48th and L streets would be for about 100-110 residents 65 or older and about 20 health services students. 
The goals are two-fold, she said: To address loneliness that affects many senior citizens — a problem brought to the forefront by the pandemic — and to encourage more health services students to consider working with seniors. 
While loneliness can exact a huge toll on seniors, studies have shown it affects students, too, she said. And as the number of seniors will continue to increase, the gap in the number of caregivers available to help them will continue to widen.
The apartment complex will be designed to encourage interaction between residents, she said, and the apartments will be designed for people with moderate incomes — those who don't have the income to afford the many high-end retirement facilities available, Hinrichs said. 
Bryan College of Health Sciences plans to do research to see if the project accomplishes the goals it wants to address, and Tabitha plans to create a fund to help subsidize rents if necessary, she said. 
The project also will include an underground parking garage and a nearly 10,000-square-foot commons area with amenities such as dining space, a fitness center, multipurpose room and lounge.
Tabitha agreed to remove about 10 residential properties along the west side of 46th Street from J to Randolph streets from the blight study at the request of those residents.
While the purpose of the blighted designation is to facilitate the Tabitha expansion, the area extends along 48th Street south to A Street to allow TIF dollars to be used for other potential public improvements.