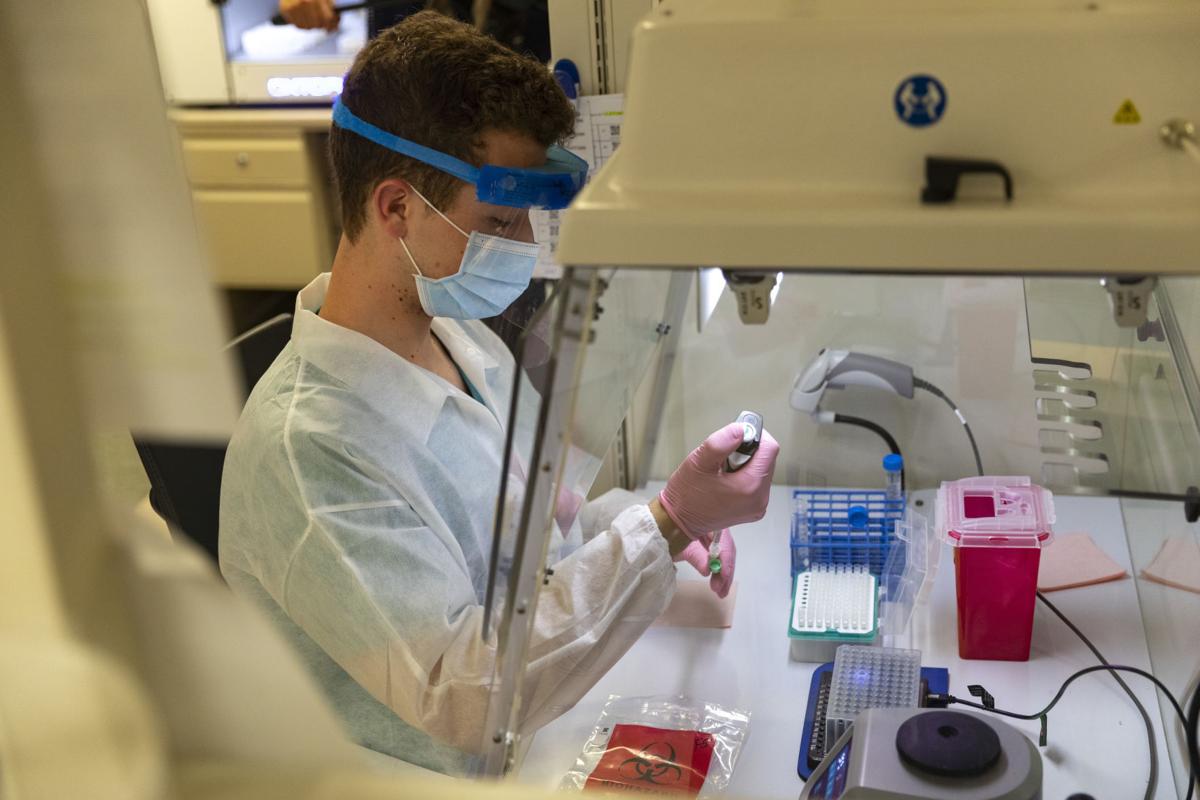 State labs were running "critically short" on testing supplies in early April, just weeks after the first coronavirus case was identified in Nebraska, state officials told lawmakers Monday.
Despite procuring testing swabs from the federal government, the collection tubes and transport media were hard to obtain as states and countries around the globe scrambled to establish a testing regimen.
Nebraska had tried looking in all the usual places, said Doug Carlson, the deputy director of the Department of Administrative Services, including the Food and Drug Administration, the Centers for Disease Control and Prevention and private vendors.
"Consistently, I was told they did not have a resource for us and to keep looking," Carlson told the Legislature's Appropriations Committee. 
Then Nomi Health came calling.
The company had partnered with other tech firms to set up a testing program in its home state of Utah, and it had the supplies and equipment to do the same here, Carlson said.
A few days later, in late April, Nebraska announced Test Nebraska, a $27 million, no-bid contract with the Utah company to provide up to 540,000 tests over the next six months.
To date, more than 260,000 coronavirus tests have been done through Test Nebraska — roughly half of all tests done in the state, Carlson said.
But the speed with which the program came about, the lack of communication among the state's existing medical and public health infrastructure, as well as the use of a no-bid contract worth millions of dollars, raised the eyebrows of some state senators.
One of those lawmakers, Omaha Sen. Machaela Cavanaugh, introduced a resolution to study how the Test Nebraska program came about and examine what changes — if any — the Legislature could make ahead of a renewal next year.
She also said she wanted lawmakers to hear why the University of Nebraska Medical Center, the Nebraska Public Health Lab, local health departments and others weren't looped in on the initial choice to hire a trio of out-of-state companies.
"This all came together over a very short period of time," Cavanaugh said during Monday's hearing. "I reached out to county public health departments and to UNMC, and there were no conversations with either prior to this contract to even see what their capabilities are."
Cavanaugh said initial reports about the Test Nebraska program also raised concern about access for some Nebraskans, particularly those who are blind or deaf, those with developmental disabilities, as well as those who do not speak English.
"Anytime the state is providing a service to its citizens, it should be providing it to all of its citizens," she said.
Brad Meurrens, the public policy director at Disability Rights Nebraska, said individuals with developmental disabilities often won't have access to internet where they live, leaving them unable to complete the online assessment required to get a test through Test Nebraska.
Those individuals also lack transportation to test sites, he added.
Meurrens said Test Nebraska should follow a model adopted by states such as West Virginia that mobilized the National Guard to conduct mandatory tests at long-term care facilities and should offer assessments and screening for those without internet access over the coming weeks and months.
"If we can't find a way to get people to the sites, then we need to bring the sites to the people," Meurrens said.
State officials said they have implemented changes to improve access to Test Nebraska as quickly as those issues have been brought up.
Angela Ling, an incident commander for the Nebraska Department of Health and Human Services, told the committee that in addition to registering for Test Nebraska online, individuals needing a coronavirus test can call the state's COVID-19 hotline to complete the survey.
The state has also made the assessment available in multiple languages, including American Sign Language, through a video on the Test Nebraska website, she said.
Testing sites have been expanded to allow for walk-ups, Ling added, and Access Nebraska is providing free transportation to those who need it. The state deploys "strike teams" manned by the Nebraska National Guard to long-term care facilities needing testing.
Ling told lawmakers that after being able to turnaround only 150 tests per day in the early days of the pandemic, Test Nebraska's capacity will soon double to 6,000 tests per day.
That will allow for further testing at K-12 schools, colleges and universities and long-term care facilities, she said.
Carlson said Test Nebraska was the only option available that would have allowed Nebraska to ramp up its testing this quickly. Utilizing the normal procurement process could have taken 12-18 months.
"In this emergency, that timeline was not an option," he said.
Milestones in Nebraska's coronavirus fight
Milestones in Lincoln and Nebraska's coronavirus fight
See the top stories on coronavirus in Lincoln and Nebraska since the pandemic first affected the area in March.
Concerned about COVID-19?
Sign up now to get the most recent coronavirus headlines and other important local and national news sent to your email inbox daily.