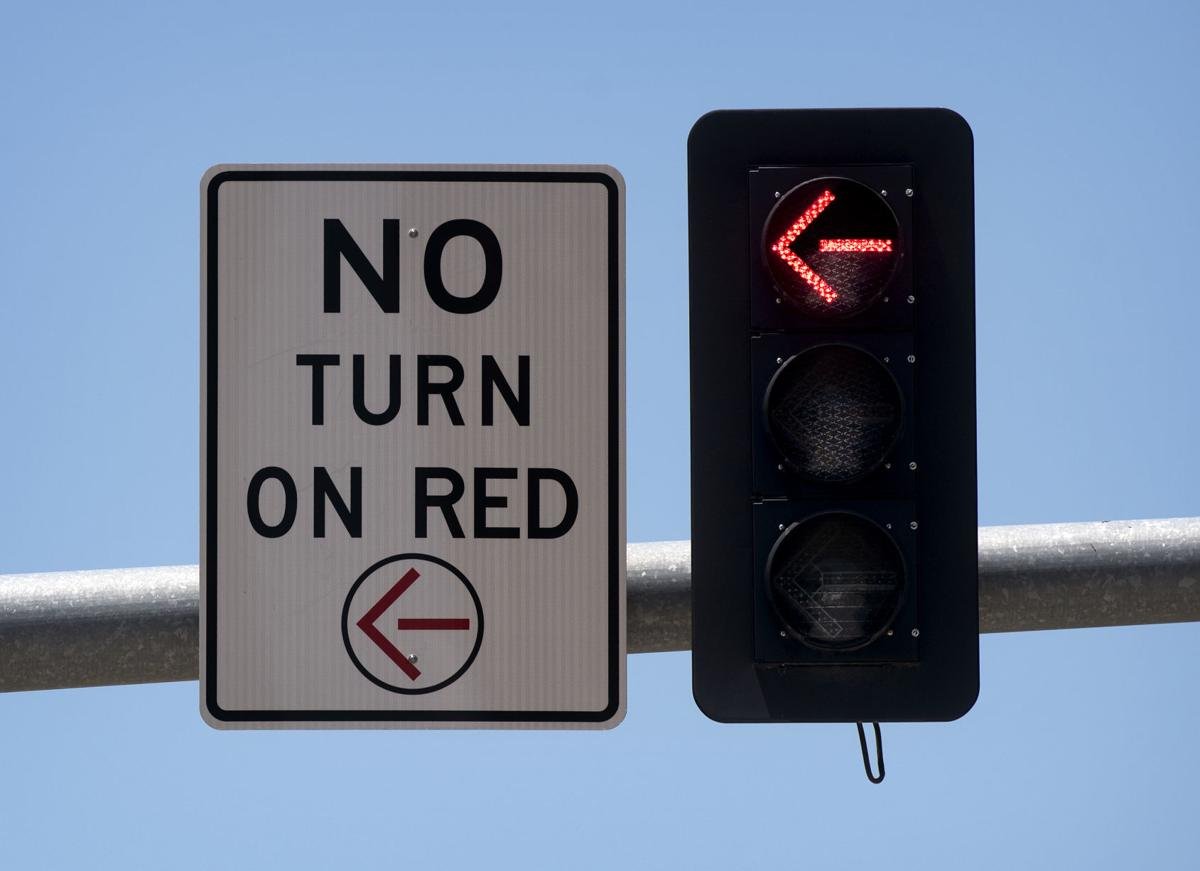 A steady red-turn arrow means stop. Stop and don't turn until you get a green light.
It needs no extra signage telling drivers they can't turn on a red arrow.
That's what Lincoln's city lawbooks have said for the past six months, after the City Council voted to clarify the steady red-arrow language.  
The Public Works and Utilities Department sought the clarification as the Law Department worked on the city's annual cleanup measure late last year.
Public Works staff wanted the local ordinance to clearly reflect federal rules.
"The change was simply affirmation of what already exists, and has for decades, in the Uniform Vehicle Code (UVC) and Manual on Uniform Traffic Control Devices (MUTCD). A steady red arrow has always meant 'stop' and 'no turn,'" said Lonnie Burklund, assistant director of Public Works and Utilities. 
But the ordinance is causing police a headache at the intersection of Interstate 180 and Superior Street.
As vehicles travel north on I-180 and turn east onto Superior Street, they can be faced with steady red arrows on the two right-turn lanes.
Until recently, there were signs indicating a driver could not turn right on the red arrow. Those signs are gone.
The city's Public Works Department removed the signs because there is no need for them when the public should know a steady red arrow means do not turn until you see a green arrow.
And if you leave the signs up, drivers will assume a sign is necessary to absolutely prohibit turns on a steady red arrow, said Sgt. Michael Muff, who oversees the police traffic management unit.
It is not standard practice to use a sign when the law does not allow a turn, said Burklund.
However, drivers accustomed to the signs are now turning on the red arrows because the signs are gone. And they are getting ticketed by police.
Police would rather educate drivers than ticket them.
"Superior is a well-traveled street and we are trying to keep accidents lower," Muff said. 
Police and Public Works staff don't want people turning right on a red arrow because it isn't safe.
Muff is hoping more education will remind drivers a steady red arrow means you cannot turn, no matter what. 
Public Works staff discovered the old, less-than-clear language about a steady red arrow during construction of the N Street bikeway.
Staff needed to make sure no one would turn left from N onto 11th Street on the red arrow because bikes coming from the east had right-of-way and drivers would not necessarily be looking for them.  
That discussion raised the red-arrow topic, said Burklund.  
The N and 11th streets intersection still has a steady red arrow and a sign indicating no left turn on the arrow. 
At some point in the future that sign will probably be removed, Burklund said. 
Get Government & Politics updates in your inbox!
Stay up-to-date on the latest in local and national government and political topics with our newsletter.