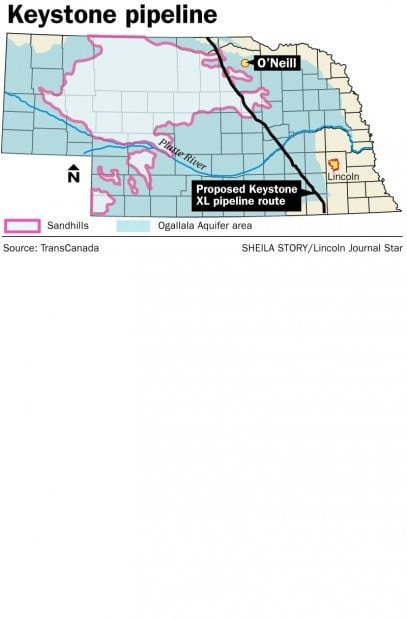 Alex Keriakedes doesn't have kids.
But the lifelong Nebraskan does have her beloved Sandhills, and the idea of routing TransCanada's Keystone XL Pipeline through the Nebraska landscape and over the Ogallala Aquifer ignites her maternal instinct.
"The Sandhills and the aquifer are my surrogate children," she said. "Ask any mama grizzly: If you mess with her kids, you're in trouble."
So in an outfit that espoused both Husker spirit and anti-pipeline pep -- her red, feathered Nebraska beret was outfitted with an anti-Keystone bumper sticker -- she used organic pumpkins to take a stand against the proposed pipeline.
Bold Nebraska sponsored the carving session, and about 10 people had turned out by 2 p.m. to create a line of pumpkins reading,"91 leaks and 0 regulations are scary, call a special session Gov. Heineman." They planned to light the orange gourds and carry them past the governor's mansion Saturday evening.
Organizers said they'd modify the message if they didn't have enough pumpkins to spell out the whole sentence.
Saturday's event was the latest in a string of local efforts both for and against the Keystone XL pipeline, which would carry Canadian oil to American refineries. TransCanada, which manages another pipeline that goes through the Cornhusker State, has pledged to take extra precautions to prevent leaks.
Secretary of State Hillary Rodham Clinton is expected to make a decision on the pipeline later this year, but Nebraska legislators have considered calling a special session to debate whether to allow the route to go through the Sandhills.
Gov. Dave Heineman could call a special session, but has declined. Two-thirds of state senators would have to agree to convene out of session.
Ben Gotschall, a Bold Nebraska employee, used power tools to bust open the top of the pumpkins. Kids on hand then dug out the seeds before adults carved letters. I's were among the easiest to create, and Gotschall said S's were the most difficult to carve.
Gotschall grew up on a Central Nebraska ranch, and the proposed pipeline route passes near the land where his family farms organic beef and dairy.
He worries what might happen to his home if the pipeline sprouts a leak.
Keriakedes conceded that the Halloween-themed protest was unlikely to change policy, but said it was necessary nonetheless.
"I'm worried about our state," she said.
And with that, it was time to get back to carving an A.