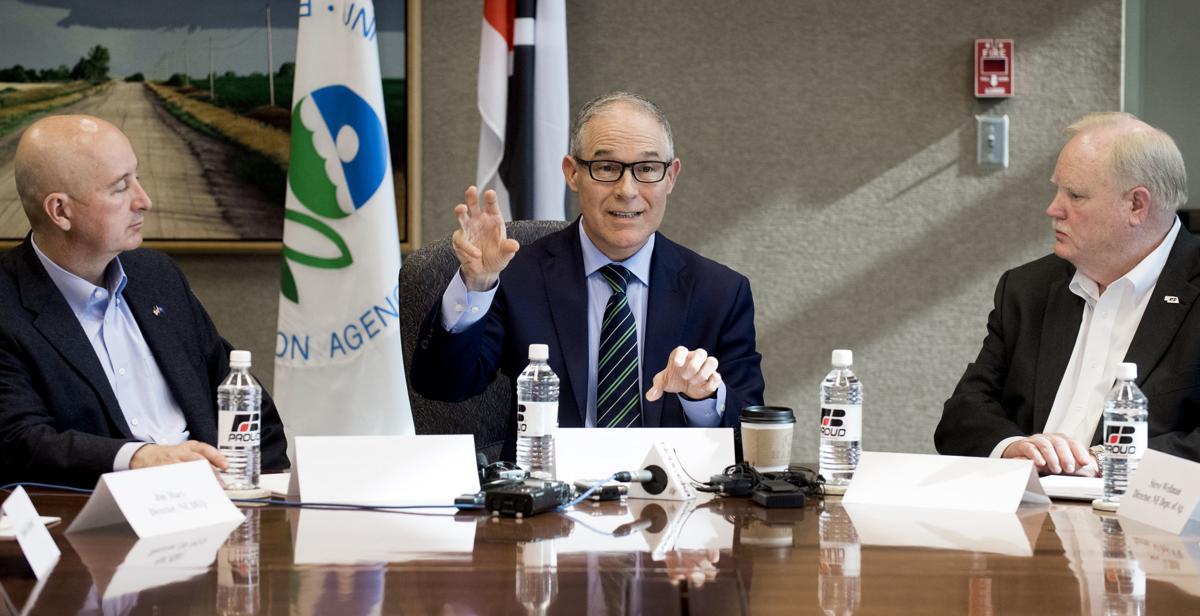 Three weeks after Scott Pruitt touted his work undoing Obama-era regulations to Nebraska farmers and business leaders, President Donald Trump accepted the resignation of the scandal-plagued leader of the Environmental Protection Agency.
While the growing list of scandals had come to define Pruitt's tenure at the EPA, news of his resignation was met with mixed feelings by Nebraska political, agricultural and environmental leaders.
Pruitt gave Nebraska ag groups a seat at the table on issues such as the Waters of the United States rule and regulations that farmers, ranchers and others saw as too burdensome, said Steve Nelson, president of the Nebraska Farm Bureau.
"We've had excellent access to Administrator Pruitt on the WOTUS issue, where there's been a lot of agreement," Nelson said in a phone interview Thursday.
Even on contentious issues such as the Renewable Fuel Standards (RFS) outlined by Trump and backed by Nebraska corn producers and ethanol manufacturers, Nelson said Nebraskans had the EPA leader's ear.
He added Common Sense Nebraska hopes to continue that relationship with Andrew Wheeler, who was named acting administrator of the EPA by Trump on Thursday.
Gov. Pete Ricketts said in a statement Thursday that Pruitt "made positive contributions on cutting red tape at the EPA" that had previously harmed Nebraska farms and businesses.
But like Nelson, Ricketts called for a new agency leader who would be more responsive to what has become a central focus for many Nebraska farmers: "I encourage President Trump to appoint a new EPA chief that will quickly act on E15 and ensure we keep a robust RFS."
Pruitt came under wilting criticism from corn growers and ethanol manufacturers, who said his willingness to grant petroleum refineries exemptions from blending ethanol into fuel -- backed by Trump during his presidential campaign -- hurt the market and their bottom line.
Guy Mills Jr., a farmer from Ansley in Custer County, called Pruitt responsible for "demand destruction for corn."
You have free articles remaining.
"The result of his resignation will be a step forward in increasing ethanol usage, increasing corn demand and helping the consumer with lower prices at the pump," Mills said. "Part of the Big Oil market share will be replaced with cheaper, homegrown fuel."
Kevin Skunes, president of the National Corn Growers Association, which represents 300,000 farmers nationwide, echoed Mills, saying it was "no secret corn farmers have been frustrated with Scott Pruitt's ongoing actions over the past year that have seriously undermined the (RFS)."
Along with Nelson and Ricketts, Skunes said he hopes future EPA leaders "will work with America's corn farmers to give consumers more options at the pump to save them money and reduce emissions and provide farmers with certainty in the marketplace."
Environmental groups, such as the Nebraska Sierra Club, cheered news of the resignation.
David Corbin, chairman of the Nebraska chapter of the environmental organization, said rather than a government entity charged with protecting the environment, the EPA under Pruitt's tenure had become the "Environmental Pollution Agency."
Regulations meant to preserve the environment for the future, like the Clean Air and Clean Water acts, as well as the Clean Power Plan put forward by the Obama administration, were strangled under Pruitt's watch, Corbin said.
"The fact that he was ever appointed to that position was pretty incredible to me," he said.
Corbin said the installation of Wheeler -- a former coal industry lobbyist -- at the head of the agency "doesn't give me a whole lot of hope, either."
Corbin said he was encouraged by a developing consensus, among Republicans and Democrats alike, around climate change, as well as local action by the environmentally minded.
"We need to keep dealing with this at a local level, since it's not happening at the federal level," he said.