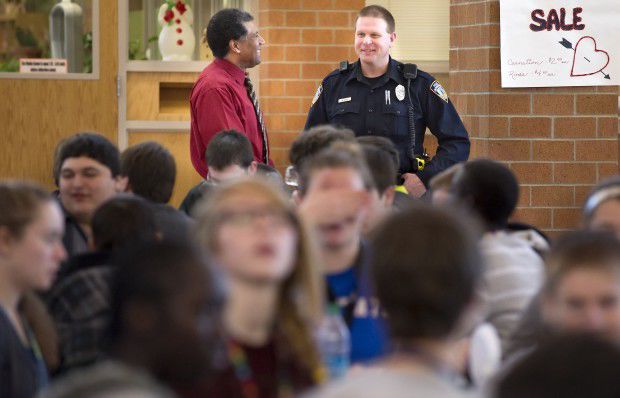 Parents and grandparents who want better protection at schools want the city and Lincoln Public Schools to put resource officers at the 12 middle schools.
Members of the newly formed Parents United For Greater School Safety appealed to the school board and City Council this week to hire 12 Lincoln Police officers to be school resource officers, a proposal that would require a financial commitment from both.
Many of the same people who spoke Monday during the City Council's public comment period addressed the school board Tuesday.
"We do have interest from the mayor's office," Greg Jeffers told the school board. "Now we need you guys. We need your support. It can't happen unless this board is on board with our ideas."
He said Lincoln is behind the times and that many similar-sized districts have middle school resource officers.
City and school officials are discussing additional school resource officers, said Rick Hoppe, chief of staff to Mayor Chris Beutler.
The city also is considering hiring more officers to do threat assessment, he said in a telephone interview Tuesday.
Threat-assessment officers use social media to find people who appear to be making threats. The officers then determine, by following up with family, friends and others, if someone is truly a threat, Hoppe said.
The officers then intervene. It could mean an appointment with a mental health counselor or removing all the guns from a home, he said.
Jon Sundermeier, a former LPD captain, created the Lincoln Threat Advisory Team before he left the police department to work as a security officer at LPS.
He now represents the school district on the multi-agency team and spends most of his time with LPS doing threat assessment.
Such assessment is an important component to preventing school shootings or everyday school problems, Hoppe said.
The city has an officer who does this job part-time, focusing on domestic violence. The city is in initial discussions about adding another officer or two who would do the work full-time, providing greater safety to schools and the community at large, Hoppe said.
School board committees are looking into a variety of security-related issues. They include issues raised by the parent group, including improving secured entrances and whether sensors could be used to alert school administrators if a door is left open; and better communication with parents about lockdown drills and protocols about when to do them.
You have free articles remaining.
Committees also are looking at social media-monitoring software, among other things. The committee looking into school resource officers hasn't met yet.
And that's the topic parents at the council meeting and school board focused on, encouraging the city to apply for a federal COPS grant to help pay for the first three years.
A COPS grant would pay for up to 75 percent of the salary and benefits of police officers for three years, suggested Cheryl Bullard, a member of the newly formed group.
Bullard said the cost to the school district and city could be as low as $187,500 per year, with federal funds paying the rest for the three-year grant period.
The police department has six full-time resource officers assigned to the six high schools. The city pays two-thirds of the cost, LPS the remaining third. Adding resource officers in middle schools would mean 51 percent of all LPS students would have access to the officers, Bullard said.
Four school resource officers served 11 middle schools until 2010, when the city decided it needed the officers for regular duty. That was during the tight budget years of the Recession, and Public Safety Director Tom Casady said he recommended the city could better use the officers on the street rather than spread them so thin across 11 schools.
Salary and benefits for a new police officer would be about $71,500 the first year, Casady said in an email exchange.
The city would also have costs beyond salary and benefits that would not be subsidized under a COPS grant, including a car, equipment and training. That would add an estimated $56,000 to the first-year cost per officer, according to Casady.
After the three-year grant, the city would pick up all costs for the officers.
Parents who spoke at both meetings said the school resource officers would make schools safer and would be a role model for students.
"We need these (school resource officers) to be a first-responder in the event of an incident," Jeffers told the council this week.
"It feels like there is no safe place," he said.
"This is your chance to do something real, to do something that has impact," said William Patrick Conway.
The grant is just temporary funding, said Doug Stephens. There needs to be something that is sustainable, he said.
At the city council meeting, the school safety group asked if officers could park near schools while completing reports, and team captains have been asked to "emphasize this common-sense request," Chief Jeff Bliemeister said.
The police are also prioritizing building relationships with students, faculty and staff at schools where there is no school resource officer, Bliemeister said.