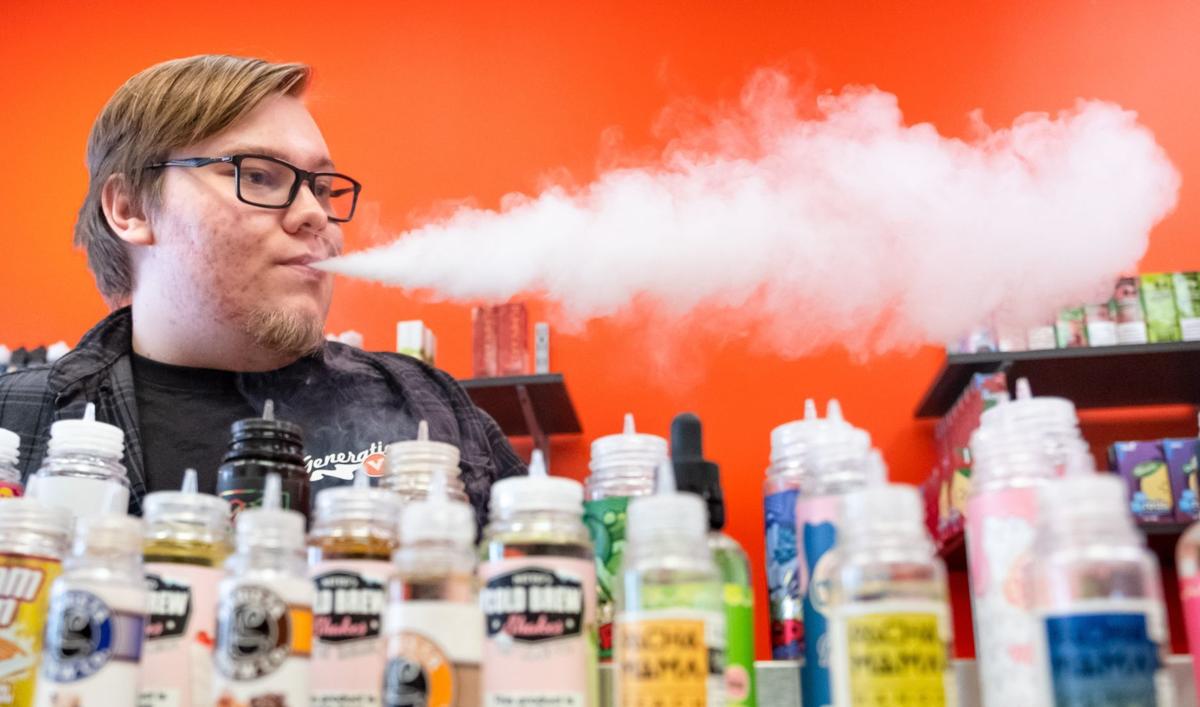 E-cigarette users in Grand Island face up to a $500 fine if they use vapor products indoors or in public places under a new ban that went into effect this week.
Some Lincoln city officials share the public health concerns about vaping that spurred the Grand Island City Council to enact the ban. 
But whether Lincoln will follow suit remains unclear, according to interviews with several city officials.
"I think it's important that we take a look at vaping to see what we need to do to make sure that our shared areas are clean and clear," said Councilman James Michael Bowers, vice president of the County-City Board of Health.
Nationally, Centers for Disease Control officials have urged e-cigarette users to consider not using the devices as a federal investigation continues into an outbreak of lung illnesses related to their use.
Federal investigators have linked six deaths nationally to e-cigarette use in as many states.
E-cigarettes produce an aerosol by heating a liquid that usually contains nicotine, flavorings and other chemicals, according to the CDC.
Food and Drug Administration officials have expressed mixed feelings toward the products, whose dangers remain unclear due to a lack of data. But evidence suggests e-cigarettes can help steer adults away from smoking tobacco products.
U.S. Health and Human Services Secretary Alex Azar II said Wednesday the Food and Drug Administration would outline a plan in the coming weeks to remove all but tobacco-flavored e-cigarettes and nicotine pods from the market, according to The New York Times.
Lincoln City Councilman Bennie Shobe said the idea that vaping is a safer alternative concerns him.
He believes regulating e-cigarettes at the state level would be more effective than spot-zoning that could be done by cities.
In a statement, Lincoln Mayor Leirion Gaylor Baird said her staff is "working closely with city health officials to determine potential policy changes that best protect the public."
The Nebraska Legislature will hold a hearing Sept. 27 on an interim study looking at the public use of and secondhand exposure to e-cigarette devices and products.
Earlier this year, state lawmakers raised the age to purchase these products from 18 to 19 in hopes of getting them out of the hands of high school students.
Both Shobe and Bowers said they'd heard anecdotal evidence of children in Lincoln middle and high schools using these products.
About 1 in 4 youth surveyed locally said they used e-cigarettes in the last 30 days, according to the Lincoln-Lancaster County Health Department's most recent survey.
You have free articles remaining.
The Board of Health discussed what's happening nationwide and strategies to prevent youth from vaping at its meeting on Tuesday before agreeing to write a letter to the Legislature's Health and Human Services Committee supporting statewide regulation of e-cigarettes.
Pat Lopez, the city's interim health director, said she believes a state law would best govern the issue.
Like Bowers, Lopez has concerns about the contents of the chemicals inside the vaping products.
"We don't know what all these are," Lopez said.
Some of those who died had used e-cigarette devices with liquids containing cannabinoid products like THC, the ingredient in marijuana eliciting a high, the newspaper reported.
The American Vaping Association this week criticized the CDC's response to the deaths as "weaponizing a health crisis clearly linked to illicit street vapes."
"We agree with the FDA — if you don't want to die or end up in a hospital, stop vaping illegal THC oils immediately," said Gregory Conley, the association's president.
In a news release, Sarah Linden of the Nebraska Vape Vendors Association noted that e-cigarettes have been available for purchase since 2007. 
"It would be a public health tragedy if vapers returned to smoking, something we know kills over 480,000 people a year," she said. 
Davey Boardman of Generation V E-Cigarettes and Vape Bar has battled misinformation and misperception when talking to customers for years.
To Boardman the recent national alerts about vaping stem from stories misplacing the blame, he said.
He turned to e-cigarettes after he quit smoking nine years ago, and for the last five years he has worked at Generation V, which has six stores in Nebraska, including three in Lincoln.
He commonly refers customers to medical journal articles helping them understand the safety of the products before deciding whether to buy, he said.
And his staff ID all customers to ensure they're not selling to minors, he said in an interview at the 17th and O streets location this week.
The e-cigarette industry has been regulating industry standards by requiring certain manufacturing specs for these products for the past several years as products have waited on FDA approval, Boardman said.
They're trying to ensure consumer safety, he added.
"We need to," Boardman said. "We're here to better people's lives. We're all former smokers trying to find the healthy alternatives."