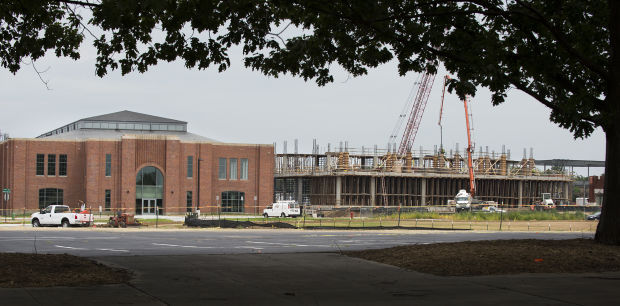 There will soon be metered parking, without the meters, on Nebraska Innovation Campus.
No unsightly meters will mark the 130 spaces, not even a cluster of meters at the end of a block.
Instead, the city will post a few tasteful signs, telling people they must pay using their phone.
The group managing Innovation Campus decided streets without meters offer the look and feel of innovation, David Landis, director of the Urban Development Department, told the City Council.
Then Landis turned the high-tech discussion over to the city's parking manger, saying "anything beyond an on-and-off switch is over my head."
What followed was a generational discussion about new technology.
Anyone who parks there will use their cellphone or computer to pay for parking anyway, said Wayne Mixdorf, the city's parking manager.
It's the same technology people can already use downtown, he said.
"What if someone comes and has gray hair like I do and doesn't know how to do the app?" asked Councilman Jon Camp.
Mixdorf said there will be other metered parking in the area for people who want to use coins or cash. The pay-to-park app will only apply for those parking on the three city streets on Innovation Campus.
"If you don't know how to run the app you don't belong there," said Councilman Roy Christensen, not giving away his technology prowess.
"Which means I'm going to park at Valentino's and walk," said Landis.
It's not completely high-tech, Mixdorf said. People can also pay by text or by making a phone call.
Trent Fellers, the council's youngest member, tried to convince his older colleagues that paying by phone is easy.
"It's slick," he said, adding that what he likes best is he gets a reminder when his time is running out.
Most people have their phones with them at all times now, Fellers added.
"So says the man who is under 50 and doesn't have a flip phone," replied Councilman Doug Emery, part of the gray-haired group.
Actually people can use flip phones to pay for parking, said Mixdorf. Even a dumb phone, that doesn't text or have data, will work.
The city expects to install the signs and begin charging for parking on the campus this spring.
56th Street widening to begin soon
There's good news and bad news along 56th Street.
The city will begin widening and improving the street between Old Cheney Road and Shadow Pines Drive this spring.
But the project will cost 8 percent more than estimated, Roger Figard, the city engineer told the City Council this week.
The only bid, about $6.9 million from Constructors Inc., is responsible and reasonable, he told the council.
And there is no guarantee seeking more bids will bring in more bidders. The only guarantee is that the city and state will lose at least part of one construction season.
Federally required studies and rules already have added several years to the project.
The city has the right of way purchased along the roughly ¾ -mile long project and expects tree removal to start this month, before migratory birds start to arrive and make cutting down trees more problematic.
An open house in early April will give the public a chance to learn about construction schedules and detours.
The city expects the job to be substantially complete, meaning two lanes open for traffic, by mid-November, with final completion by next summer.
Promoting wellness could mean showers
The building commission that oversees county and city property is considering putting showers for employees in the old jail.
The Lancaster County Sheriff's Office and Lincoln Police Department have their own workout area and their own showers. But others can't use that space because of security issues, and those employees paid for that equipment, said Sue Eckley, who brought the idea to the commission.
An employee survey indicated some interest. Thirty percent of the employees responded, and of those more than a third said they would use the showers daily and more than half said they'd use them once a week, said Eckley.
It would be expensive, probably about $100,000 for three shower stalls, a toilet and sink each for men and women.
"We are trying to encourage healthier lifestyles," Eckley said. "This puts the rubber to the road."
Council members who are part of the Public Building Commission were less enthusiastic.
"It's costly, well over six figures," said Camp.
And employees aren't willing to pay much for the benefit. In fact, 52 percent said it should be free.
Emery, who is not on the Building Commission, had his own observation based on his own experience.
"If you don't work out, you don't have to shower."