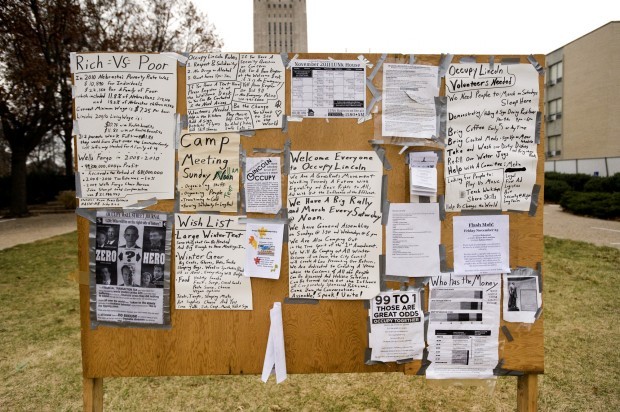 Nebraska Right to Life leaders are watching the city's treatment of the Occupy Lincoln movement to make sure there isn't "disparate application of justice and civil rights," Julie Schmit-Albin said.
Allowing the occupiers to squat on Centennial Mall could set a precedent, she told the City Council during an open microphone session at a recent council meeting.
"I dare say if a group of pro-lifers last January just decided to pitch tents on Centennial Mall that would not have lasted very long," said Schmit-Albin, who is executive director of Nebraska Right to Life and who has organized the large pro-life walks held in Lincoln every year.
Schmit-Albin said she complimented the legal counsel who found the loophole for the occupiers.
She also pointed out a large, 5- by 6-foot communications board held in place by bags of sand over braces that is allowed to stand in the mall area.
Several years ago, the city made the Lincoln Right to Life group remove a vinyl banner that was staked in a public right of way across the street from the "Planned Parenthood abortion clinic" because it wasn't legal, she said.
"But Occupy Lincoln can have a big, huge billboard in a place of public access."
"I suppose they probably get by with it because it is not permanent, as none of their tents are, though I haven't seen any tents move in the last month."
Schmit-Albin said she understood that the city is "between a rock and a hard place" because there are no city ordinances governing overnight camping in a public right of way and the council doesn't want to pass new rules while Occupy Lincoln tents are in place.  
But the pro-life volunteers who picket the Planned Parenthood abortion clinic "get policed pretty heavily," she said in a telephone interview.
There should be equal treatment of other groups, she said.
Her board is "watching very closely how the city and LPD (city police) handle what is going on in Centennial Mall because of the precedent being set and what it portends for future events, rallies," she said.