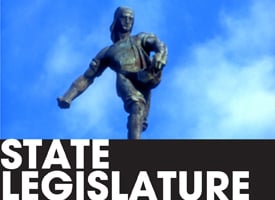 The Legislature split 22-22 Thursday on authorizing a $50,000 study of what it costs to have a death penalty in Nebraska, leaving the question of taxpayer costs unanswered for the time being.
Senators opposing the idea expressed concerns that such a study could gather accurate numbers and information.
A response to an inquiry on costs last year by Sens. Danielle Conrad and Jeremy Nordquist to Attorney General John Bruning said the attorney general's office had never tracked the expenditure of its funding on a case-by-case basis. It had never had a budget in which funds were specifically identified for capital punishment.
Opponents also discredited past studies on criminal justice issues and questioned whether knowing the costs would change anyone's mind about supporting or not supporting capital punishment.
Senators opposed to the death penalty have made it "very clear," they don't care about the costs, said Omaha Sen. Scott Lautenbaugh.
"It's going to cost us $50,000 and I wonder what we'll find out. And I wonder what we could have done with that $50,000, especially now," he said.
Omaha Sen. Brenda Council, who sponsored the bill (LB1105), said it is important that senators who decide public policy know as much as possible about the policy they are voting on.
Money has been an important topic of discussion in this year's session as senators look toward mounting budget shortfalls.
In the Legislature's quest to control the cost of government, Council said, it has turned down bills, regardless of their merit, and have advanced a bill intended to eliminate the treasurer's office.
"It would appear no program or service of government is immune from these serious budget considerations," she said.
The death penalty has escaped this budgetary scrutiny, however, and her bill was intended to correct that, she said.
Senators don't really know what the public thinks about the death penalty if the public doesn't know the cost efficiency or lack of it, she said.
"We need a dispassionate analysis of maintaining this program of government," she said.
You have free articles remaining.
Other states have undertaken these cost studies, she said. But some senators have rejected using other state's costs in discussing Nebraska's death penalty.
Last year's approval of lethal injection seemed to settle the issue of the death penalty, said Lincoln Sen. Colby Coash.
"Some of you have argued that we can't put a price on justice, and I can agree with that," he said. "But I don't find it to be a compelling argument for ignoring what justice costs.
"We don't have anything to fear from figuring this out."
Even capital punishment's staunchest proponents would agree better data make for better debate, no matter the subject matter, said Lincoln Sen. Bill Avery.
Lincoln Sen. Tony Fulton, who has in the past voted against repeal of the death penalty, voted in favor of the cost study.
"I have no fears or concerns about getting data," he said. "It's important to have good, solid data when making decisions about taxpayer dollars."
The bill would have transferred up to $50,000 from a cash fund -- not the general fund -- to have the study conducted by the College of Public Affairs and Community Service at the University of Nebraska at Omaha. The Community Corrections Council had agreed to oversee the study.
Speaker Mike Flood questioned whether the Community Corrections Council, whose members are in large part judges, state and judicial agency directors and law enforcement administrators, was the proper group to be involved with the study.
The study would have asked for costs including: staff costs to the attorney general's office; staff and operating expenses of the Department of Correctional Services; costs to county attorneys, public defenders, courts; and trial costs, including expert witnesses.
It would have compared those capital cases with noncapital cases over the past 25 years.
The issues of law, justice, punishment and consequences are incredibly complex, said Judiciary Chairman Brad Ashford. It is extremely hard work to decide how to deal with the behaviors out there that affect all of us.
"If we can't study in-depth the ultimate punishment for the crime of first-degree murder," he said, "how are we ever going to sort out the other parts of our sentencing law?"