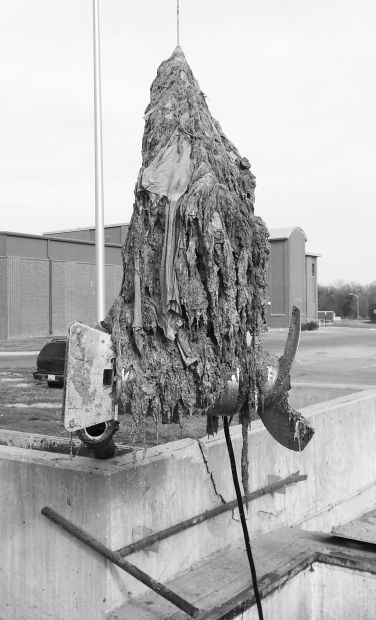 Yuck! is the best way to describe the pile of wipes dredged from the receiving station near the city's Theresa Street wastewater treatment plant.
At least part of the pile is flushable wipes from port-a-potties emptied into city receiving stations.
Parents probably feel better using flushable wipes rather than toilet paper at port-a-potties, but the wipes do cause problems for the city, according to Steve Crisler, with the city's Public Works and Utilities Department.
Flushable wipes also helped clog up several lift stations that pump sewage from residential areas to the city's waste treatment plants.
Two lift stations near Capitol Beach had a dramatic increase in plugging events in 2010, 2011 and 2012, the period that flushable wipes became popular. 
There were just 16 plugging events in 2007 but 238 events at the two lift stations in 2012.
These were at least partially due to flushable wipes.
In the past year, different pumps and new equipment have reduced the plugging events at lift stations back to pre-flushable wipe levels.
The wipes are supposed to disintegrate on their way to a wastewater treatment plant. But when the lift station is just a block away from homes, as they are at Capitol Beach, there isn't enough time, Crisler said.
Crisler is hesitant to put all the blame on flushable wipes, or even disposable wipes (which are NOT supposed to be flushed) for sewer pipe problems.
But national associations in the wastewater field are not as shy, and the result has been a rash of stories about problems with flushable wipes in cities across the country.
The problem got so bad in the western New York community of Bemus Point this summer that sewer officials set up traps — basket strainers in sections of pipe leading to an oft-clogged pump — to figure out which households the wipes were coming from. They mailed letters and then pleaded in person for residents to stop flushing them.
Lincoln has not seen those kind of problems, probably because we are a big enough community with enough flow through the system that flushable wipes have been less of an issue, Crisler said.
What kind of city are we?
We are a best-run city, a most-content city, a best college town, a happy city, a best city to find a job, a clean city, a top air-quality city, a low energy-cost city, a good city to raise a family ... all honors earned by being easy to identify using national data.
Thus we have become part of lists produced by companies looking for easy clicks or hits on the Internet. (Clicks mean advertising dollars.)
However, there are other categories where Lincoln had to ask and meet specific criteria. So we are a Tree City USA. And a Bicycle Friendly Community (bronze level).
And now the city is looking at pursuing a new designation, "Playful City USA."
This designation can be earned by cities that care about making it easy for children to play. That means paying attention to amenities like playgrounds, ball fields and soccer fields, and to the policies that encourage access to play.
The city Parks and Recreation Department and Department of Health would partner on the application to KaBoom, a national network "of government, nonprofit and private sector organizations working to increase play opportunities across the country and give all kids the childhood they deserve."
The designation is related to ongoing efforts to encourage children and families to be physically active, said Lynn Johnson, city parks and recreation director. 
The designation would be another educational tool, "a really good opportunity to raise awareness of kids getting out and playing," said Charlotte Burke, division manager for health promotion and outreach at the city-county Department of Health.
The designation also could be used for marketing the city.
"If we get it, we can make a big deal of that," she said.
"We would be the only community in the state with the Playful City designation."