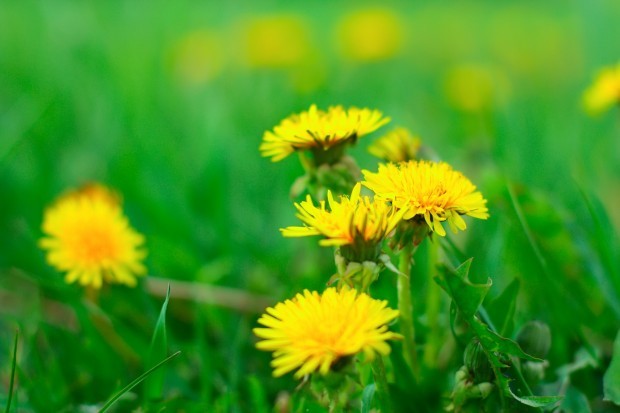 It's going to be a yellow flower spring, says Parks and Recreation Director Lynn Johnson.
Dandelions are popping up everywhere -- in parks, along city medians.
And you can blame it on the drought.
The grass is dead or sparse in many parks because of last year's dry summer. With little competition, the weeds thrive, said Johnson.
City staff did not apply much herbicide in the fall because it needs moisture to do its job. They don't do much herbicide application in the spring because it easily can drift to neighboring lawns and garden areas.
The parks all will be mowed before Memorial Day, Johnson told the City Council this week. And parks maintenance staff will be doing some spot control on weeds, Johnson said.
But dandelions will be abundant this year.
Parks staff hope to over-seed grass on non-irrigated parkland in late summer and apply herbicides in early fall, depending on the weather.
It will take several years to recover from the drought of 2012, Johnson said.
In the meantime, he is hoping for patience and understanding.
Bullet voting stats
Bullet voting -- voting for one or two candidates rather than three in the city's at-large council elections -- is not new. Bullet voting has been higher in past elections.
Councilman Jonathan Cook did the math, dividing the votes cast for council by the number of voters.
This year, there were 2.82 votes for council candidates per ballot cast.
That compares to 2.6 in 2009, 2.69 in 2005, 2.7 in 2001 and 2.68 in 1997.
Is arena on budget or not?
Is the arena project on budget or over budget? The answer depends ... on who is answering the question.
The city recently committed to building two additional parking garages -- bringing the total to four -- in the West Haymarket area under development.
City leaders are calling those two garages a second phase, because they were not part of the original plans. (One of the new garages was shown as a possibility in drawings.)
By that definition the arena area project, or Phase 1, is on budget.
Others contend the city simply has decided to spend more on the arena area than the $344 million voters were told the arena and related streets and garages would cost.
When asked recently whether the arena project is over budget, University of Nebraska Regent Tim Clare was coy.
He split out the Pinnacle Bank Arena building itself from the rest of the project, which includes streets and parking lots.
The arena, he said, is under budget.
Free Wi-Fi in arena
There's likely to be free Wi-Fi in the Pinnacle Bank Arena.
SMG, the company running the arena, will be getting a secure Wi-Fi system in the arena and is discussing providing free Wi-Fi to the public.
People expect to have Wi-Fi access in a public facility, said Tom Lorenz, the arena's general manager. They want to check the score of another game or share information with a neighbor online, he said.
Providing public access for an arena is a much bigger project than in an office setting. You may have 8,000 to 10,000 people trying to access it at the same time, so you need to have enough capacity to handle that level of data, he said.
Lorenz expects the Wi-Fi access will be free, though you may have to sit through a short commercial to get the free access.
The city also is interested in promoting Wi-Fi, said Dan Marvin, who coordinates arena-related activity for the city.
There is discussion about making Wi-Fi available in the nearby entertainment district, and perhaps even into the Historic Haymarket and along P Street.
Bathrooms will smell so sweet
Some of what it will take to keep arena crowds going, according to the city's purchasing website:
272 toilet paper dispensers, 3,264 rolls of toilet paper (two-ply), 218 soap and sanitizer dispensers, 125 paper towel dispensers, 74 urinal screens "impregnated with deodorant with a natural fragrance," 65 aerosol odor control dispensers, 102 hand sanitizer dispensers, eight shampoo dispensers, 285 toilet seat cover dispensers, 570 toilet seat covers and more.