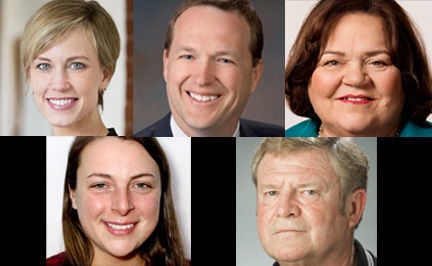 With Nebraskans reeling from the devastation of heavy flooding this month and Lincoln citizens having gone through three days of mandatory water restrictions, questions of environmental policy were to be expected at Saturday's mayoral candidate forum.
More than 100 people packed into Auld Pavilion, index cards in hand and questions ready to ask, most pertaining to infrastructure and future solutions to extreme weather.
The four candidates in attendance were unanimous in wanting to find another water source in addition to Lincoln's wellfields and water treatment plant near Ashland. Cyndi Lamm praised the community's response to the flooding as "an exercise in unity" and focused on introducing policies to reduce demand for water as the city's population grows.
Jeff Kirkpatrick, Rene Solc and Leirion Gaylor Baird mentioned short-term solutions such as getting water from Omaha or finding a way to tap into the Missouri River as cleanly as possible. Kirkpatrick said he hopes to look into more long-term sustainable solutions going forward so Lincoln can avoid future water restrictions as much as possible.
"We need to address the use of water, because some families don't have a lot to cut back," he said.
Kirkpatrick cited his experience replacing the old HVAC system at Bennett Martin Library with a more efficient system that reduced the library's water usage when he served on the library board.
"By seeking new solutions, we're not only going to save water, but we'll save money and resources for the community," he said.
Gaylor Baird proposed more research to help develop more efficient planning for future flooding and extreme weather. She said she has consulted with researchers at the University of Nebraska-Lincoln during her time in public office.
"We have to be looking at other sources of data so we can plan ahead of time," she said.
Gaylor Baird also stressed the need for a city resiliency plan, as the topic of climate change came up. The proposed plan would focus on shielding citizens from the effects of a warmer environment and includes ideas such as strengthening water infrastructure and increasing air-conditioning units in housing.
You have free articles remaining.
"We're going to have to be innovative and I'd like Lincoln to be a leader in this," she said.
Solc addressed the topic more broadly, saying the effects of climate change in Nebraska could be slowed and the city would need to look deeper into renewable energies to reduce pollution.
"I don't know if we can stop it, but we can slow it down," he said. "Wind and solar. The more people you have, the more people who are going to pollute."
Kirkpatrick expanded on Solc's ideas. He said Lincoln Electric System currently relies too heavily on coal, and the city would need to invest more in renewable energy sources for its power grid. He also proposed planting more trees and accommodating electric vehicles into the city's infrastructure, including an electric bus system.
He also looked to the community to help environmental conservation efforts alongside city government.
"We need to become more energy-efficient, but that's on us as a community and as individuals," Kirkpatrick said.
Lamm agreed with creating a resiliency plan, saying she would like one that could strike a balance between sustainability and economics. She said she would work to develop a plan in the Legislature and with Gov. Pete Ricketts.
"We need to be stewards to the environment and make sure we aren't slaves to our environment," she said. "As mayor, I'd work to make sure we have a well-planned, well-balanced plan."
Each candidate also said they would support policy that would encourage building public gardens in empty lots to allow citizens to grow their own food and learn about food security.
"If the lots are open, let's use them," Solc said.
The other mayoral candidate, Krystal Gabel, did not participate in the forum. The two candidates with the most votes will emerge from the April 9 primary to face off in the May 7 general election.
The forum was sponsored by NeighborWorks Lincoln, Nebraska League of Conservation Voters and Planned Parenthood of the Heartland.