If city department directors and the mayor's staff get average 3 percent raises next year as proposed, the total increase for the group will be more than $70,000 a year.
Current salaries range from about $66,000 for the city's ombudsman to about $172,000 for Public Safety Director Tom Casady, so a 3 percent increase can top $5,000 a year for one person.
"Those are pretty significant increases," said Councilman Roy Christensen about the proposed raises for Mayor Chris Beutler's top administrators and appointees. 
Most of the directors make more than Beutler himself, whose salary is set by the City Council in ordinance every four years before the mayoral election.
Beutler earns $85,337, and his salary is expected to rise to $89,307 next fiscal year based on the cost-of-living index.
The salaries are part of Beutler's proposed budgets for a two-year period that will be discussed next week when City Council members begin to offer their changes.
Councilwoman Cyndi Lamm pointed out that salaries listed in the official budget book are not always the salaries people are actually making.
In some cases the salaries represent a "place-holding" number included in the budget two years ago as it was being developed. Actual increases are determined during the two years based on merit, comparisons with similar positions, assuring gender equity, cost of living and other factors, said Rick Hoppe, chief of staff.
The budget is a plan at best, said Finance Director Brandon Kauffman.
But Lamm said the budget document doesn't offer true transparency.
"Folks can't really see what a lot of things are that are being budgeted for," she said. 
For example, no one on the City Council knew Hoppe got an 8 percent raise last year, she said. "We never voted on that increase," because the exact number was not listed in the previous two-year budget.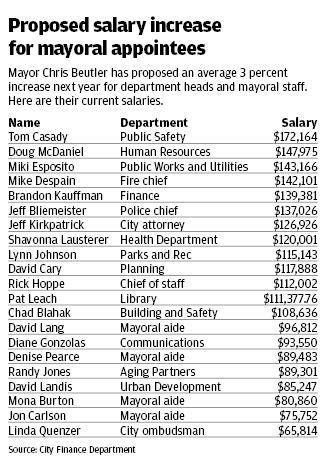 Raises for directors and mayor's staff last year ranged from 1 to 8 percent, with an average of 3.5 percent, based on information provided by the city finance office. 
The city has not concluded negotiations with any of the six city unions for either of the two years in the upcoming budget cycle, which begins Sept. 1.
But the budget plan must include funding for expected salary increases.
Lincoln has little control over union salary increases, which are driven by state law and the Commission on Industrial Relations, said Christensen.
Because the city must compare with other communities in the region, there is always upward pressure on salaries, he said.
The union negotiation system also creates an adversarial system, he said.
The mayor's $205 million budget plan would rely on a tax rate of 31.648 cents per $100 valuation, the same as the current year. 
Council members will discuss their proposed changes to the budget on Thursday. They plan to vote on tentative changes at a 3 p.m. July 16 council meeting. 
A budget hearing is scheduled for July 30, with a final budget vote on Aug. 6.