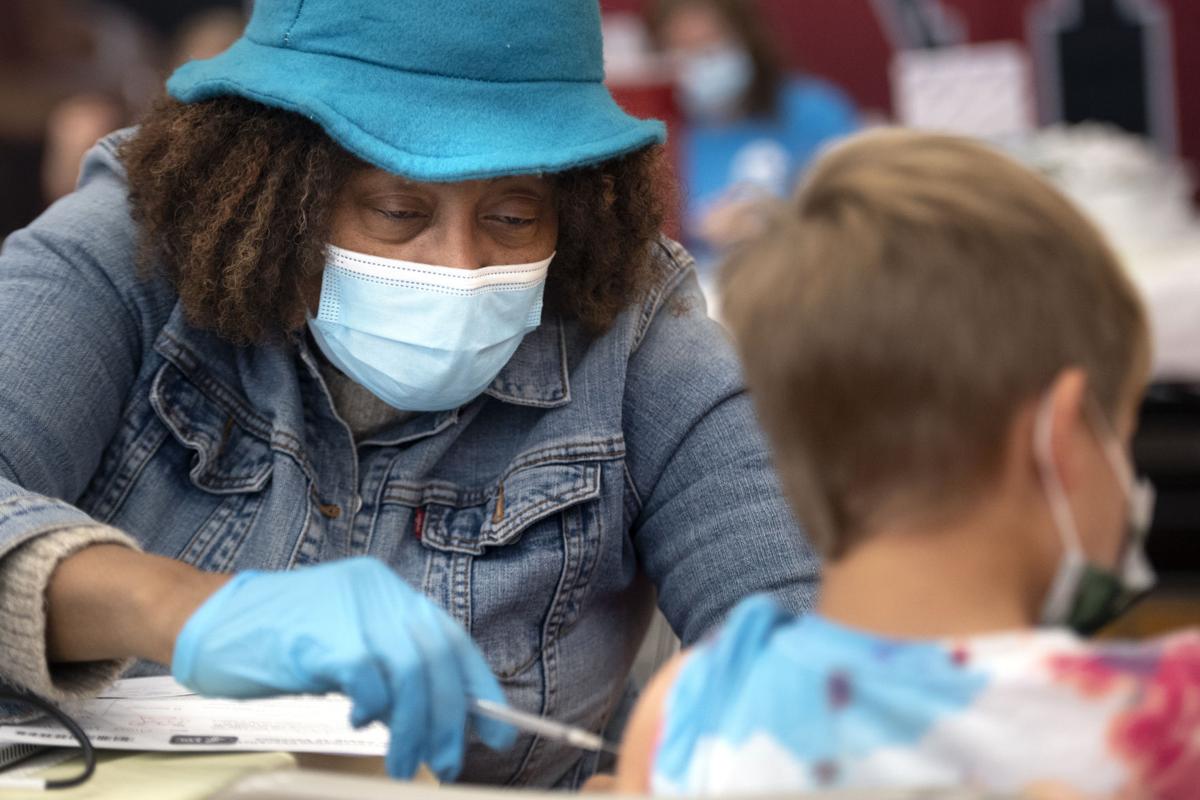 With COVID-19 cases continuing to rise and local hospitals near capacity, officials see little choice but to extend Lancaster County's mask mandate.
Lincoln-Lancaster County Health Director Pat Lopez announced Tuesday that the mandate, which requires masks in most indoor settings, will continue until Dec. 23. It had been scheduled to expire Wednesday.
The mandate, which was reinstated Aug. 26, has now been extended three times.
But Lopez also said that it is the department's intention that this will be the last extension, unless conditions get drastically worse, such as "if our hospitals go into crisis standards of care."
"Our plan is to focus on getting people vaccinated and not doing an extension. But if something happens that changes that, we will certainly make an announcement," she said.
Lancaster County remains the only jurisdiction in Nebraska, and one of few in surrounding states, with a mask mandate in place.
The latest extension comes as the county is experiencing a COVID-19 surge that has case numbers near their highest levels in 10 months.
There were 957 cases reported in Lancaster County last week, a nearly 19% increase from the previous week, and the second-highest weekly total since late January. Over the past month, cases have risen nearly 90%.
The only week in the past 10 months when the county saw higher case totals was the week prior to Labor Day, which saw more than 1,000 cases after K-12 and university students went back to class.
Despite the big jump in cases last week, the county's COVID-19 risk dial remained in the mid-orange range.
Lancaster County is not alone in seeing COVID-19 cases surge. Statewide, there were 6,103 cases for the week that ended Friday, according to case numbers reported on the state COVID-19 dashboard. That was up only slightly compared with the previous week, but it was up 10% from two weeks ago.
The Omaha World-Herald, citing numbers from the Centers for Disease Control and Prevention, reported 6,461 cases last week, up from 6,137 the previous week. That's the highest weekly total since January.
Hospitalizations are also reaching levels not seen since January. On Monday, the state reported 513 active COVID-19 hospitalizations, the highest total since Jan. 5. Over the past month, the number of people hospitalized across Nebraska has increased about 43%.
The vast majority of those, 505, are adults, who account for 11% of all the available hospital beds in the state. However, 157 of those patients are in intensive care, and they are occupying 32% of the state's available ICU beds.
The South Heartland District Health Department said in a news release Tuesday that more than half of the patients hospitalized in its four-county district (Adams, Clay, Nuckolls and Webster counties) are COVID-19 patients.
Lincoln hospitals have not seen a similar recent increase, but coronavirus patient levels have remained high, averaging between 90 and 100 per day since Oct. 20. On Tuesday, there were 100 COVID-19 patients in local hospitals, 68 of them Lancaster County residents.
Lopez said local hospitals continue to be extremely full and patients are often forced to wait in the emergency department until beds open up.
Lincoln Mayor Leirion Gaylor Baird said most of the hospitalizations are preventable and they "could and should be declining," if only more people would get vaccinated.
Lancaster County reports 61.5% of its total population fully vaccinated.
About 21% of children ages 5-11 have gotten their first dose, and Lopez said the Health Department will start giving second doses to some of those children after Thanksgiving.
She said the goal is to get as many people vaccinated over the next four weeks as possible. That includes first and second doses for kids and adults and booster shots for anyone over age 18 who is eligible.
The Health Department is now opening all of its clinics to anyone eligible for a booster dose, which is more than 80,000 county residents.
Lopez said getting vaccinated is the one thing people can do to help improve the local situation.
"If we want to move our community forward, we need to get vaccinated," she said.
While officials are seeing more breakthrough cases among people who are vaccinated, very few of those people are getting seriously ill and requiring hospitalization.
Lopez said current data shows about 20 out of every 100,000 unvaccinated people who get COVID-19 wind up in the hospital. The rate among vaccinated patients is 2 per 100,000.
As of Monday, about 75% of the COVID-19 patients at Bryan Health were unvaccinated, but more than 90% of the patients in the ICU and on ventilators had not received the vaccine.
Lancaster County also appears to be doing better than the rest of the state when it comes to deaths from COVID-19. There have been 12 so far this month, which puts the month on track to have a lower number than in either September or October.
Dr. Bob Rauner, president of the Partnership for a Healthy Lincoln and chief medical officer of OneHealth Nebraska, said the county has a much lower death rate than Douglas County and the state as a whole, which he attributed to higher vaccination rates, as well as "officials being able to put in our own public health measures without Gov. (Pete) Ricketts overruling us like he did in Omaha."
The Lincoln-Lancaster County Health Department is able to institute a mask mandate without approval from local elected officials because of a quirk in state law.