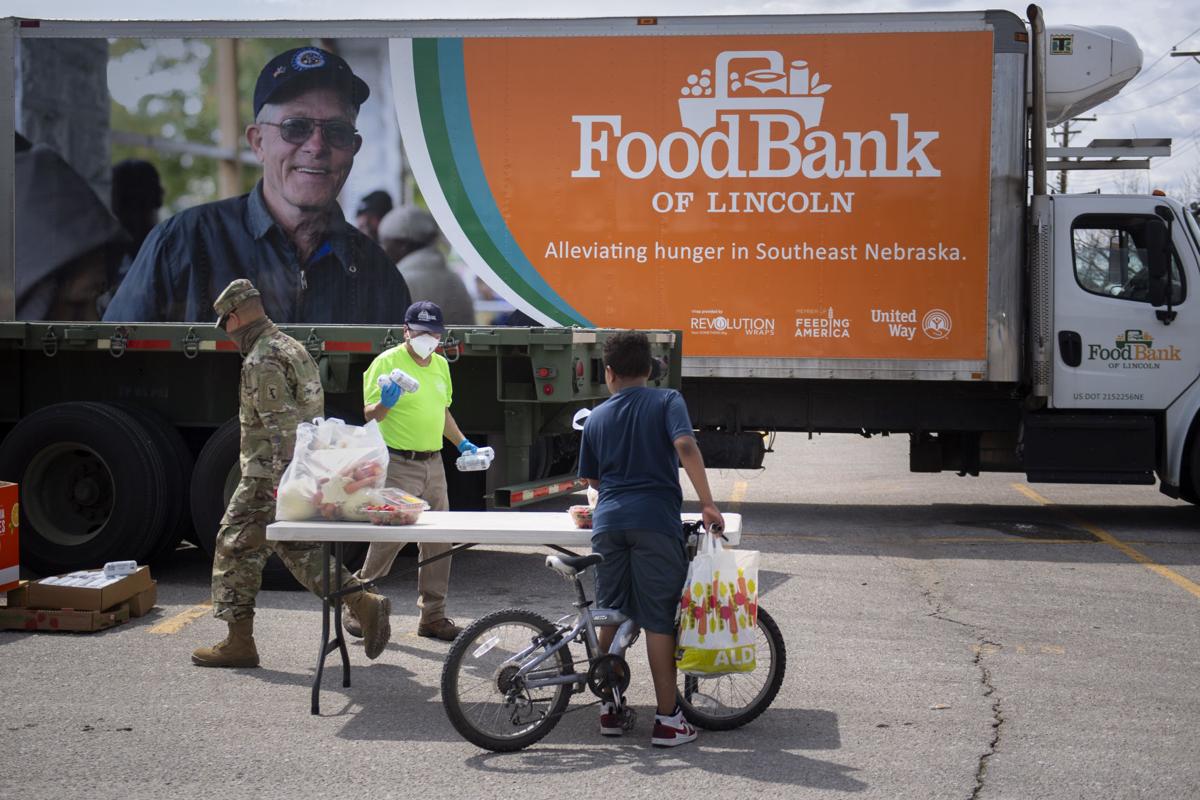 Lincoln will receive $4 million in federal CARES Act funding to help individuals affected by the coronavirus put food on the table, make rent or mortgage payments, and pay utilities, Mayor Leirion Gaylor Baird said Tuesday.
The funds to offset some of the hardships created by COVID-19 come as the Nebraska Department of Labor announced it would once again establish more strict guidelines for those seeking unemployment payments starting next week.
"For individuals and families already struggling with basic needs, the pandemic has exacerbated the situation," Gaylor Baird said at her daily news conference. "Others are experiencing hardships for the first time.
"These funds will help many in our community to feed their families, to stay in their homes and to find permanent housing," she added. "The grants also provide hope, and help our entire community recover."
A total of $450,000 will be given to the Lincoln Food Bank to purchase food for individuals who are living through a crisis, according to executive director Scott Young.
While Nebraska has the lowest unemployment rate in the country, many people are still living on the brink, he said, and the funding will be instrumental in addressing a "critical need in our community."
"All of this food the city is helping us provide over these next hard months will go a long way to making sure people are able to stay in their homes and are able to keep their families together, and that kids are able to learn," Young said.
Another $906,000 will be provided to individuals who meet eligibility requirements to make rent or mortgage payments, or to pay utilities. A total of $100,000 of that amount is slated to go to child care workers.
About $2.7 million will be used to help families experiencing homelessness, Gaylor Baird said, including $360,000 that will go to Matt Talbot Kitchen and Outreach, which was selected through a request for proposals.
The Lincoln Community Foundation is also partnering with the City Urban Development Department and the University of Nebraska-Lincoln Center on Children, Families and the Law to administer the rent, mortgage and utility assistance funds, the mayor said.
Tracy Edgerton, the community foundation's vice president for strategic giving, said the programs continue to demonstrate the love and care Lincoln shows for all of its citizens.
"We know this program will ensure families and individuals can remain in their homes while they continue to navigate this economic and health crisis," Edgerton said.
To apply for aid, residents can contact seven local agencies — the Community Action Partnership, Matt Talbot Kitchen and Outreach, CenterPointe, People's City Mission, People's City Mission Help Center, CEDARS Youth Services and the HUB Central Access Point for Young Adults — and apply.
Applicants must show need caused by COVID-19, including a loss of employment, reduced work hours, or reduced income due to being sick, caring for a sick loved one, or to care for a child.
Income qualifications are based on current earnings for those at or below 80% of median income in Nebraska, which is just more than $59,000.
Checks will be mailed directly to landlords, banks or utility companies weekly, and can be used for late payments, Gaylor Baird said. Funding is available for 3 to 6 months, depending on an applicant's income.
"The impact of this $4 million in aid will go beyond those directly receiving this assistance," Gaylor Baird said. "As these dollars ripple throughout our economy, will see a positive impact on the entire community."
Photos: Lincoln during the pandemic