Lincoln's art lady is passionate about her community, art and many other things
There are 71 bikes, 51 light bulbs and 89 hearts in Lincoln, thanks to the passion of Liz Shea-McCoy.
Shea-McCoy is the woman behind the well-known public art projects that have added fun, spice and color to Lincoln's landscape, and raised money for good works.
It all started with a 2001 trip with friends to Joslyn Art Museum in Omaha, where Shea-McCoy happened to see the no-smoking J. Doe sculpture, a human form that was part of Omaha's public art project, near Central High School.
At the next Lincoln Arts Council meeting, Shea-McCoy talked about how this kind of a public art project would be a great thing to do in Lincoln.
"And they all said, 'Go for it, Liz.'"
First her committee needed a theme for the project. Chicago, the first city to do this kind of a cookie-cutter art project, had cows. Omaha did a human figure. St. Paul, Minnesota, had an assortment of hometown boy Charles Schulz's Peanuts cartoon characters. 
Many people suggested corn. But Lincoln is urban, so Shea-McCoy wasn't sure corn was the best idea.
One night on the news, Shea-McCoy saw a ribbon-cutting for one of Lincoln's bike trails, with individuals of all ages participating.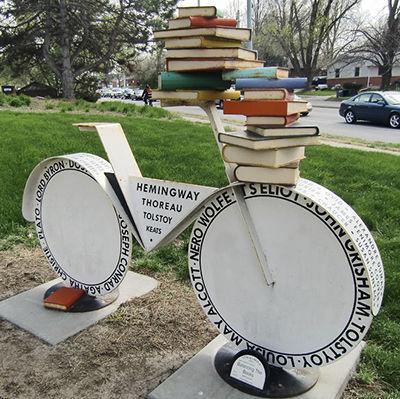 "Lincoln has one of the top trail networks in the nation. There's a lot of enthusiasm for biking in the city. I like to bike. Everyone can identify with a bike. And that was it," she said.
The idea behind 2003 Tour de Lincoln — which raised more than $500,000 for the Lincoln Arts Council, the artists and other art-related charities — was born. 
Shea-McCoy and her husband, Mike McCoy, like to bike and have taken biking vacations in Spain and Italy, where they pedaled 35 to 50 miles a day.
Lincoln was the first community in the country to use a bike as the foundation piece and the first to make a figure out of steel rather than fiberglass. 
"That made sense, because a bike is a machine," she said.
Shea-McCoy, an artist herself, made three bikes with a little help from welding students at Southeast Community College in Milford. She also made two light bulbs and a heart in the later projects she orchestrated for Lincoln and the state of Nebraska.
Shea-McCoy is passionate about her projects, about art, about her community. She's passionate about many things.  
"I'm a community advocate. There are a lot of beautiful, sophisticated kinds of public art. But so many people love something they can identify with. A bicycle, a light bulb, a heart. I like grass-roots projects."
In her youth she was passionate about athletics. Then Liz Weyhrauch was a member of the Aqua Links, the synchronized swimming team at Lincoln High School, where that sport was about the only available one for a high school girl in the 1960s.  
She lettered in field hockey, basketball and volleyball at Lindenwood College in St. Charles, Missouri, where she majored in physical education, because she wanted to make sure more sports and activities would be available to girls.
Shea-McCoy changed her major when she realized she would also have to take science and biology and learn formulas — "all that left-brain stuff."
"I couldn't get out of that curriculum fast enough."
Shea-McCoy transferred to the University of Nebraska-Lincoln and earned a degree (with distinction) in elementary and special education. 
Twenty years ago, when her children were attending Irving Junior High and Shea-McCoy was president of the parent-teacher-student organization, she spearheaded a campaign to get traffic signals at the school after three students were hit by cars.
It took meetings with city staff, student activism, letters to the editor and testimony to the City Council, but the city did install flashing lights on Van Dorn Street. 
"If I believe in something, I'm going to fight for it," she said. "I am so passionate. And I care about everything and everyone."
Shea-McCoy brought that passion to her public art projects.
Reporters know a message to "Please call Liz" means she's hoping for another story. Friends, who are also donors, walk the other way when they see her coming, she jokes.
And in the middle of an interview for this story, Shea-McCoy made one more pitch for another story about the Nebraska 150 sesquicentennial heart project.
Photos: Nebraska by Heart creations
Here are the Nebraska by Heart creations so far with locations and artists' statements on the pieces. At the end: a map of where the hearts are located.