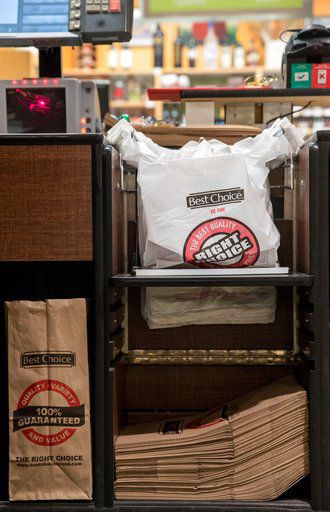 Lincoln city leaders have expressed openness to regulating plastic shopping bags, but no proposed legislation appears imminent following action on the issue in Omaha.
Environmental concerns over the checkout convenience have driven crackdowns by state and local governments across the country. 
But with a newly inaugurated Democratic mayor and Democrats in the majority on the City Council, the issue could one day end up on the agenda.
"The discussion around plastic bags is one we are willing to have with the City Council and the community at large," Mayor Leirion Gaylor Baird said. 
"For the time being, we urge those who still use plastic bags to recycle them properly by dropping them off at local retailers."
On Tuesday, the Omaha City Council narrowly approved a ban on single-use plastic bags at retailers larger than 10,000 square feet by 2022. But that ordinance likely died on the desk of Mayor Jean Stothert, who previously had warned the council she would only support nonbinding legislation.
In announcing her veto on Wednesday, the Republican mayor said although she preferred banning the bags to charging a fee, the ordinance wouldn't cover bags from convenience stores that she believes are largely contributing to the problem. 
About 40% of the solid waste arriving daily at Lincoln's landfill is recyclable material, according to the city. It's unclear the extent that plastic bags contribute to that heap, and city officials overseeing its operation declined to comment. 
Nationally at least 10 cities, including Chicago and Boulder, Colorado; and several states, including California, have banned the bags or imposed fees on their use, according to the National Conference of State Legislatures.
This year, at least 95 bills aimed at regulating the use of plastic bags were introduced across the country, the conference reported.
Supporters of a ban in Lincoln see this issue as a tangible way to protect wildlife and the environment. 
Any consideration of the issue, though, needs to weigh the nuances, City Council Chair Jane Raybould said. 
Should city leaders regulate plastic shopping bags in Lincoln?
Cities around the United States have been banning or taxing plastic shopping bags in an effort to keep them from ending up as litter or in landfills.
You voted:
"We have to take a comprehensive approach to doing everything we can to protect our environment," said Raybould, who is vice president of the grocery chain B&R Stores. 
You have free articles remaining.
"All approaches should be on the table." 
The chain's stores, including Super Saver and Russ's Market locations, collect the used plastic bags, which are sent to a Norfolk company that mixes the bags with sawdust to create composite decking, Raybould said. 
Her stores have encouraged the use of reusable grocery bags to give customers alternatives to the paper-or-plastic question at checkout, she said. 
Since many people repurpose the plastic bags they carry out of grocery and retail stores as trash can liners at home, Raybould wonders if a plastic bag ban would require those people to buy and use other plastic trash liners.  
Any proposed regulation on plastic bag use would require lots of input from Lincoln residents so the city hits on the right solution, she said. 
The city's environmental action plan adopted during the final term of Mayor Chris Beutler didn't specify aims to ban the bags but called for city recycling to increase in the coming years.
To Jim Lauerman, Lincoln could be a leader among Midwest cities on this issue if it took action.
On his own, the retired Bailey Lauerman advertising executive has launched a campaign to convince Hy-Vee to purge plastic bags from its grocery stores.  
He regularly emails their marketing and customer service representatives imploring them to do away with the plastic sack option. 
Hy-Vee officials have been monitoring the Omaha ordinance, according to media reports, and for their part, they continue to encourage customers to recycle plastic bags at their stores, use reusable bags and work with store employees to reduce paper and plastic bag use, according to its website.
Lauerman, 71, believes consumers accustomed to having clerks sack their purchases in plastic perpetuates the popularity of these environmental hazards. 
Recently he saw a mother pushing a cart in a local grocery store lot full of at least 15 plastic bags, he said. 
He hoped those would be recycled, but he had his doubts.
"We can't just continue to play this game as if there's no downside to ignoring this stuff," Lauerman said. 
Omaha council members could attempt to override Stothert's veto next month.