Question: Why has it seemingly taken the city so long to fix the drainage problems on the popular Rock Island Trail in central Lincoln?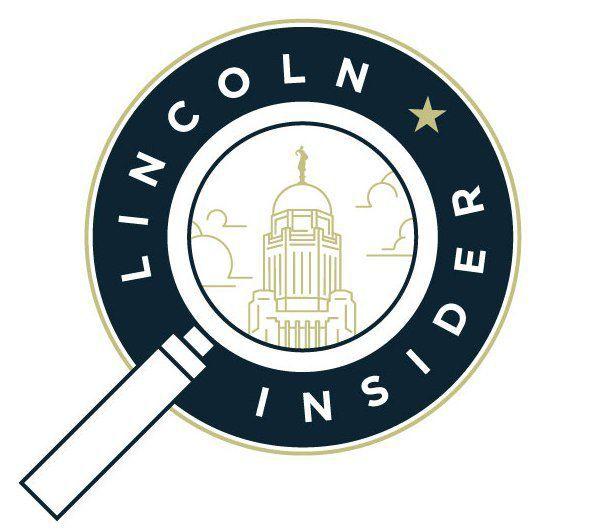 Stagnating stormwater that pools in low-lying areas near and across the Rock Island Trail under the Penny Bridges in central Lincoln has been on the city's radar for several years, even predating 2015 work to restore the historic Sheridan Boulevard spans.
Despite setting work in motion a year ago to fix the drainage issues, inclement weather and unexpected discoveries have delayed progress, Lincoln Transportation and Utilities officials said.
Last week, the city closed the bridges for several hours over two days, as crews worked on trail repairs as part of the drainage project. 
The work is expected to be completed by September, Lincoln Transportation and Utilities Assistant Director Donna Garden said.
The popular walking and biking trail will likely be closed until October as crews work both north and south of the bridges. 
To date, the city has spent $340,000 in stormwater bond dollars to pay for design work and construction in this area, according to work orders. 
The project was included in the $6.3 million stormwater bond issue voters approved in 2016, Garden said.
Lincoln's Stormwater Superintendent Ben Higgins said some of the drainage work had to wait until after the city completed bridge repairs in 2015 so as not to affect that infrastructure's quality. But that bridge work also altered some of the drainage issues.
Erosion controls to reduce water flows off the east bank south of the bridges were needed because of the steep slopes, Higgins said.
But work in the area revealed neighborhood concerns about the pooling water, so the city commissioned a stormwater system design study in 2016. 
With that design complete and a contract awarded to Bookstrom Construction, work began in August 2018 with an October deadline, according to contract documents. 
But rain delayed some of the work, and then winter weather, combined with the discovery of railroad ballast as crews tried to bore drainage pipes, led officials to postpone it until May. 
You have free articles remaining.
Keep reading for FREE!
Enjoy more articles by signing up or logging in. No credit card required.
The frozen ground and wet spring further delayed work, now set to be completed in October, Higgins said.
During the work completed last fall, crews installed inlets to convey standing water into a pipe flowing into the nearby creek. 
But, Higgins said, the water pressure proved too powerful for some of the inlets to be effective and they floated instead. 
So crews this summer have anchored them better or changed their layout to address that issue, he said.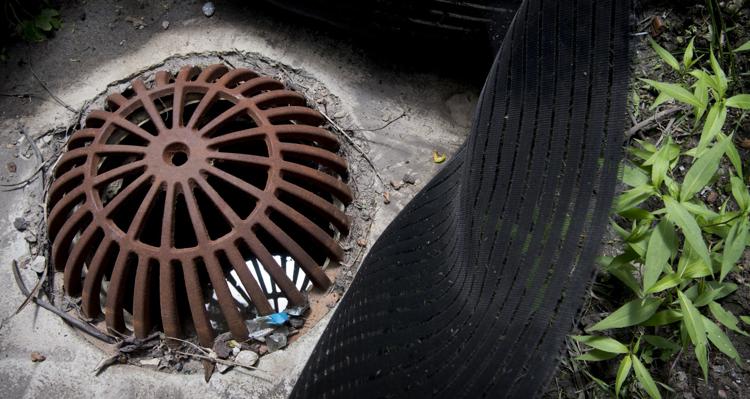 "It's just so much water and so fast coming down that steep slope it kind of got eroded out," Higgins said, "so we're putting a bunch of small erosion control pools in there, just trying to break it up a little quicker, slow it down a little bit and drain it off."
Some of the trail that stretches underneath the Penny Bridges on Sheridan Boulevard was replaced last week. 
In other areas, the trail won't be torn out, but closures are meant to keep runners, walkers and bicyclists from having to navigate a site busy with skid loaders and other construction rigs, Higgins said.
"The one thing about drainage (projects is) they're never the same twice," Garden said.
Neighbors worried the standing water would become a breeding ground for mosquitoes and make it a public health hazard.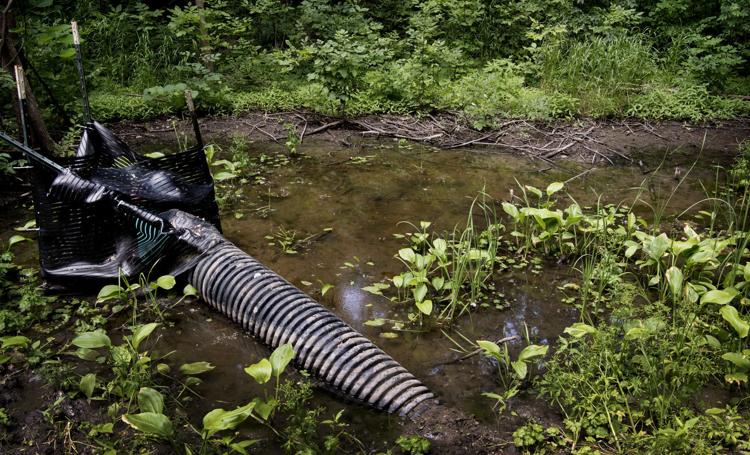 Even after the project, rainwater will still pool there, Higgins said.
"I think we're still going to get water pooling out there, but you shouldn't get water pooling out there for weeks on end," Higgins said.