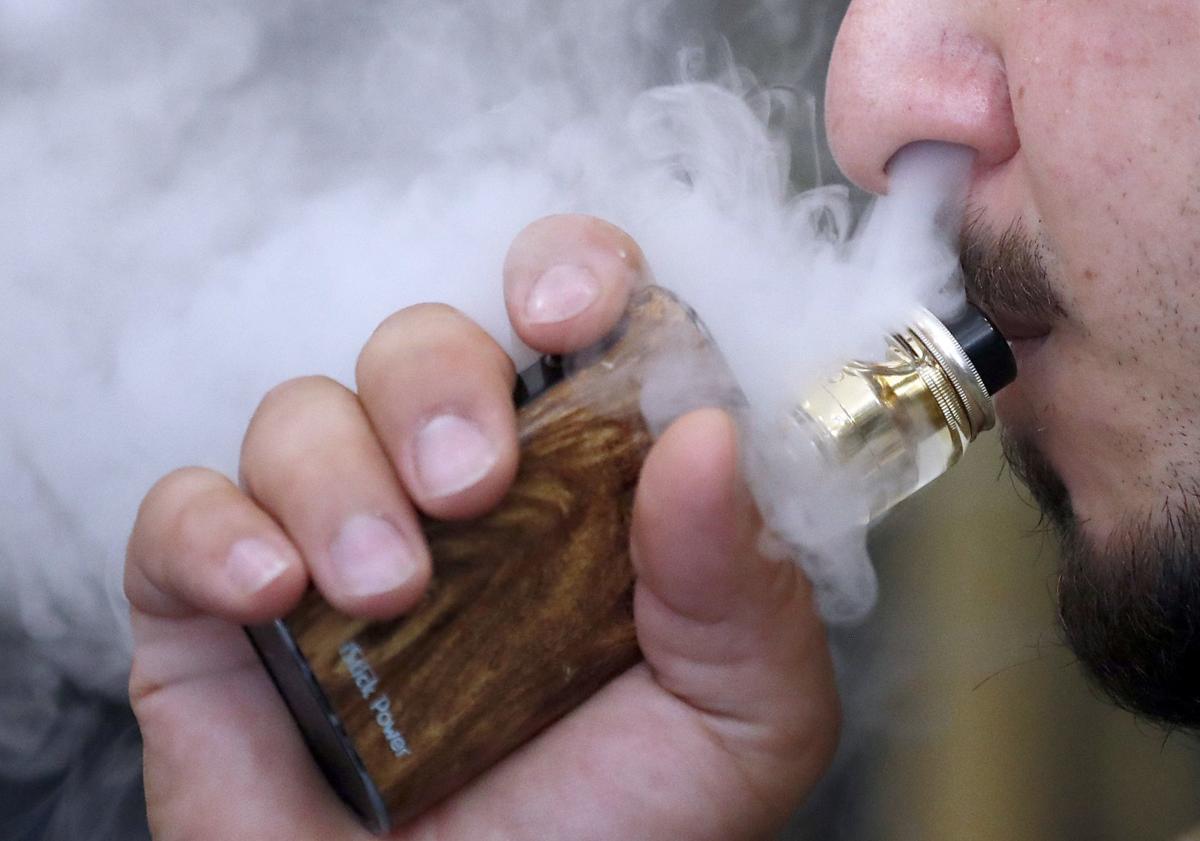 It appears there's support for an ordinance before the Lincoln City Council banning vaping inside public places and businesses.
The ordinance offered by the Lincoln-Lancaster County Board of Health adds vaping and e-cigarettes to the city's Indoor Air Quality regulations, which ban smoking in public places and workplaces.
Grand Island has already passed a vaping ban.
And Lincoln's proposed ordinance follows a recommendation from the Centers for Disease Control, said Jennifer Brinkman, Mayor Leirion Gaylor Baird's chief of staff.
"We (know) that e-cigarette aerosol is not harmless," Brinkman said in a statement. "Second-hand aerosol contains nicotine, ultra-fine particles and low levels of toxins. It is not safe to use these products in smoke-free spaces like workplaces."
Contacted by the Journal Star, Councilwoman Sändra Washington said she's an enthusiastic supporter of the proposal.
"If you can't smoke in the workplace, you shouldn't be able to vape in the workplace," Washington said.
Councilman Richard Meginnis said the council has heard opposition to the ordinance from the vaping industry, and they'll weigh everybody's opinion on the measure, which is set for a public hearing next month.
Health department officials said many Lincoln restaurants and other businesses in town already have prohibited vaping in their establishments.
But Sarah Linden, who represents vape product retailers in Nebraska, said businesses should be able to decide for themselves whether to allow use of these smoking cessation devices her industry views as a safe alternative to cigarettes.
"We heard similar arguments about cigarettes," Brinkman said, noting the move to ban smoking in public spaces and workplaces years ago.
You have free articles remaining.
"Public health advocates have reminded us that the slow accumulation of evidence related to cigarettes' negative health effects has resulted in decades of poor health outcomes for our citizens," she added.
The ordinance doesn't stop the sale of vaping products, nor does it ban their private use.
Washington said while some business owners may not mind vaping, not all customers are fine with it.
Councilman Roy Christensen said he's interested in hearing whether there's a need to enact this ban.
The ordinance, as proposed, wouldn't carve out an exemption for vaping bars like Linden's three Generation V shops in Lincoln.
If enacted, it would keep her customers from trying the products out before they leave the store, she said.
Councilman Bennie Shobe said he's interested in hearing more from vaping shops about how it would change their business model, but at this point he doesn't support granting them an exemption.
The only exceptions would be for designated smoking rooms in hotels and for federal or state-sanctioned research on vaping.
Violation of the ordinance would be a misdemeanor punishable by a $100 fine for the first offense, $200 for a second offense and $500 for a third or subsequent offense.
The Mayor's Office sees this ordinance as a way to take on the high rate of youth that reported using a vaping product in the county within the last year, Brinkman said. 
A 2019 survey of Lincoln Public Schools students noted over 27% of high schoolers surveyed said they had vaped in the last 30 days, a 4% increase from 2015, according to the city.
Councilwoman Tammy Ward said she's pleased the city is taking this issue on now.
"I feel that we're in front of it as a public health issue," Ward said.