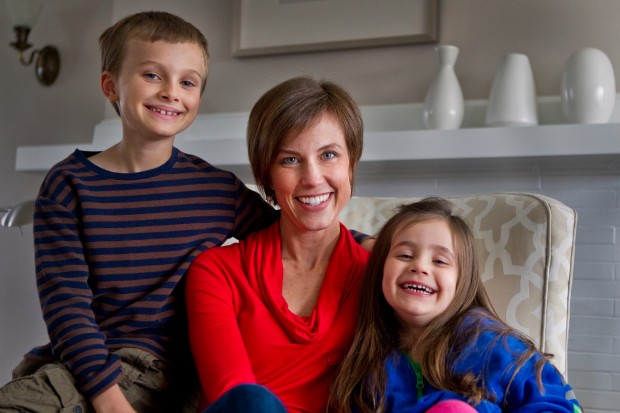 When her children were younger, one of Leirion Gaylor Baird's favorite games was playing doctor.
She was the patient, who stretched out on the floor; her little ones were the doctors tending to the patient.
It gave her a chance to lie down for a few minutes, to relax during days filled with the physical demands of toddlers.
But resting is not Baird's natural state. She loves an active life and always has worked hard and looked ahead to life's next adventure.
Baird was raised in Portland, in a barn converted into a funky house that was in an almost continuous state of remodeling.
But there was a nice big backyard with a creek. Her parents were school teachers -- English and journalism, biology and coaching -- so education always was important.
Her stepdad, a basketball coach, taught her to shoot baskets on the driveway, and she was part of the girl's basketball team -- city champs two years in a row.
She also ran cross country. At 14, Baird says, she was tall and gangly, nicknamed "Olive Oyl" by her stepdad.
Running didn't involve a lot of coordination. And she liked being part of a team.
Since then, running has become a lifelong passion. Three early mornings a week, while the rest of the family sleeps, she heads for a nearby trail or Wilderness Park, where she always sees a deer.
"I like living in the city, but I like the woods, too. We are lucky to have nature so close to the city," she says of Wilderness and Pioneers parks.
Baird runs marathons and has done a couple of triathlons. She's sure she had the only bike with a bell on it during the 2006 Cornhusker State triathlon.
Baird likes to say love brought her to Lincoln. After she and her husband, Scott, had their first child, they wanted to be somewhere they could afford a home.
They chose Lincoln, where her in-laws live, because it was a good place to raise a family and grow a business. Her husband's job -- part owner of a software company -- is a 10-minute commute. And he's not working every weekend, the way people do in big cities, she said.
Before Lincoln and children, Baird worked in three sectors -- private business, nonprofit and government.
Her first job, right out of college, was as a business analyst with the international consulting firm A.T. Kearney.
That job allowed her to travel around the country, helped her pay off student loans and gave her valuable business experience.
She negotiated with companies, visited factories and "learned more than I ever thought I would about light bulbs, carpet, tile and lamination" as part of a team helping Sears remodel and open new stores across the country.
Her second job was with a nonprofit, the largest youth development program in Connecticut, more in tune with her desire to make a difference.
"I saw it as fighting poverty on the front end."
After grad school at Oxford University in England and a master's degree in social policy, she worked as a budget analyst for the city of San Francisco.
"It was a close-up view of how lots of good ideas have to compete for limited resources," she said.
In Lincoln, she balances caring for three children with volunteering, including raising money for local nonprofit agencies and serving on the city-county Planning Commission.
Baird is motivated by a desire to help others.
"I've had to work hard to create the opportunities I've had. But I've also been lucky, healthy and had parents who cared about education."
And she has tried to make a difference for people who didn't have the same good fortune.
"Everyone has something interesting and wonderful about them. But some people have harder starts in life, and it is important to recognize that."
Get Election 2020 & Politics updates in your inbox!
Keep up on the latest in national and local politics as Election 2020 comes into focus.