The Lancaster County Board will consider temporarily blocking future large livestock operations until a task force working to update zoning laws for commercial farming ventures has completed its work.
At the time, planning officials had not fielded new inquiries for large feeding operations in the county.  
But the application for a 380,000-bird operation north of Raymond earlier this month re-energized an ongoing discussion about a potential moratorium, said first-year Commissioner Sean Flowerday, who asked that the board talk about possible action at its meeting Thursday.
"We just want to hit the pause button," he said.
Flowerday said he didn't believe any such moratorium could legally halt the pending application of Sunset Poultry LLC. 
That application, Flowerday said, will instead "stand on its own merits."
Earlier this month, Sunset Poultry filed an application with the City-County Planning Commission, proposing to build the county's largest poultry operation. 
That farm, which would raise broiler chickens, would be built on 80 acres near Northwest 27th Street and West Ashland Road on the Saunders County line.
Those chickens would then be taken to the Lincoln Premium Poultry plant in Fremont to process them for Costco, a spokeswoman said.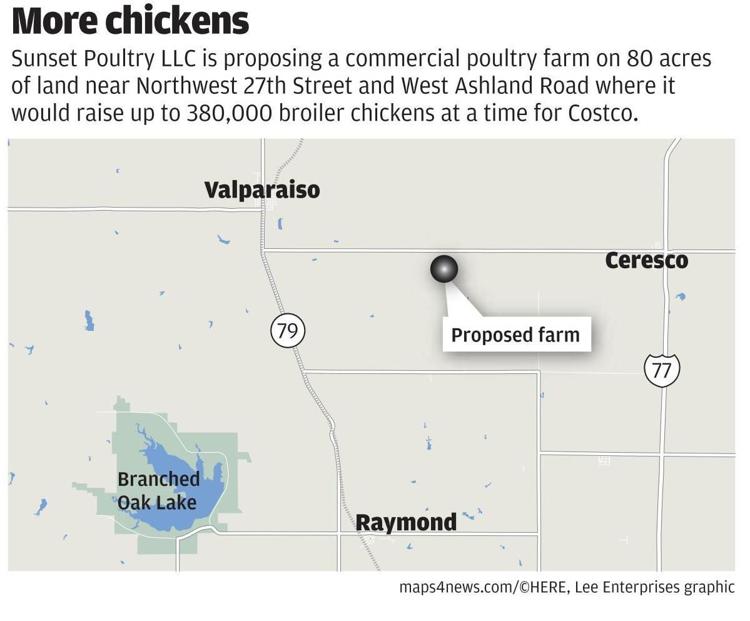 The proposed farm is tentatively scheduled for a public hearing before the planning commission Aug. 7. 
Last year, commissioners approved the county's first Costco-affiliated chicken operation near Southwest 128th Street and West Wittstruck Road.
You have free articles remaining.
Keep reading for FREE!
Enjoy more articles by signing up or logging in. No credit card required.
But construction has been delayed, as an appeal of that zoning approval is set for trial in Lancaster County Court next month.
Since the Sunset Poultry application July 9, planning staff had not processed or heard about any other new proposed confined animal feeding operations, and a spokeswoman for Lincoln Premium Poultry indicated they were winding down their application process for grower operations in the region.
Many of the letters expressed concern about the operation's effects on the air and water quality in the area, which includes schools, and a few recommend the plant be built closer to Fremont.
The proposed operation would be within newly appointed Commissioner Christa Yoakum's district, which encompasses the northwest swath of the county.
She has questions about the environmental impact of this chicken operation to the area and how the truck traffic would affect the county's roads and bridges, already known to be in rough shape, she said. 
"Of course I'm concerned and need to know more about a lot of the impacts for the county," Yoakum said.
The commissioners will only talk about the moratorium Thursday, and any action would have to occur at a later meeting.
Yoakum wants to know whether a moratorium would be legal, she said.
Meanwhile, a task force that's been meeting since March to come up with recommended new zoning ordinances specific to these large-scale livestock operations is expected to convene several more times in the next few months, Flowerday said. 
They have not made any recommendations yet, and they're not working under a deadline. 
Currently, these operations can be built on land zoned for agriculture with a special permit and virtually no restrictions.