The business owner had been to court more than a dozen times in the past 20 years, facing criminal charges that he wasn't keeping up his properties. 
Usually, Roger Duerr was able to walk away by writing a check. He paid $500 late last year, and $100 in 2000 — and faced a half-dozen more fines in between, according to court records.
But just after 9 a.m. last Friday, the 78-year-old was booked into jail to serve a five-day sentence for a mess near 33rd and Huntington that has plagued inspectors for years. And those at the front lines of keeping the city orderly have a hard time recalling a property owner serving time for failing to comply with cleanup orders.
"The criminal charges themselves aren't that rare," said Chris Connolly, the chief assistant city attorney. "But going to jail is."
"I've been here 43 years and I've never seen it," said John Chess of the Lincoln-Lancaster County Health Department, which built the case that put Duerr behind bars. "I've never seen jail time."
But nobody was more shocked than Duerr.
"The judge, I don't know what he thought. It was nuts," he said Thursday, a day after getting released. "Going to jail was really a surprise."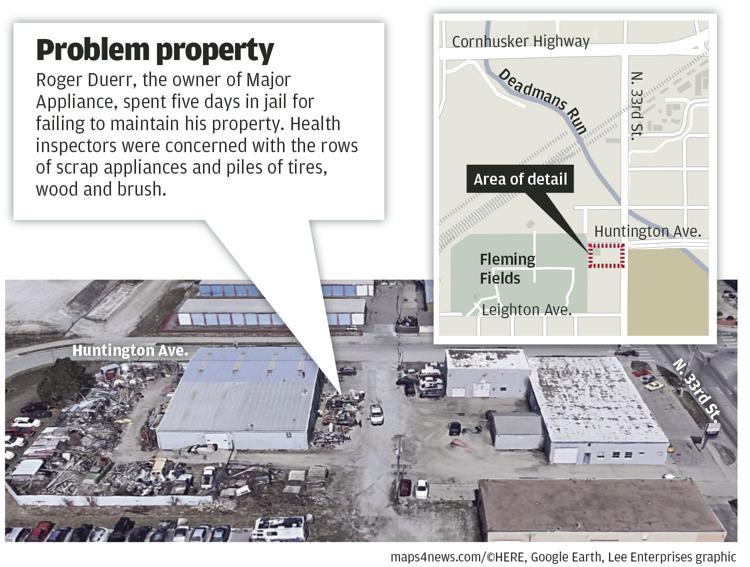 Duerr owns 11 properties, many of them rental homes. But he also owns Major Appliance at 3221 Huntington, just east of the Fleming Fields baseball diamonds. The business has kept health and building inspectors busy, fielding at least a dozen complaints in the past six years.
They've investigated a fence that violated zoning laws and a trailer home that burned and was then moved onto nearby city property. Tires that can fill with water and spawn mosquitoes. Wood piles that can harbor rodents. More than enough appliances stored outside to constitute a salvage yard.
Inspectors would issue violations, they'd follow up and they'd think they were getting somewhere. But then Duerr would fail to follow through, Connolly said.
"He's not the biggest problem we have, he's just persistent," Connolly said. "He does not want to follow the instructions or advice that city officials give him. It's caused a lot of friction, obviously."
In the latest case, the Health Department followed its normal process for investigating complaints.
"We sent out a letter saying you need to get this done, you need to get that done," Chess said. "And he didn't get it done."
Specifically, his inspectors were acting on a referral from the city's Problem Resolution Team, made up of representatives from several agencies — including police, building and safety, health and others — that monitor and try to resolve the city's most problematic properties.
Major Appliance is a regular on the team's list. "This one, it's always there," Connolly said.
On Aug. 31 last year, two days after taking a look at the property, a health inspector sent Duerr a certified letter with a list of nuisance code violations: piles of tires; brush and wood on the ground; appliances stored outside; and evidence of illegal salvaging.
The department re-inspected Sept. 26 and found nothing had changed, Chess said.
After that, the city attorney's office sent a certified letter, asking Duerr to correct the violations in five days or possibly face a day in court. That typically works.
"It seems to have a great effect when it comes out of the city attorney's office," he said.
On average, the Health Department sends out about 950 violation letters annually, most of them to homeowners, but a few to businesses. Usually, only about five cases make it all the way to a courtroom. Somewhere in between, almost all property owners realize the city is serious, Chess said, and they comply.
In Duerr's case, inspectors returned to 33rd and Huntington Oct. 16, and then a month later, and found no progress, Chess said. So in late November, the Health Department forwarded its file to the city attorney's office and asked it to take Duerr to court, again.
"We gave him ample time, let's put it that way," Chess said. "That's the one thing the courts want to look at: Was there ample time?"
Duerr said he was slowed by a heart attack in late 2016, and the property got out of control.
"I couldn't work. I couldn't do a damn thing. When you get sick and you can't work, things get behind. That's all there is to it."
The old appliances built up outside because he lets people drop them off there for free, Duerr said. He likes to test them, to keep the working ones.
"But sometimes they come 20 at a time. What do you do with 20 at a time?"
Still, he and others were trying to clean the property. They'd even rented a Bobcat, he said.
"We thought we had it in pretty good shape, actually."
On Dec. 12, the city leveled three misdemeanor charges against Duerr, accusing him of running a salvage operation without a permit, failing to maintain his property and eliminate nuisance conditions, and allowing health and safety hazards.
The case took months, with Duerr failing to appear at his first hearing in January, and ultimately pleading guilty to the first two charges in May. The third was dismissed.
The day of Duerr's sentencing, June 21, an inspector took photos outside of Major Appliance. They showed stacks of pallets, piles of tree debris, a few tires and scattered appliances.
Better than before, but apparently not good enough.
"He'd done a pretty good job getting stuff cleaned up," Chess said. "But not to the satisfaction of the court."