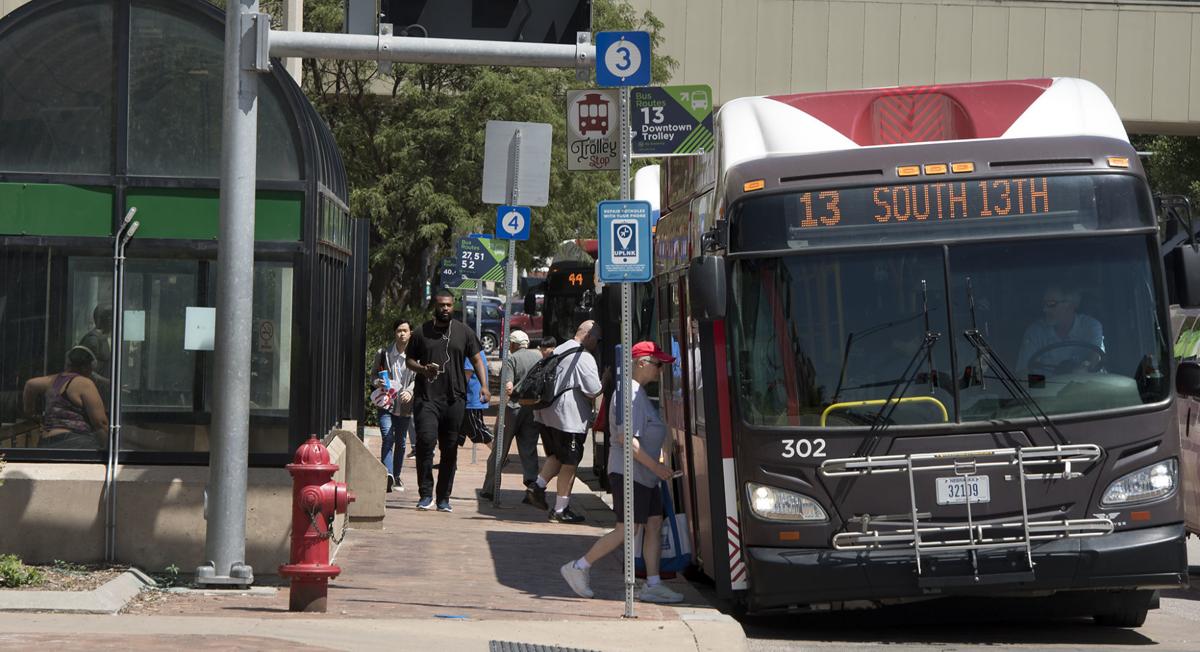 A proposed intercity commuter bus service would drop Lincoln-based riders off at Westroads Mall, the University of Nebraska at Omaha, University of Nebraska Medical Center and a bus station in downtown Omaha.
The so-called "Eastbound Express" route would begin at the Gold's Building StarTran Transfer Center at 11th and N streets, stop at the University of Nebraska-Lincoln, Nebraska Innovation Campus and Arrow Stage Lines at 52nd and Superior streets before continuing on to Omaha, according to the initial proposal.
Proposed routes and frequency schedules for the intercity transit offering being studied by the Nebraska Department of Transportation were revealed Wednesday. 
The primary option focused on the estimated 23,000 people who commute between Omaha and Lincoln, while a secondary route proposal would feature stops at cities along U.S. 6 between Omaha and Lincoln and cater more to retirees, officials said at an open house in Lincoln.
Pondered in both the primary and secondary concepts is whether the service should also extend to southeast Lincoln. 
And project officials want to know whether the proposed stops are on track or way off base so they can move forward on recommending service frequency and determining costs.
"If we have too many stops, it just takes too long," said project team member Fred Favel of KFH Group. 
Running buses every 30 minutes during morning and afternoon commute hours and hourly in between would cost an estimated $2.65 million annually, according to initial estimates. 
Less-frequent service schedules could cost as little as $1.39 million to operate.
Those estimates don't account for gas, capital improvements, marketing costs and administrative overhead, according to the research team. 
You have free articles remaining.
The proposed "Eastbound Express" could stop at a bus station in Omaha's Aksarben Village rather than Westroads Mall under an alternative plan.
And all three versions of the "Eastbound Express" route feature a stop at an Ashland park-and-ride lot off Interstate 80, which project officials say helps the state leverage federal rural transit funding it already receives. 
A "Westbound Express" would mirror many of the same stops in both cities while bringing Omaha residents to Lincoln, but it could include stops at park-and-ride lots in Gretna and one lot in southwest Omaha off U.S. 275.
On the "Local U.S. 6 Route," many of the same Omaha and Lincoln stops would bookend a route stopping in Waverly, Greenwood, Ashland, at Nebraska Crossing Outlets and Gretna.
A third option would provide intercity service only for special events such as Nebraska football games or volleyball matches, UNO hockey games or festivals. 
Project officials encourage the public to comment on the proposed routes at Nebraskatransit.com.
Connecting Nebraska's two biggest cities has been discussed for more than 15 years, and though bus services run between them now, they are not as frequent or convenient as those proposed.
Studies have found Nebraskans favor light rail connecting Lincoln and Omaha rather than buses, but the cost of light rail has been a barrier.
Nebraska's Mobility Management program is exploring the concept as part of its program seeking to coordinate and improve transportation options in the state.
Two more hearings in Ashland and Omaha are scheduled for later this week.
A final report on the idea is expected by March.