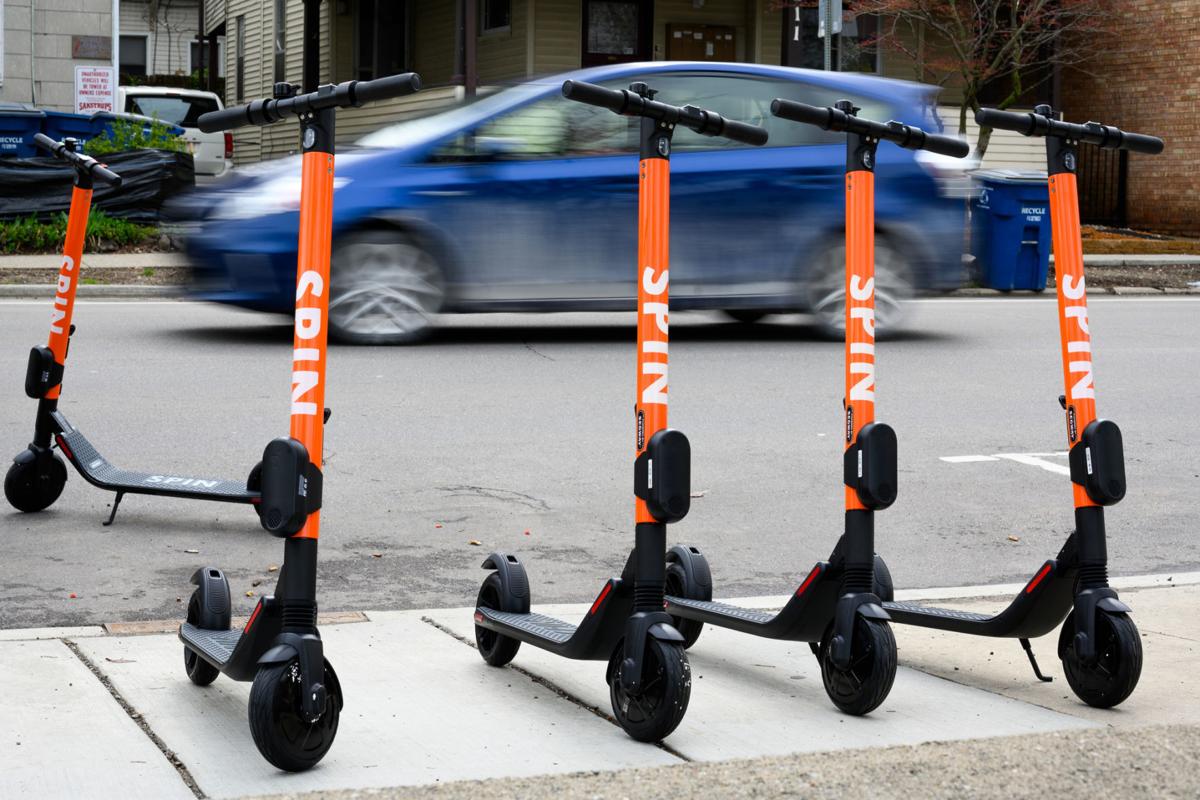 Concerns over pedestrian safety and rider injuries dominated discussion of a proposed pilot program for dockless electric scooters in Lincoln on Monday.
In cities across the U.S., scooters have posed a public health problem, causing thousands of injuries to users that have included devastating head injuries, said Peggy Reisher of Brain Injury Alliance of Nebraska. 
How will the city keep scooters off downtown sidewalks, where bicyclists already ride illegally, asked Shelley Sahling-Zart, who works downtown at Lincoln Electric System.
Indian Village Neighborhood resident Andy Gueck had lots of questions about the issue, including whether the city could afford to ask more of its stretched-thin police department. 
"Now we're going to put them in charge of policing scooters?" Gueck asked. "Or are we going to do like we have with bicyclists and kind of let them run rampant?" 
City Council members also heard testimony from others but did not vote on the proposal, described by city staff as a proactive way to better control a popular-but-controversial transportation craze.
The pilot program would allow the city to pick up to three companies to operate the scooters, renting them to licensed drivers 16 years and older.
City staff expect the program would be limited to the downtown area, though the ordinance largely leaves the fine details up for negotiation between the Lincoln Transportation and Utilities Department and the selected companies.
Lincoln-Lancaster County Planning Director David Cary's biggest concern is doing nothing at all.
You have free articles remaining.
His reason: Creating the pilot also enacts a ban on any scooter company not permitted by the city.
The program helps implement the rules of operating, he said.
"The idea of doing nothing doesn't make sense to me at all," Cary said.
The program would increase the chances of success for scooter operation in Lincoln, but the City Council could quickly pull the plug if scooters proved detrimental to the safety, health and welfare of the city.
Councilman Roy Christensen said he couldn't see how the city will keep the scooters off the downtown sidewalks, which he sees as a pedestrian safety risk.
Richard Draper welcomed the scooters and asked the city not to implement too strict of rules. 
The 80-year-old said he'd like the city to allow them on the hiker-biker trails, but Cary has said that might jeopardize federal funding because of regulations barring motorized vehicles on trails built with federal dollars.
Prospective litigation stemming from a spate of scooter-related head injuries is too much risk for the city financially, said Jane Kinsey of Watchdogs of Lincoln Government.
"If you think you have lawsuits now over mailboxes (hit by a snowplow)," Kinsey said, "it's going to be worse."
Assistant City Attorney Abby Littrell said the city would seek agreements with the approved companies to waive all city liability resulting from personal injuries and damage to property.
Frank Speek of Spin, a scooter company owned by Ford Motors, worked with the city to develop the proposed pilot program and said Spin hopes to apply to operate in Lincoln if the council approves it. 
A vote is set for next Monday.