A vicious classroom assault in 2017 by a student left Tricia Rohde with a broken nose and a concussion, as well as deep psychological and emotional wounds that remain to this day.
The special education teacher with two decades' experience said she couldn't remember screaming as one of her students, known for having a history of violence against teachers, punched her in the head and face repeatedly and threw a trash can at her.
"I have only heard about it from the paraprofessionals that were forced to helplessly stay outside of the room since they were not restraint-trained," Rohde said Thursday. "I was trapped, and I remember clearly wanting to make sure neither the student nor I got hurt."
Rohde described being trapped for a matter of minutes -- what she said "felt like hours" -- until administration arrived to help restrain the student, but when administrators left, she was attacked once more.
"I have never fully recovered from this attack," she added.
The state's largest teacher union said violence against teachers, paraprofessionals and other students has worsened in recent years as the number of students who come to school after experiencing traumatic events at home or who go untreated for mental health issues grows.
At the same time, the Nebraska State Education Association said districts and state policymakers have failed to provide clear guidance regarding what kind of physical contact is appropriate when a student becomes violent or threatens violence toward another student, school employee or themselves.
Some districts have created procedures calling for teachers to lead students from the classroom until the student who is violent calms down, or until properly trained staff can restrain the student to prevent them from harming themselves. Other districts train teachers to physically restrain students when necessary.
The differing policies from district to district have left a patchwork that has created confusion about what is or isn't allowed among educators, however.
Furthermore, the Nebraska State Education Association said on Thursday, teachers are often expected to not report attacks by students, either to the police or to the public, in order to not sully the reputation of their district.
Many just absorb the physical and verbal abuse as part of their daily job, said Jenni Benson, president of the NSEA, which counts 28,000 teacher-members across the state.
"Every student has individual needs, and we are trying to meet those needs," Benson said at a press conference at the NSEA office in Lincoln. "But we are done being assaulted. We are done being hurt. We are done watching children get hurt and watching other people get hurt."
Survey a 'call for action'
More than 160 teachers responded to an NSEA survey in mid-December asking them to describe violence they had experienced or witnessed. The responses range from being spat on by students to having their classroom property destroyed to being put into a chokehold that left bruises.
Benson said the responses from teachers are a "call for action" for lawmakers to address the situation in the upcoming session scheduled to begin Wednesday by passing a bill requiring school districts to create a clear-cut policy for teachers.
You have free articles remaining.
Introduced last year by Sen. Mike Groene of North Platte, LB147 would also give legal protection to teachers and other school officials who physically restrain students if they were "acting in a reasonable manner."
The bill, while supported by the NSEA, was opposed by the Nebraska Council of School Administrators, the Nebraska Rural Community Schools Association and the Nebraska Association of School Boards, who raised concerns it did not provide for teachers to be adequately trained in restraint and sent the wrong message to students and their parents.
Rather than authorize physical restraint, a reactionary approach, opponents favored a statewide policy that would provide for more de-escalation training and supports for teachers.
LB147 became stuck in a 4-4 deadlock in the Education Committee until Groene was able to convince 25 senators -- the minimum needed in the 49-member body -- to support a motion to pull it to the floor for debate by the full Legislature late in the 2019 session.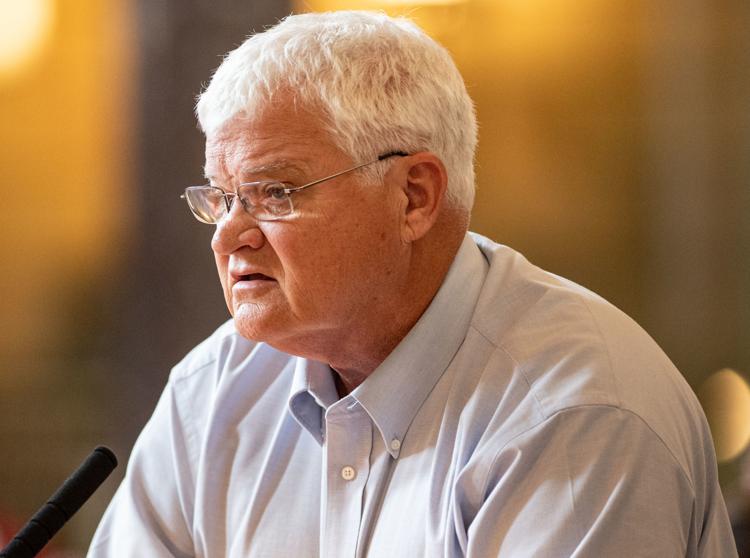 The effort gave Groene and supporters of the bill more time to hammer out compromises on what final form the bill should take and gave it an early debate slot in 2020, when lawmakers will meet for 60 working days.
Instead of requiring school districts to craft policies for when physical restraint is or isn't appropriate, a proposed amendment to the bill changes that language to "physical intervention."
It directs teachers that physical intervention should not be used to inflict bodily pain, but to protect other students, personnel or school property, and requires them to contact parents when a physical intervention is used.
The draft language does not require school districts to keep records of every time restraint is used, however.
The amendment also keeps a provision that would allow teachers to have students removed from their classroom if those individuals have been repeatedly disruptive, and outlines steps for how those students can return to class.
Some have concerns
The proposed changes to LB147 -- which is scheduled for floor debate Jan. 13 -- have brought other education groups on board, but civil rights and disability rights groups say they are still concerned about giving teachers more authority to physically restrain students.
"The current law, under the Nebraska Student Discipline Act, already permits teachers and administrators to take reasonable steps necessary in discipline matters," said Michael Dulaney, executive director of the Nebraska Council of School Administrators.
"A more productive legislative pursuit would be for the state to provide funding to train certificated staff, including training to defuse difficult situations in the classroom," he added.
The ACLU of Nebraska said physical restraint disproportionately affects students of color and those with disabilities. According to the most recent data available from the U.S. Department of Education, about 8 in 10 of the students who were restrained in 2013-14 had a disability.
Other critics, including the Arc of Nebraska and Voices for Children in Nebraska, say the bill does nothing to provide teachers and schools more resources to address the underlying needs of students who act out violently in class.
Benson said LB147 and the amendments lawmakers will take up early in the 60-day session are a "stopgap" measure to give teachers the tools to protect themselves and others.
She added the NSEA will also lobby for more counselors, mental health providers and additional staffing to address what she described as a systemic problem in Nebraska and beyond that is only growing worse.