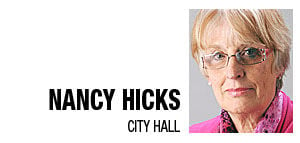 Jack Sukovaty was out for his morning walk on June 20 when he noticed the city utility truck cleaning out the sewer in front of his house.
That Friday morning, water backed up into his basement bathroom, which he had just renovated.
Sukovaty talked to the city crew and one employee went into his house to take a look.
That afternoon brown water came through the floor drain. "Pretty nasty stuff," he said.
Again, Sukovaty talked to city workers and the one who went into his house to check it out.
He also called in a drain cleaner who pulled towels and rags from his sewer line where it connected with the city's line.
"I have no idea how that stuff gets in there. I don't flush those things down and I don't understand why anyone does," Sukovaty told the City Council this week.
He filed a complaint with the city clerk, but the city attorney's office denied it, saying the city's sewer work did not cause the problem.
On Monday, Sukovaty took his complaint to the City Council.
"Folks, I've lived my life on common sense and gut and logic and we never had any problems with our drain prior to that. Then we have a city truck cleaning out a sewer in front of my house all day. And I have problems."
"I'm pretty sure they are related."
Sukovaty accomplished what few do. He got the council to reverse the city attorney's recommendation on a claim. 
Some council members wanted to delay a vote for a week and get the full report from the city attorney's office, but others said the coincidence was just too great in this case and unanimously approved Sukovaty's almost $500 claim for cleaning his bathroom and his sewer line.
"It is just too coincidental," said Councilman Trent Fellers. "If someone works on your car and your car breaks, you will go back and say, 'What did you do to my car?'"
Great places you've never heard of
The magazine dedicated to sustainable living highlights Lincoln's community and home food gardening-friendly environment. That includes the Community CROPS program, outdoor recreation opportunities including trails, bike paths and parks, Mayor Chris Beutler's "Cleaner, Greener Lincoln" initiative, a diversified, stable economy with an unemployment rate below 3 percent and 45 registered neighborhood associations, according to a news release.
Lincoln is one of eight communities featured in the magazine's October-November issue, on sale Sept. 23.
Mother Earth News ranks Lincoln highly for its small-town feel with big-city amenities.
The annual Great Places list serves as a way to recognize cities and towns that demonstrate positive civic engagement, invest in the local economy and develop meaningful environmental initiatives.
Other cities selected for this year's list are Ashland, Oregon; Beaufort, South Carolina; Bozeman, Montana; Burlington, Vermont; Evanston, Illinois; Penns Valley, Pennsylvania; and Sparta, Tennessee.
Lincoln visit causes stir

About 40 community leaders from Fargo, North Dakota, visited Lincoln in late August to study the innovative methods Lincoln used to grow its downtown.
The Fargo leaders saw that the new Pinnacle Bank Arena helped revitalize an old warehouse district near downtown.
The group came by bus, except for two men, who took a plane. Fargo City Commissioner Tim Mahoney joined the tour after attending another meeting in Minnesota and Fargo City Administrator Pat Zavoral was at a funeral.
Fargo City Commissioner Dave Piepkorn criticized the two men publicly during a recent city commission meeting, according to news reports.
"The message that was sent by you and Pat was your time is much more valuable than all the people that were on that bus," he said.
"Not at all," Mahoney fired back. "That's your interpretation. That's not the message."
An editorial in the local paper, the Fargo Forum, criticized Piepkorn: "If pettiness were the coin of the realm, Piepkorn would be wealthy."
"City commissioners are expected to be serious about conducting the public's business. Most of the time, they are.
"The hope is Piepkorn's fatuous foozle is not a sign of things to come."
One less opponent
Beutler and the mayor's chief of staff, Rick Hoppe, were likely cheering when they heard the news Tuesday: Republican candidate for governor Pete Ricketts picked state Auditor Mike Foley as his running mate.
Foley, with impressive name recognition in Lincoln, would have been a strong opponent for Beutler, who is planning to run for a third term as mayor next spring.