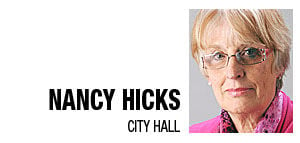 Niles Ford, Lincoln's former fire chief, has been named head of the 1,700-employee Baltimore Fire Department, according to the Baltimore Sun.
Baltimore Mayor Stephanie Rawlings-Blake has picked Ford, 48, to lead the Maryland city's fire department as it undergoes sweeping changes, according to the newspaper.
If approved by the City Council, he will be paid $165,000 and will be taking over an agency that is undergoing some major changes, including scheduling firefighters to work 47.5 hours a week while eliminating 140 positions through attrition, according to the newspaper.
Ford was Lincoln's fire chief from 2007 until the spring of 2011, when he left for the city manager position in Chamblee, a small suburb of Atlanta.
Ford resigned that position last summer after clashing with the City Council. Ford had refused to approve a building permit on a council member's personal property that Ford believed violated zoning laws.
Ford was appointed Lincoln fire chief by Mayor Chris Beutler a year after controversy over the purchase of fire engines that didn't meet city specifications.
A year earlier, former Mayor Coleen Seng had asked the previous fire chief to resign.
Some union representatives and others are already complaining, pointing out that Ford has never run an agency as large as the one in Baltimore. Lincoln's fire department has 300 employees.
Keno money should go for park maintenance
The Parks and Recreation Advisory Board believes the $1 million in keno profits that come to the department should be earmarked for repair and maintenance, not for new park land or pools.
When the department first began getting keno money in the late 1990s, the city was using general tax dollars for repair and maintenance. In fact it was originally earmarked for new construction, so the department would not become dependent on a gambling source of income.
In those early years, keno proceeds built the Highlands pool, Star City Shores, University Place pool and replaced playgrounds.
But tax dollars for repair and replacement have been in short supply since the recent recession.
So the department staff and the advisory board would like to see a consistent source of money — keno it is — to take care of existing facilities.