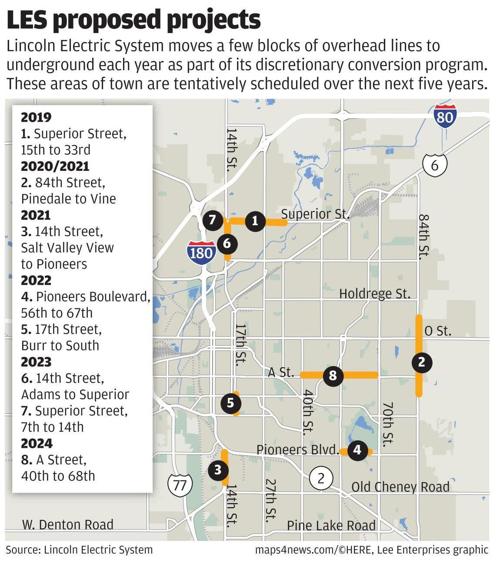 Until 1981, the city required all electric poles in Lincoln to be placed directly behind the street curb.
"Why people thought it would be a good idea to have the poles right beside the curb is beyond me," says Dan Pudenz, vice president of energy delivery for Lincoln Electric System. "Every time we get a fresh snowfall, watch where people's tracks are. They tend to veer away from the poles, just naturally."
The location of those older poles is part of the decision process as LES considers what streets will be part of the company's ongoing project to replace overhead lines with underground ones.
Every year, LES removes about a mile of overhead electric lines from a few arterial streets and buries them underground, part of a long-term plan to make high-traffic areas of Lincoln more attractive. 
This year, the lines have come down along 48th Street from L to Cotner Boulevard, and along Holdrege Street from 57th to 66th.
The trees along those roads — with branches chopped to avoid the power lines — will grow back in a few years, providing a rich canopy over those streets once again.
"Those trees grow faster than you think," enough that LES trims each tree once every four years, Pudenz said.
The overhead-to-underground conversion efforts started in 2006 in response to the city's new Comprehensive Plan, which recommended a phased-in program "wherever feasible and affordable," Pudenz said.
Over the next five years, LES will spend about $1 million each year to bury lines on streets under that program.
Burying power lines helps avoid the massive power outages that can occur during storms, he said. Those lines still fail, but the outages aren't as concentrated and are usually caused by aging cables. 
The big issue is aesthetic. Putting power lines below ground eliminates the visual clutter, including the necessity to trim trees in tortuous shapes.
From 2006 to 2018, LES has invested about $9.2 million in the discretionary conversion program, removing about 8.9 miles of overhead line.
Over those 12 years, LES has removed another 20.7 miles of overhead lines at a cost of about $18.5 million, largely related to road projects, including the Interstate 80 widening project near Lincoln.
LES focuses on lines along arterial streets in high-visibility areas, such as entryways to the city, Pudenz said.
Utility staff also consider general aesthetics, coordination with other city projects, the age and condition of poles, and proximity of the poles to the street as they evaluate projects.
Underground utilities are automatically put into new areas of the city, so the overhead lines are generally found in older areas of town.
And it's not likely LES will ever be able to replace all the overhead lines. That would cost a little more than $1 billion.
"That's with a B," Pudenz said.