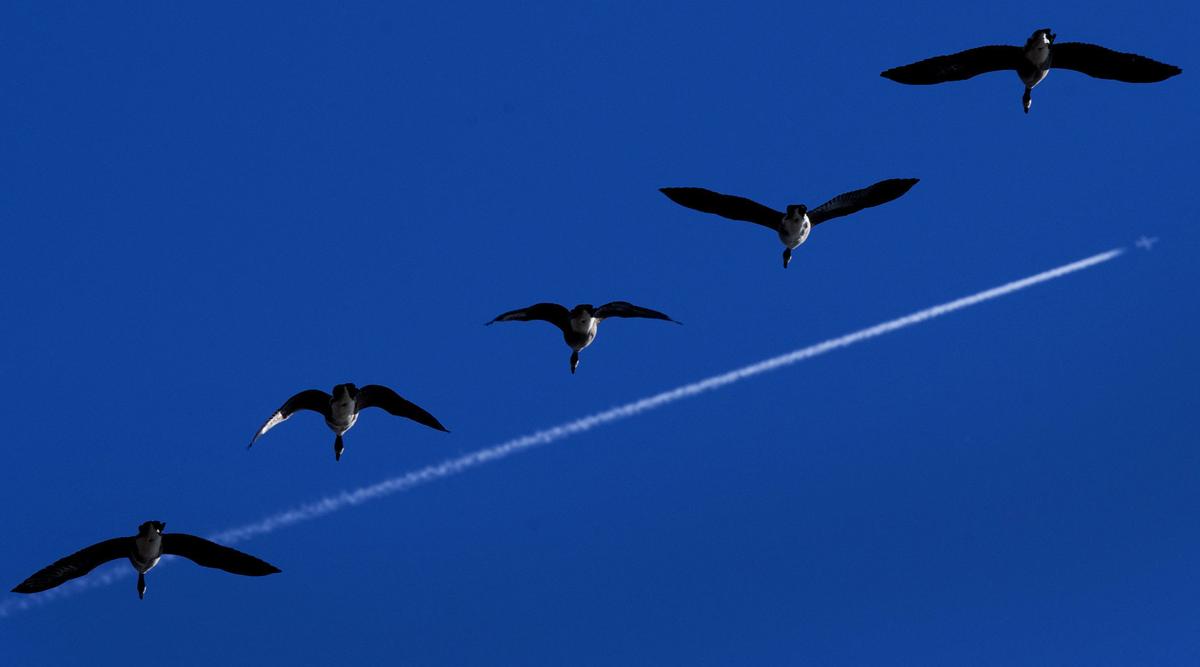 It's a lot of work keeping golf courses green and attractive and playable. 
You mow. You trim. You apply fertilizer.
And on some courses, you take a shovel and scoop up goose poop.
That's what Casey Crittenden, golf course maintenance coordinator for the Lincoln Parks and Recreation Department, and his staff do many mornings, particularly at Holmes and Pioneers golf courses.
Golf courses have the perfect habitat for resident geese, which also leave their mark wherever they go, Crittenden said.
Crittenden is hoping for a little help from Lincoln residents who use social media in winning a $6,500 goose dog, a trained border collie that would help keep geese off the city's fairways and greens.
FlyAway Geese, a company that trains and sells border collies for use by golf courses and airports, is giving away one dog as part of the contest.
Social media voting on Facebook and Twitter, which ends Sunday, is part of the formula for winning. 
CASEY CRITTENDEN finalist for Goosedog.

Casey's videohttps://t.co/SSuMn6qMCW Vote by liking this post. You are welcome to share but be sure that likes are done on the original post.

You may also vote at Booth #1239 at GIS San Diego! @GCSAA @DogsOfTurf

— Flyaway Geese (@Flyawaygeese) January 24, 2019
In addition, golf course superintendents will be voting on finalists at an annual trade show in San Diego next week.
The video Lincoln officials submitted for the competition focuses on Holmes, but there is also a serious problem with geese at Pioneers and lesser problems at the Mahoney and Highlands courses, Crittenden said. 
Border collies move livestock with their head down and their tail between their legs.
You have free articles remaining.
They have no interest in harming the birds, just convincing them to be somewhere else. That is the natural instinct of the dog, says Rebecca Gibson, founder and owner of FlyAway Geese.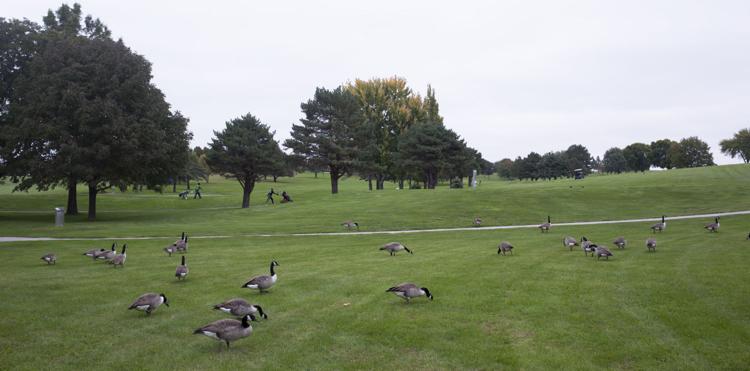 And the geese see the dogs in that position as a predator — a fox, a coyote, a wolf — something to be feared. Eventually, the geese will stop returning to the area where they have encountered the dog, she said in a telephone interview.
FlyAway Geese, based in North Carolina, trains and sells dogs to golf courses and airports and other facilities with goose problems.
Golf course superintendents could send a story about their problem to the company, said Gibson.
Five courses were selected as finalists, each sharing their story through videos posted to Facebook and Twitter. 
Competing with Lincoln are golf courses in Georgia, Ohio, California and North Carolina.
The company will provide a dog to the golf course superintendent who has the worst problem, based on social media and superintendent voting, Gibson said.
Last year, the company gave away two dogs randomly. This year it decided to find golf courses with major problems, she said.
Goose droppings aren't the only problem caused by the birds. They can also be intimidating to golfers who sometimes have to walk through or around geese. 
As a golfer, you learn not to confront them. Just walk through, don't make a lot of noise and they will get out of your way, said Ken Hambleton, golfer and retired Journal Star sports reporter.
Twenty years ago, Lincoln had a border collie, Shep, who kept the geese away from the golf course and park areas after other attempts failed.
Crews had tried honking horns, or flapping their arms and chasing, which didn't scare any geese. In the mid-1990s, biologists moved 500 birds to Lake McConaughy, but many found their way back to Holmes Lake, according to news stories.